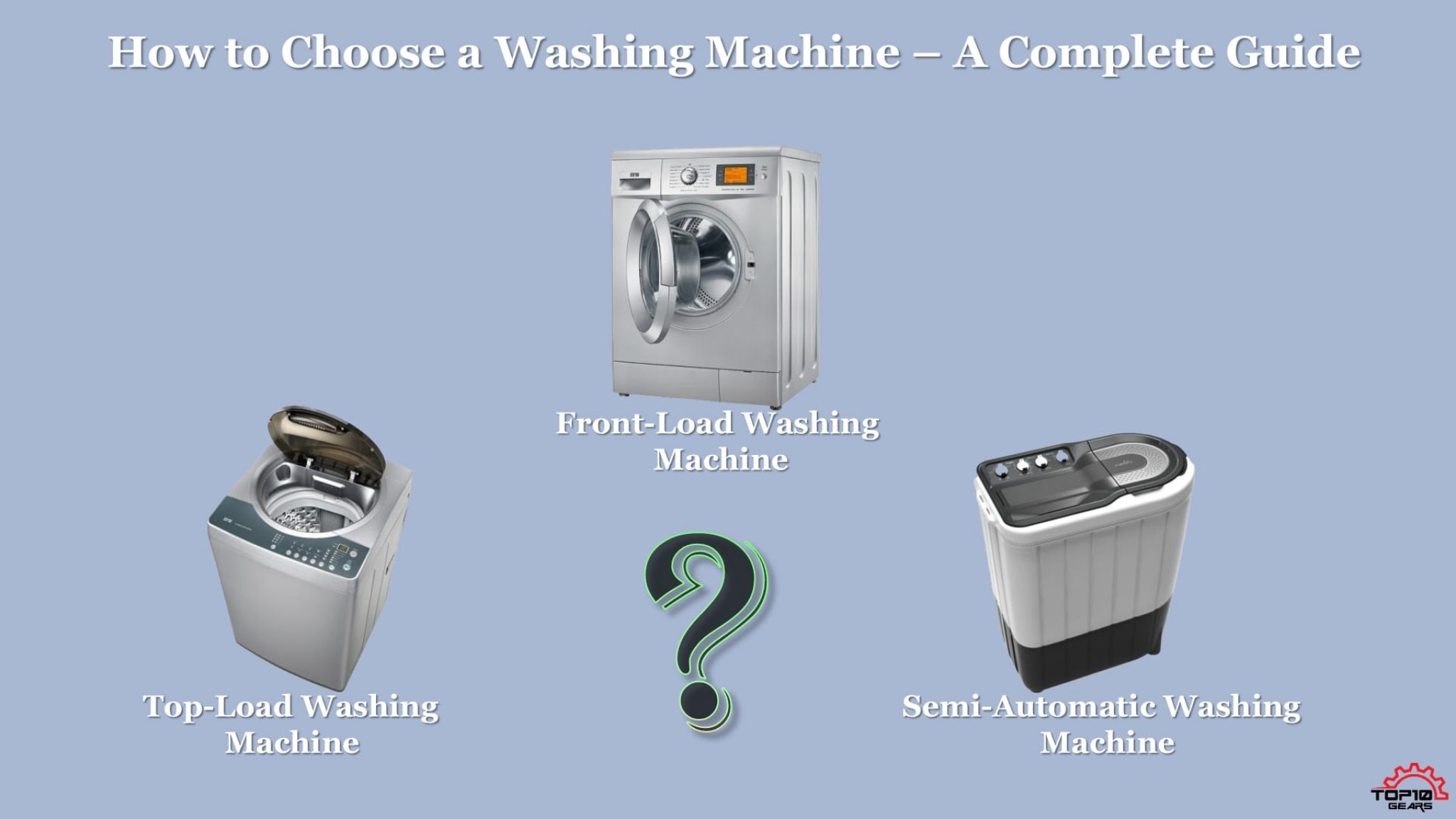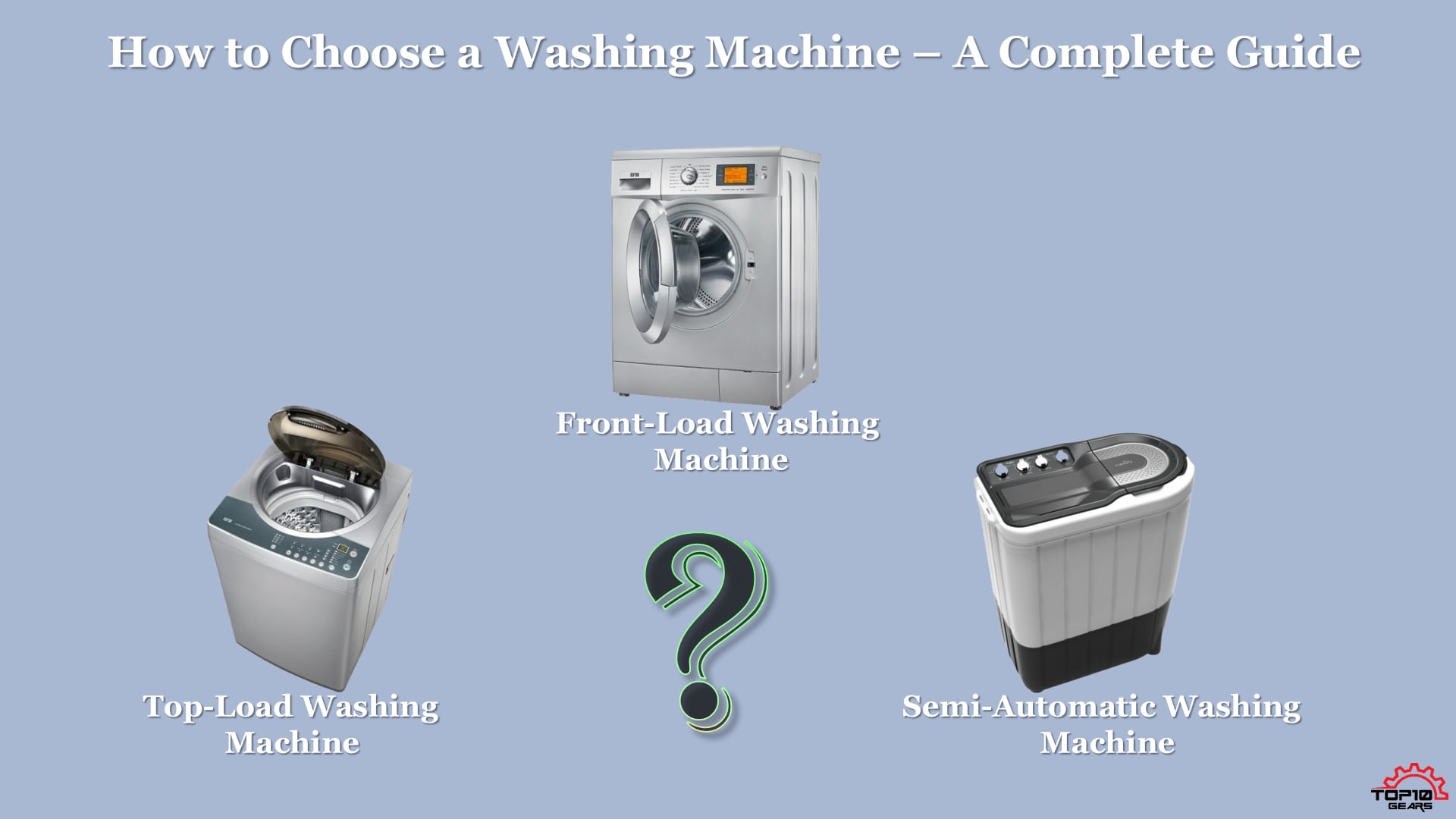 As my mother was thinking to change our washer, she asked, "How to choose a washing machine ?". So I did a little bit of research and thought of sharing the same in this post.
Choosing a washing machine can be challenging, especially since no household has the same laundry requirements. However, before you buy a washing machine, there are a few factors you need to consider. We have divided the task of choosing the most popular mechanical device into five subsections. They are
Capacity and Size
Fully-Automatic/Semi-Automatic Washing Machine
Front-Loading vs Top-Loading Washing Machines
Wash Programs
Other Factors to Consider
Capacity and Size
The most important thing about buying a washing machine is its load capacity which is measured in kg and is correlated with the number of members in a family.
However, the load capacity should be such that all the laundry comes in a single wash cycle and you do not have to run the wash cycle again and again.
Washing Machine Capacity Guide
Family Members
Tank Capacity
Number of Clothes
1-2 Members
5 to 6 Kg
2 shirts
2 jeans
1 bedsheet
2 small towels
2 pillowcases
2-3 Members
6.5 to 7 kg
3 shirts
3 jeans
1 bedsheet
2 small towels
2 pillowcases
4-5 Members
8 kg
4 shirts
3 jeans
1 bedsheet
3 small towels
3 pillowcases
More than 5 Members
8.5 kg to 9 kg
3 shirts
3 jeans
2 bedsheet
6 small towels
6 pillowcases
Deciding Chart: How to Decide on the capacity
You need to consider the available space in your house and the size of your door too and carefully read the complete dimension of the particular washing before buying and make sure the washing machine comes inside your house comfortably.
Fully-Automatic vs Semi-Automatic Washing Machine
On the basis of operations it performs, there are two types of washing machines. One is fully automatic and another one is semi-automatic. In other words, the amount of manual intervention is the key to this classification. However, each one of them has its own benefits and drawbacks.
Semi-Automatic Washing Machines
It's a traditional device and comes with two tubs or compartments, one for washing and another one for drying. Therefore, in this type of machine, a lot of manual intervention is required.
Firstly, you need to fill the tank manually with bucket or pipe, then add the detergent in the tub and set the washing time and type of fabric.
After completion of the washing cycle, the machine makes buzz sound which shows that the washing is complete. After that, you have to take out all the clothes from the washing tub and have to manually transfer them to the dryer section.
In a way, it gives more control over the washing process but it's normally considered labor-intensive. The semi-automatic washing machines are always top-loading washing machines.
Positive
Easy to operate
Comes at very low prices
Takes less time to wash and dry
Requires less amount of water
Consume less power
Low maintenance cost
Negatives
Needs manual operations
Occupies more space
Shift clothes from washer to dryer
No temperature setting available
Fully-Automatic Washing Machine
It is a modern device that is fully equipped with new and appealing features. It makes the washing easier without human intervention because all the process from washing to drying happen on their own through an automated program.
To operate you have to simply put the clothes and press start button, the machine will automatically fill in the requisite water for wash from the tap connected to it, choose the right wash cycle, rinse, drain the water, and finally do the drying to get rid of remaining moisture that too in the same drum.
Positive
Suitable for bachelors
No Manual operations
Occupies Less Space
Multiple wash programs available
Temperature setting available
Negatives
Costly
Water usage is High
Takes more time to wash and dry
Front-Loading vs Top-Loading Washing Machines


Fully automatic washing machines are further categorized into Top-Loading and Front-Loading washing machines. As the name suggests, in the top-loading washing machines, clothes are loaded from the top side. In this machine, the tub is placed vertically.
On the other hand, clothes are loaded from the front in the front-loading washing machines. Choosing the right type of washing machine depends upon your washing styles and preferences.
The Top-Loading washers are normally more convenient since you don't have to bend over to load or unload your clothes making them ideal heights for older buyers in those with joint issues i.e. it's ergonomically friendly.
It also has other convenient qualities such as the ability to add clothes in the mid-cycle or right after starting the cycle since the door doesn't lock. It distributes the detergent and clothes softener better than front-loading washers.
Some More Differences
Front-loading washers are more water-efficient since they use an average of 40% less water than top-loading washing machines since it has tumbling action. In addition to this, front-loading washing machines are much gentler, gives the smoother wash cycle and can wash the delicate clothes very easily.
On the other hand, Top loading washing machines can be rough on clothes especially if the machine is overloaded. It has a tough time washing the larger items such as pillows, comforters, bed-sheets, etc because they can't be fully immersed in water.
However, the front-load washing machine gives a better and cleaner result.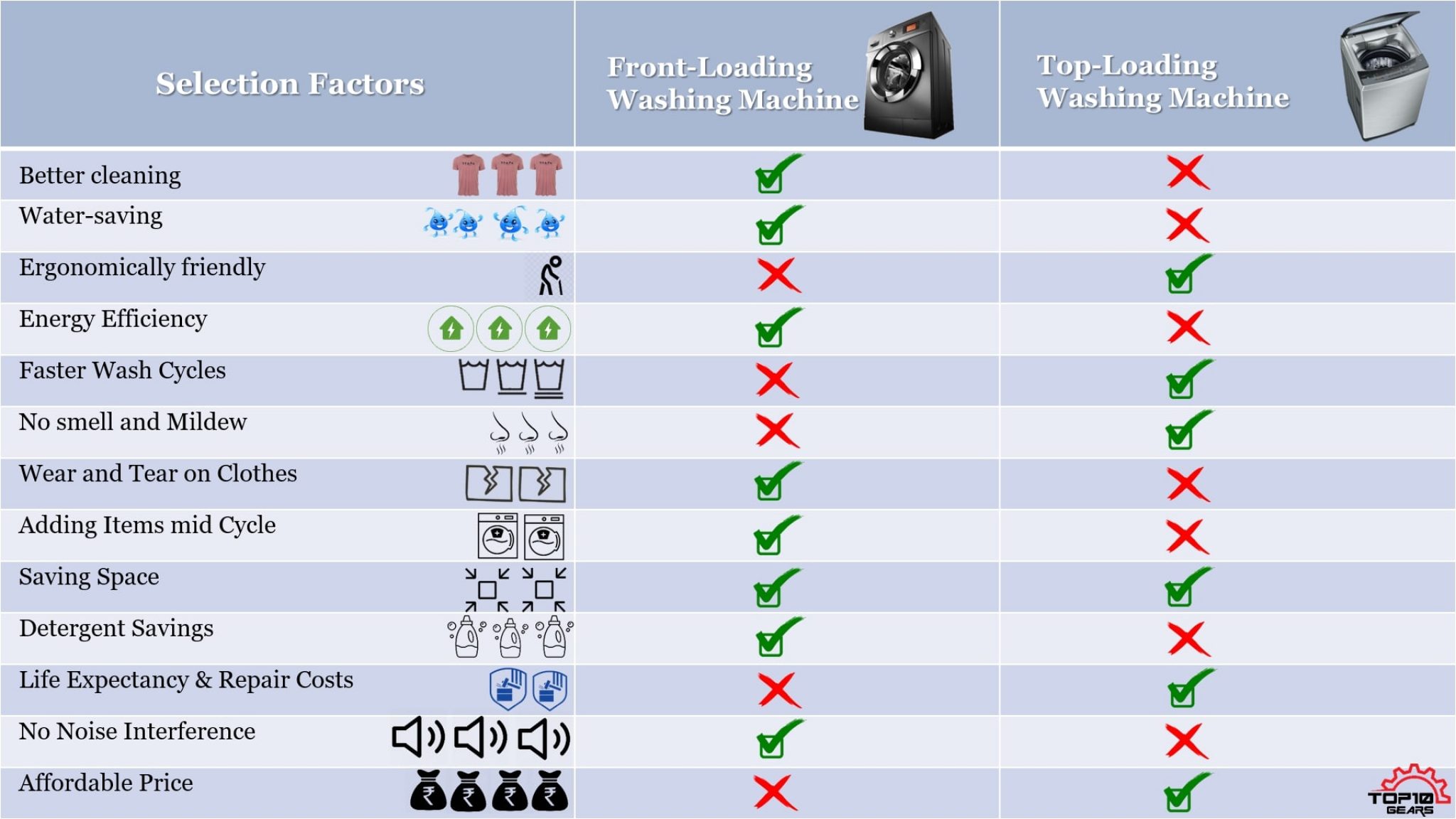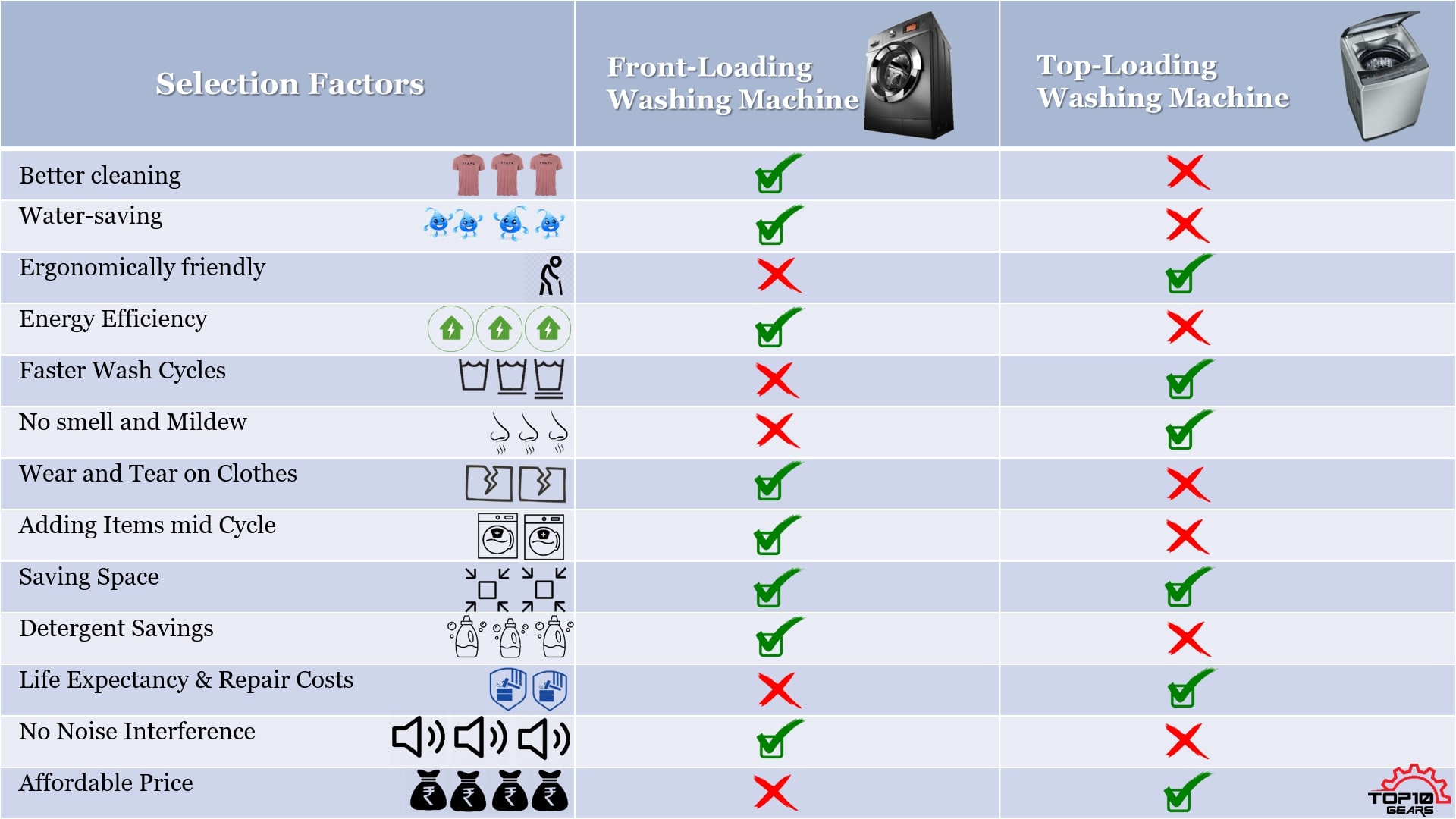 Top-load washing machines have a smaller and faster washing cycle than its counterparts because the clothes are constantly immersed in water for a longer period of time.
On the other hand, the front load washing machine has a 33% faster spin cycle than a top loader. It also comes with a wide range of useful features such as hot wash options, child lock, variable spin speed options, etc.
Top-loading washing machines are cost-effective because they are relatively simpler in design and construction, it takes less space, it's energy-efficient and vibrates less.
However, the front load washers provide a comparatively better wash cycle with the most advanced features and water heating options for better results.
If you have no water shortage problem and the budget is low, then the top-load washing machine can be a better option. If the budget is not the constraint then we recommend the front-loading washing machine.
Wash Programs
As we wear different types of clothes in different seasons and live in different climatic regions, there is a need for multiple wash programs. This is one of the important features anyone has to consider while buying a washing machine.
The machine should offer you varying wash programs so that you can use it for washing all types of clothes without any complications.


If you live in a place with the heavy monsoon, then Monsoon settings in IFB and Bosch, which removes the odor of damp clothes and dries clothes better would be something that you need.
Similarly, families with a working couple will find a machine with a 24-hour time delay setting very helpful. However, if the family has a child or kids they will need hot water wash, Kids to wear, BabyCare, super clean programs, or similar programs very helpful.
As per the requirement, one should look for at least these wash programs such as Cotton Wash, Wool wash, Dry Wash, Hot Wash, and Aqua Energy Technology. Aqua energy technology converts hard water to soft.
In other words, in this technology, efficient filters are present which trap salts(bicarbonates) and transform them into crystals. After that these small-size crystals flow easily in water and thereby make the cleaning easier.
Other Factors to Consider
The material of the tub
Tubs are usually made up of either Stainless Steel, Porcelain Enamel or Plastic. Plastic tubs last longer than enamel which can chip or rust. Stainless steel tubs are the most durable and last longer and can withstand high spin speeds.
So our order of preference for the material of the tub is Stainless Steel > Plastic >Porcelain Enamel.
Spin Cycle or RPM
The spin cycle is used for drying the clothes after washing. Therefore, this is the factor that determines the time that a machine will take for drying the clothes. It is measured in RPM( Revolution Per Minute).
Machine with higher revolutions per minute has better drying capacity and take less drying time compared to machines with lower revolutions per minute.
Inverter Technology
It does not refer to washing machines that can run on the home inverter. It is basically a technology to save electricity in most appliances that have a moving part.
In the conventional washing machines which are designed for a fixed load and operate most efficiently when running at the optimum load, the motor runs at constant speed irrespective of the load inside the machine.
Hence, the machines consume the same amount of electricity even if the load is considerably low.
But a washing machine with inverter technology runs at optimum loads depending on the load on the machine. Above all, the machine is fitted with sensors that detect the load on the washing machine.
Depending on the load, it determines the optimum speed at which the motor should run to optimize electricity usage. However, it is only possible if the machine is fitted with Variable Frequency Drive (VFD) motors or Brushless motors that provide the machine with the capability of running at variable speeds.
Direct Drive Technology
In the conventional motors which consist of gears and belts as moving parts, there is a lot of frictions involved that make the washing machine energy inefficient. In addition to this, it also produces more vibration and noise.
However, to overcome these issues Direct Drive Technology was introduced. In this technology, the motor is attached directly behind the Drum and there are no such movable parts thereby resulting in the elimination of friction and thus saving electricity.
The direct-drive technology-based motors are a bit heavier than the conventional motors. However, they produce less noise and have a better life. For a better understanding of the technology please see the above video
Hard Water Processing
Hard water is a very common problem and it is very difficult to dissolve the detergents in it. As a result, over the period of time, a white layer deposits of salt accumulate around the drum and supply pipes result in choking them.
Therefore, many manufacturers have come up with hard water treatment technology in their newer models. For instance, the present generation of IFB machines comes with a unique Aqua Energie technology that enables it to convert hard water to soft water. The best IFB model with this Aqua Energie Technology is IFB Senator Aqua Sx 8. Check the price of this model on Amazon here.
Similarly, Whirlpool has a specific 'Hard Water' option in its latest semi-automatic machine series, Ace. This is one of the important factors to consider while buying a washing machine.
Temperature Control
The temperature control feature will let the user control the temperature of the water and remove the toughest of stains. For instance, it plays an important role in disinfecting the clothes of small babies or a patient on a regular basis.
Therefore, some of the machines such as IFB, BOSCH, LG, Samsung, and Whirlpool do come with built-in heaters and is useful during the winter season. However, most of them offer separate pipes inlets for hot and cold water.
Check the price of the LG FHT1409SWL Front Loading Washing Machine with Inbuilt Heater on Amazon.
Energy Efficiency
The energy-efficient machines save your electricity bills and improve the overall performance of cleaning the clothes.
Similar to other appliances, you can check for the BEE rating on the washing machine also which represents the energy efficiency of the machine.
Higher star rating points to higher energy saving. For instance, a 5-star washing machine saves more energy than 4-star, 3-star washing machines.
Although 5-star energy rating washing machines save a lot of electricity, they are an expensive one. However, buying these expensive 5-star rated washing machine saves money throughout its lifetime.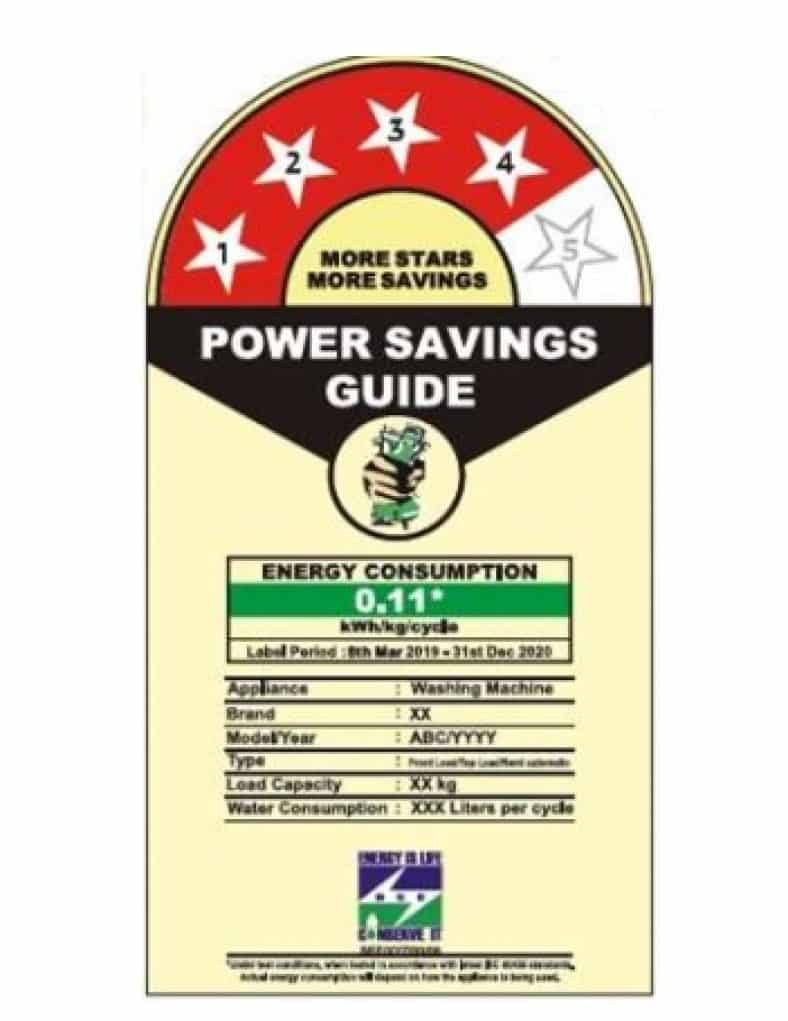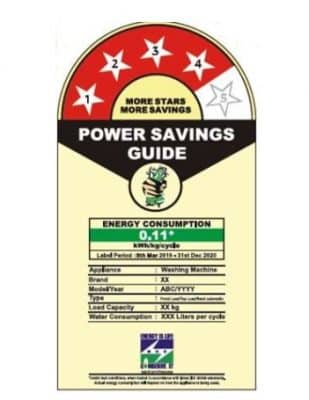 Auto Detergent Dispenser
This is one of the important features which one should look forward to if one is indecisive about the optimum quality of detergent required in a washing cycle, as the less detergent can affect the quality of cleaning, it can also cause discoloration and unpleasant odor, while the higher quantity not only increases the water requirement but also deplete the detergent stock faster.
Hence one should choose for an auto detergent dispenser washer because it can automatically determine the required quantity on the basis of advance load-sensing sensors.
Budget
It is an essential factor to decide which type of washing you can get. Firstly you need to set a budget and then look for the machine with all the desired features. However, you can get the required features, functions, and benefits even in a machine that comes within an affordable price range.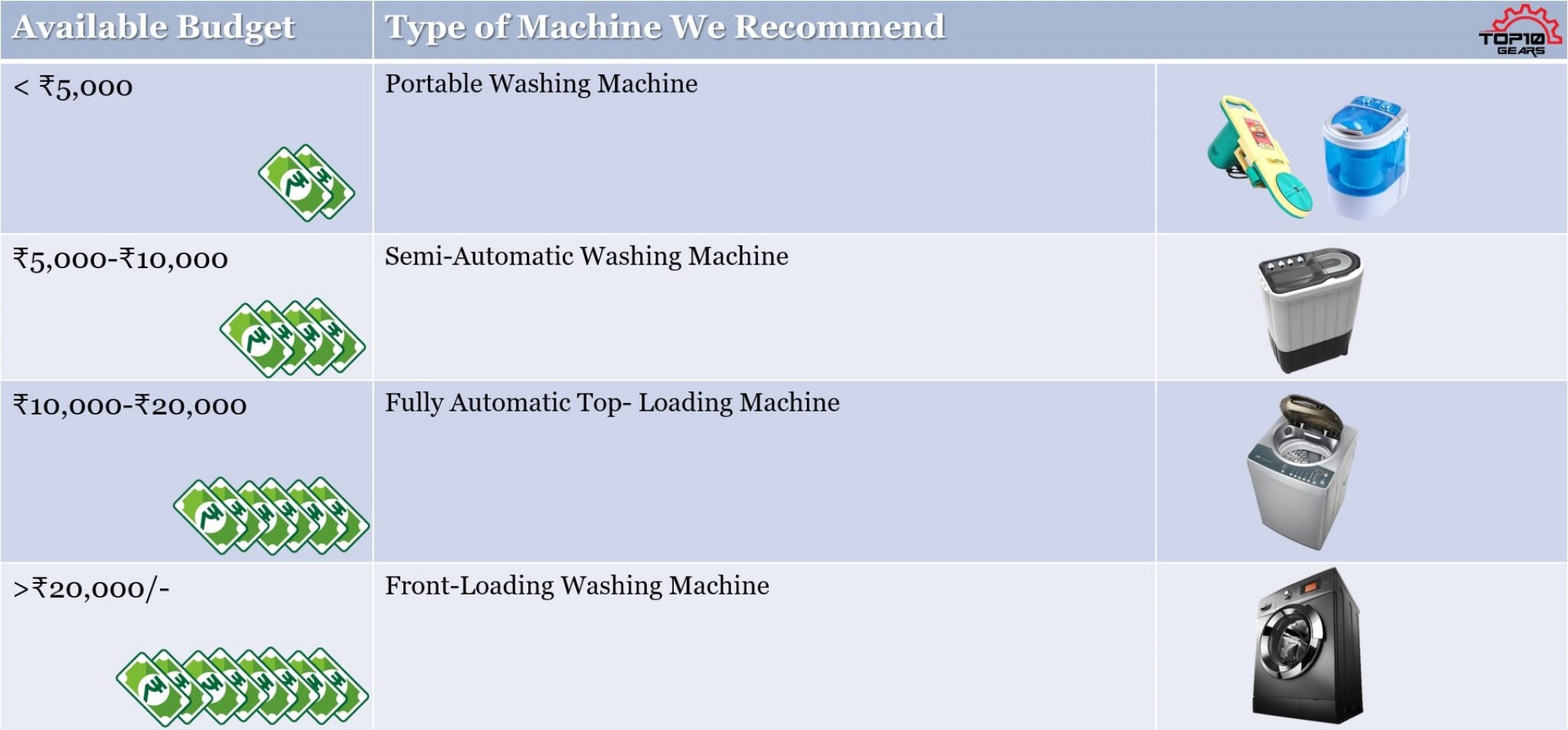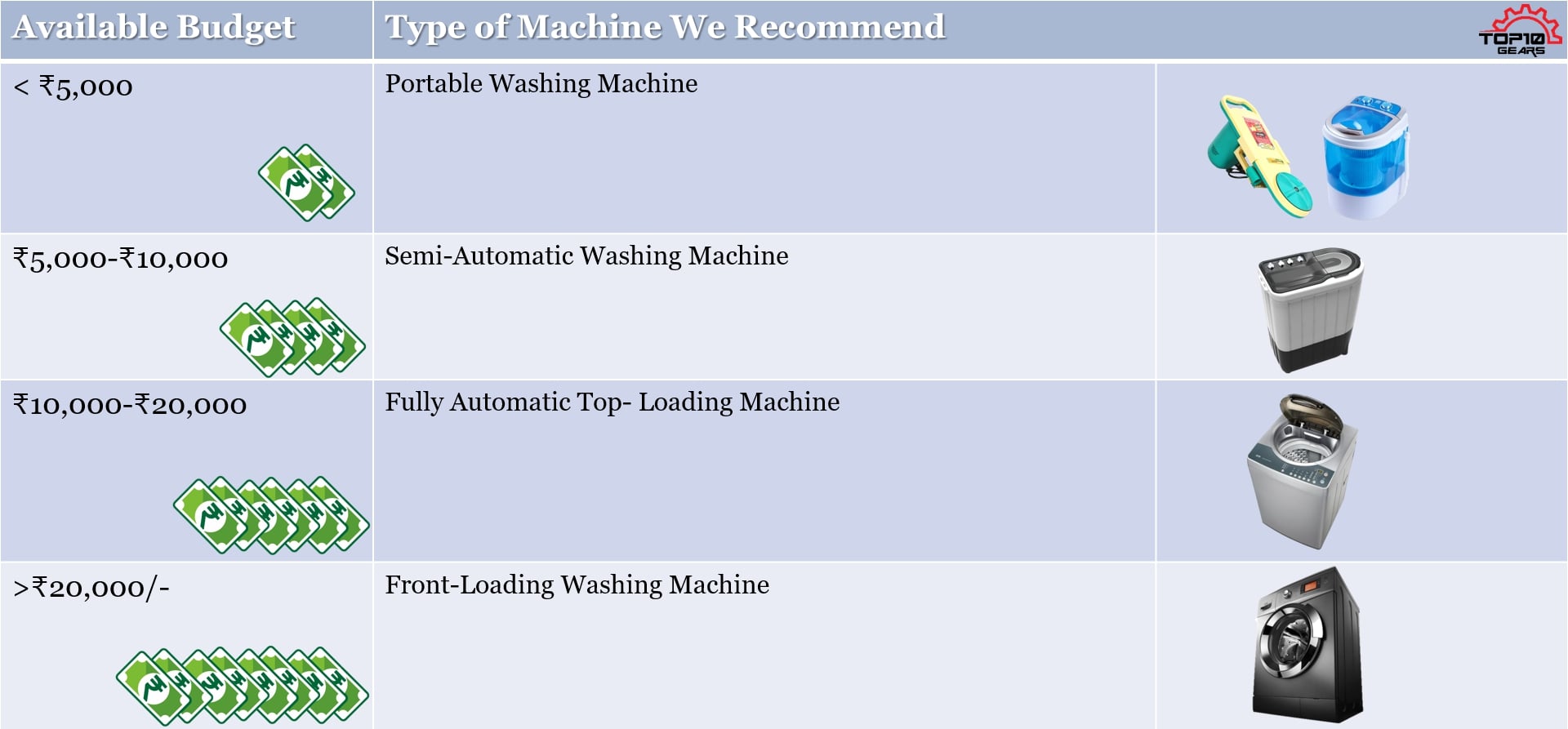 If you are looking for a washing machine within 10k then we suggest you go for top-loading semi-automatic washing machines such as Samsung WT725QPNDMPXTL .
If your budget is between 10k to 20k, then we suggest you choose the top-loading fully automatic washing machine such as Samsung WA65A4002VS/TL Fully Automatic Top Load Washing Machine and if your budget is above 20k then we recommend you to choose front loading fully automatic machine such as IFB Senator WXS or Bosch WAK24268IN 7 Kg Fully Automatic Front Load Washing Machine..
Some Smart Features to look out for
Quick Wash
In this feature, it takes only 15-18 minutes to wash 1 to 1.5 kg of clothes, which is faster than the ordinary wash cycle. However, the quick wash cycle time is totally dependent on the load of the clothes.
It's one of the most helpful features when you are in a hurry to go somewhere and want to wash clothes as early as possible but this feature is restricted to small loads only.
Delay Wash
This feature is good for those with a busy schedule especially the working couples. For instance, it allows you to plan your washing ahead of the schedule and let you delay the washing function for up to 23 hours.
It automatically starts the washing cycle on its own, without any human interference even if you are out or sleeping.
Child Lock
This particular feature is especially useful for those who have kids at home. This feature locks down the machine's program panel so that the kids won't be able to affect the washing process.
Fuzzy Logic or Auto Select
Above all, depending on the load quantity the machine automatically selects the best washing program. In addition to that, it detects the weight and select time of the wash cycle, detergent and water required, automatically, and starts the washing function.
Hence, there is no hassle for you concerning the settings of the washing machine.
Pre-Soak Option
This feature gives you the opportunity of loading your washing machine with the intention of starting it afterward. It lets you soak your clothes for a certain period of time before the wash cycle begins automatically.
App Availability
This is an era of smart devices and the world is becoming smarter day by day. In this environment of smart mobile, TV, air-conditioner, fridge and so on it becomes very essential for manufacturers to incorporate these smart features to washing machines also.
If you are a person who uses smartphones a lot, you'll surely love washing machines with app connectivity, but this comes with extra cost.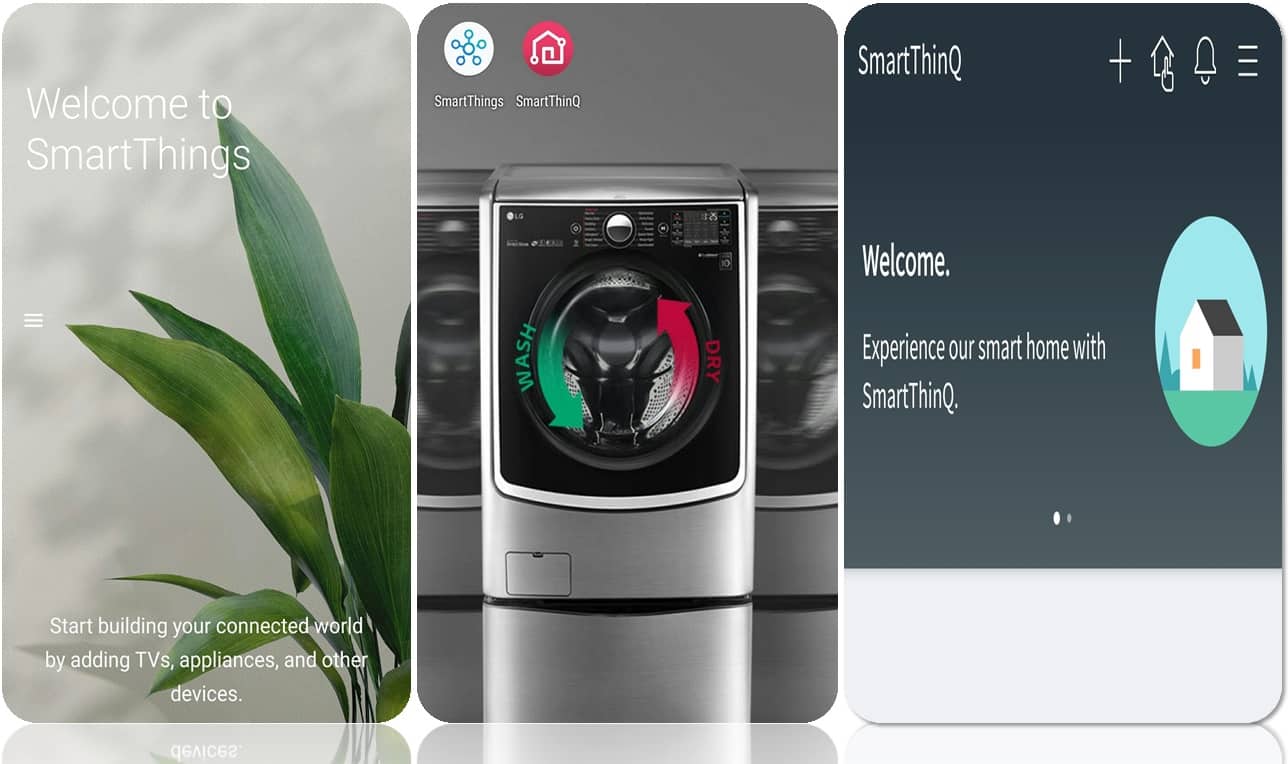 Nowadays the world is moving towards Artificial Intelligence and Voice control ecosystem like Amazon Alexa, Google Echo, etc, you will surely admire the voice control feature in certain washing machines. Many models are coming with companion apps and voice control integrations, but it is still in its infant stage.
Mostly the machines come with an app that can only control certain functions, but certain models come with a neatly designed app that allows greater flexibility i.e the user can start the wash cycle remotely, shows the status, and gives out an alert.
For instance, the LG Machine comes with an NFC tag and SmartThinQ app that helps to diagnose up to 86 errors without calling its customer care service.
Similarly, with Samsung's Smart Control app you can control washing machines and get the status of the machine at any time.
LCD Display
In the modern washing machines, you can get a large size displays to read easily and know which specific operation is carried out. In addition to this, it will display a few important parameters like washing, spinning, drying, timer, type of cloths, and temperature setting. However, it is absent in almost every semi-automatic washing machines.
Bubble Wash
This feature produces bubbles that go deeper into the fabric and give a better wash quality. The central principle of this feature is that it converts detergent particle into a bubble which inflates around the soaked clothes and penetrates the fabric to remove the most stubborn of dirt particles.
It gives the same wash quality as that of the heater thus saving on electricity. This technology is present in many washing machines. The washing machine that you can buy from amazon with this technology is Samsung 9 Kg Fully-Automatic Front Loading Washing Machine (WD90K6410OX/TL, Inox Grey).
Steam Wash
It is one of the most advanced features and unlike other features, it is available in most expensive washing machines only. It uses steam, heat, and humidity and passes on to clothes with forces. Stream wash helps to remove tough stains and makes clothes odor-free.
---
Why is my washing machine vibrating and what can I do to stop it?
The Washing machine may not be leveled. In fact, washing machines need to be level for proper operation, Ensure it. You can also try to redistribute the load to ensure an even balance.
Are Front-load washers are more expensive and efficient than Top- loaders?
Definitely, it is more efficient than the top loader. Front-load washers may seem at first more expensive, but the higher initial cost of a front loader can be recovered in just a few years through savings on the water bill, electricity bill, drying time, and soap-usage.
How can I cancel the delay function?
i. If you have already pressed the start button after choosing the delay timer, then you have to power off the machine and then power on. The delay function will be canceled.

ii. If you have only chosen the delay timer and have not pressed the start button, then just choose another program by turning the knob. The delay function will be automatically canceled.
Why the door lock icon does not display and the washing machine does not work?
The door was not closed properly before starting. Please open the door and close it again then press the "Start/Pause" button.
What is the best size washing machine for a small family?
You can consider this
chart
to decide the best size washing machine.
What is the life-span of a washing machine?
Generally, a washing machine lasts between 6 to 10 years, it can last for 14 years or more also, if you limit the washing to one load per day.

The front load washing machine lasts longer than other machines, on an average it lasts about 10-15 years.
Do the washing machine tubs and motor come under warranty?
Yes, Most of the branded washing machines do come with warranty services on the product, tub, and motors. Although it may vary from 2, 5, 10-years depending on the brand, price, and the smart features incorporated.
Can washing machines rip off the clothes?
Obviously yes! Your washing machines do rip of (tear) the clothes when it is not working well or when the tub inside is damaged. Any sort of damage to the device will result in worn out or tear and may spoil the clothes completely.
Why there is too much foam in the drum which generally spilled from the distribution drawer?
There can be two reasons for this. Either the detergent is not compatible with the front load washing machine or You might be using excess detergent.

So, either you use another detergent that can be used in the front load washing machine or Reduce the amount of detergent in the distribution drawer.
Can I use top-loading detergent in a front-loading washing machine?
No,
you should avoid because the detergent for top loading washing machine produces more lather and the front loader uses less water. So either it will result in a longer washing cycle or it might leave detergent stains on your clothes.
However, if you have already bought a top-loader detergent, then use only half the required amount in your front-loader machine.
Read More …
Can I use front-load detergent in a top-loading washing machine?
Yes
, you can use it in your top-loading washer but either you have to increase the quantity of detergent or if you have a 'water-saving' mode in your machine then turn that on.
Read More…
Can I wash delicate items in my washer?
Yes, but please ensure you use the wool/hand program.
How much detergent do I need?
It depends on the brand of washing powder you are using. In the beginning, you have to experiment with using what is recommended by the manufacturer.

However, if you notice that the washing machine is not removing detergent properly from your garments, then reduce the quantity used.
How do I get rid of detergent left in my detergent compartment?
Simply reduce the amount of detergent you are using as you are using more than required.
Is an agitator top-load machine better or one with an impeller?
The top-load machine with an impeller is much better than one with an agitator as it requires less water and is not harsher on clothes. You can wash delicate clothes in the top-loader with an impeller.
Can I use a fabric softener?
Yes, place it in the detergent compartment in Front-Load washer.
How much power does a fully loaded automatic washing machine consume?
As per BEE Standard Schedule 12, if your washing machine is star rated then the minimum criterion of energy consumption is,

BEE Star Rating washing Machine
Conclusion
You can also go through our list of the top 10 best washing machines available in the market and see the different features and latest technology in various brands. In our list of the top 10 best washing machines, we finally recommend you IFB Senator WXS Fully Automatic as a complete package because it is equipped with various features and suitable for a large family.
If you are low on budget or prefer Top Loading Washing Machine then we have recommended Samsung | 6.2 Kg | Fully Automatic | Top Loading Washing Machine | Model: WA62M4100HY.
Hope this post was helpful to you. However, if you need any other help or have suggestions for us, then please do comment below and we will get back to you with the best possible information and details. Your advice, comments or suggestions would be greatly appreciated and welcomed.