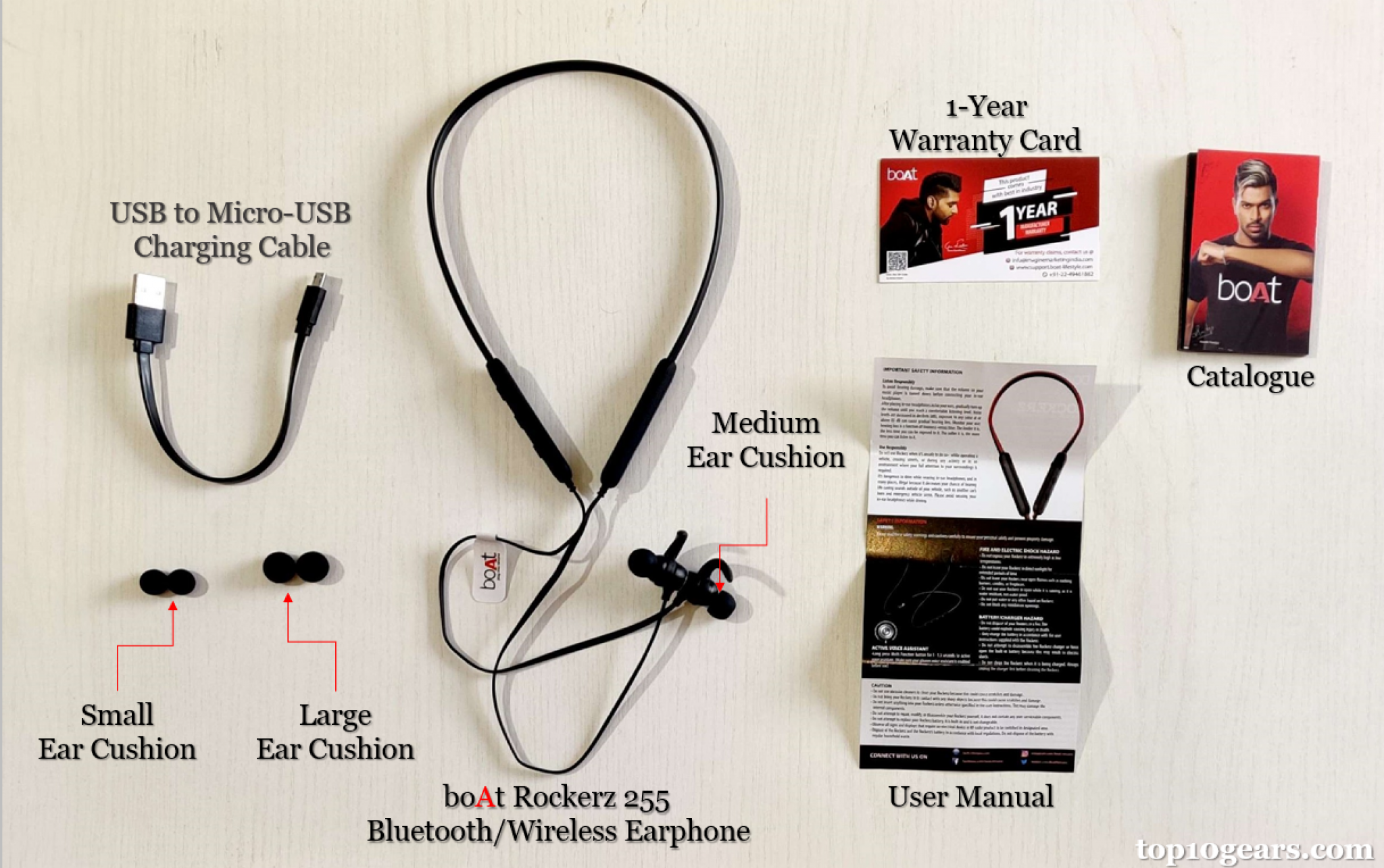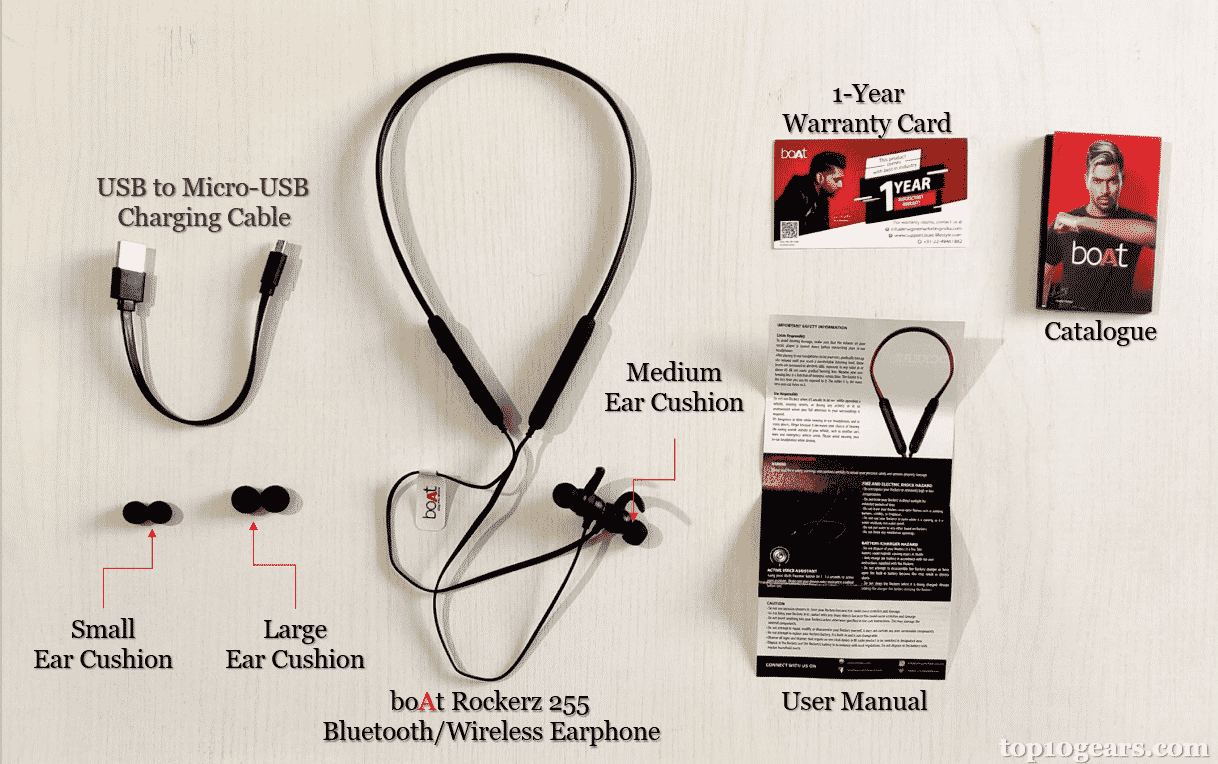 Audio Quality and Loudness
With the introduction of USB -Type C port in the smartphones, which is eventually replacing the popularity of 3.5 mm jacks, the wireless Bluetooth headsets and earphones are gradually gaining popularity.
As the technology progresses the newer and better standards coming for wireless headsets, you no longer need to spend thousands for getting a wireless earphone with decent sound quality.
If you have bought a smartphone without 3.5 mm jack or just looking for a wireless earphone as your daily driver within Rs 1500/-, you have tons of options available to choose for within the competitive price bracket of Rs 1000 and Rs 1500/-.
Here in this post, we will be reviewing one such product from boAt which has a 7.9 rating from 66,521 people on Amazon and an 8.6 rating from 2,60,439 people on Flipkart. The product is boAt Rockerz 255 Bluetooth/Wireless earphones.
We have been using the boAt Rockerz 255 for the past couple of weeks, and I am kind of satisfied with its performance, considering the price tag. Here is our honest Boat Rockerz 255 review.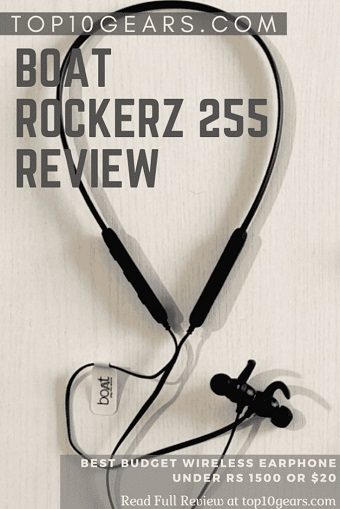 Unboxing of boAt Rockerz 255
The box is a gray color with graphics and has a small simple look. On the front side in the Centre of it, you get the white color "Rockerz 255" printed, on the top left corner you have boAt logo and on the backside of the box, you will get Kartik Aaryan signature and many white-colored rounded icons with the features and specifications of this earphone. The Rockerz 255 sits nicely into the box. You get the below things inside the box. 
When you open the box, you get to see Active Black/Neon/Ocean Blue or Raging Red highlight running along the neckband and the wires connecting it to the ear-pods. You get 2 extra pairs of ear cushions apart from the one pre-installed. If the pre-installed does not fit properly to your ears, you can easily use the other one from the box of different sizes.
boAt Rockerz 255 Specifications
Design of Boat Rockerz 255
The design of boAt Rockerz 255 is great and is quite suitable for everyday usage. It is a sports Bluetooth earphone that comes with a plastic body and a stylish collar design with the wires coming out of the front part. 
However, if you want to hide the collar design, you can do that easily under the collar of your shirt or T-shirt. The cable can easily bent and carried in pockets. The cable length is also perfect. To keep the cables in place when the earphone is not in use, the ear tips are provided with the magnets.
The ear tips are curve-shaped and the angle is created so that they can easily go inside your ears. Ear-tips are really comfortable and you can easily wear them all day long without any problem.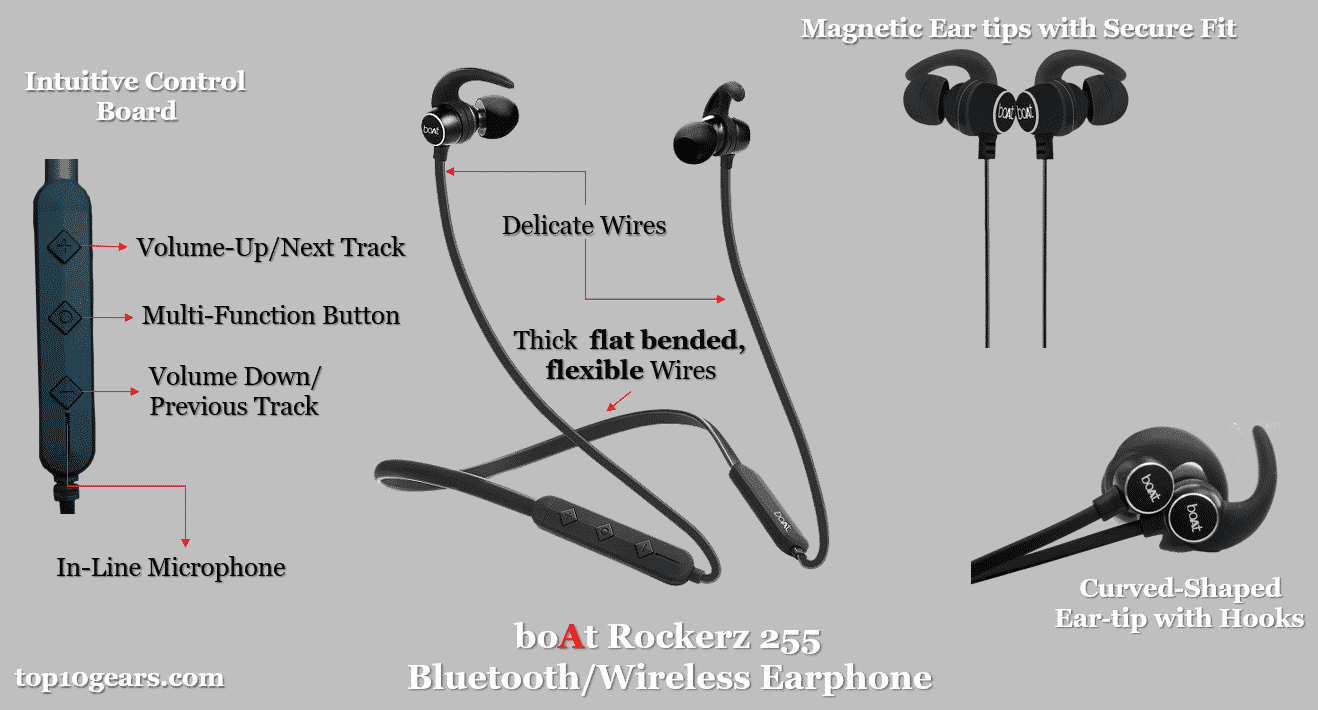 Rockerz 255 comes with an extra piece of removable hooks that provide extra comfort and helps them to stay where they are. But if you don't want the hooks then you can easily remove them. The hooks are very handy and you can easily use them for a workout, running or any other intense activity and they won't fall out easily. 
Some people don't like this hook and some say that this is really good, there are mixed feelings about this. If you wear them for longer hours, then there may be a little problem, but if you are using this earphone where you are not listening to continuous music then these are really good and you will feel comfortable.
boAt Rockerz 255's great ergonomic design neither feels heavy for the ears nor it falls off the ears, even at the time of running or during heavy workout sessions. This makes the boAt Rockerz 255 Bluetooth earphones a kind of perfect sports earphone.
It's a Neckband style earphone having operator cable in the middle with two compartments on the side that contains the inline mic and at the end of the cables, we have two earbuds hanging at the end. 
On the right side of the neckband, it has an inline remote with 3 buttons, the center of which is a multi-function button which can be used to turn the device on or off, play or pause music, receive calls, etc. You can also activate Voice-Controlled smartphone assistants like Siri, Google Now and Cortana.
The other two buttons can be used to control volume and skip tracks. It also has a micro USB port on the mic remote which can be used for charging. You can take the help of cable that comes inside the box or the one that you have at your house.
The earphone comes in 4 colors active black, raging red, neon and ocean blue. I have bought a black one. At this price, you can't expect anything further.
The Build Quality of boAt Rockerz 255
This earphone looks fantastic and the build quality is really good. The boAt Rockerz 255 seems to be a durable earphone. The neckband is really tough enough to make the earphone a little heavy but it is really nice. It looks a little bit flimsy but seemed quite durable, flexible and comfortable around the neck.
Because of its plastic body, it is very lite weight and comfortable as well. It feels very reliable and you can easily trust them.
However, the downside is that the wire that connects the controller and the ear-tip is thin and delicate than the neckband cable and you can't use the earphone harshly. The other thing is that the covering of the charging port is delicate too and can wear off by rough handling.
In Amazon reviews, some people have complained about getting these earphones broken in 3-4 weeks but a lot of people are loving these wireless earphones. As far as my concern, these are working great in the past few weeks of my usage.
Wire Quality of boAt Rockerz 255
Unlike many other earphones, in Rockerz 255, the cables are flat bended, flexible, strong and robust. Yes, you do not get the spherical wires but a flat one. These wires are really good looking and provide a sporty look to the earphone.
The wires seemed a little long and were non-retractable, but at this price, to expect retractable ones would be a bit of a stretch.
Features of boAt Rockerz 255
The earphone is packed with tons of specifications. Let's have a look at the features of the boAt Rockerz 255 Bluetooth earphones.
The Rockerz 255 is equipped with the latest Bluetooth 4.1 and has advanced Qualcomm CSR 8635 chipset with 10mm drivers. Together they ensure crystal clear wireless transmission in true HD sound.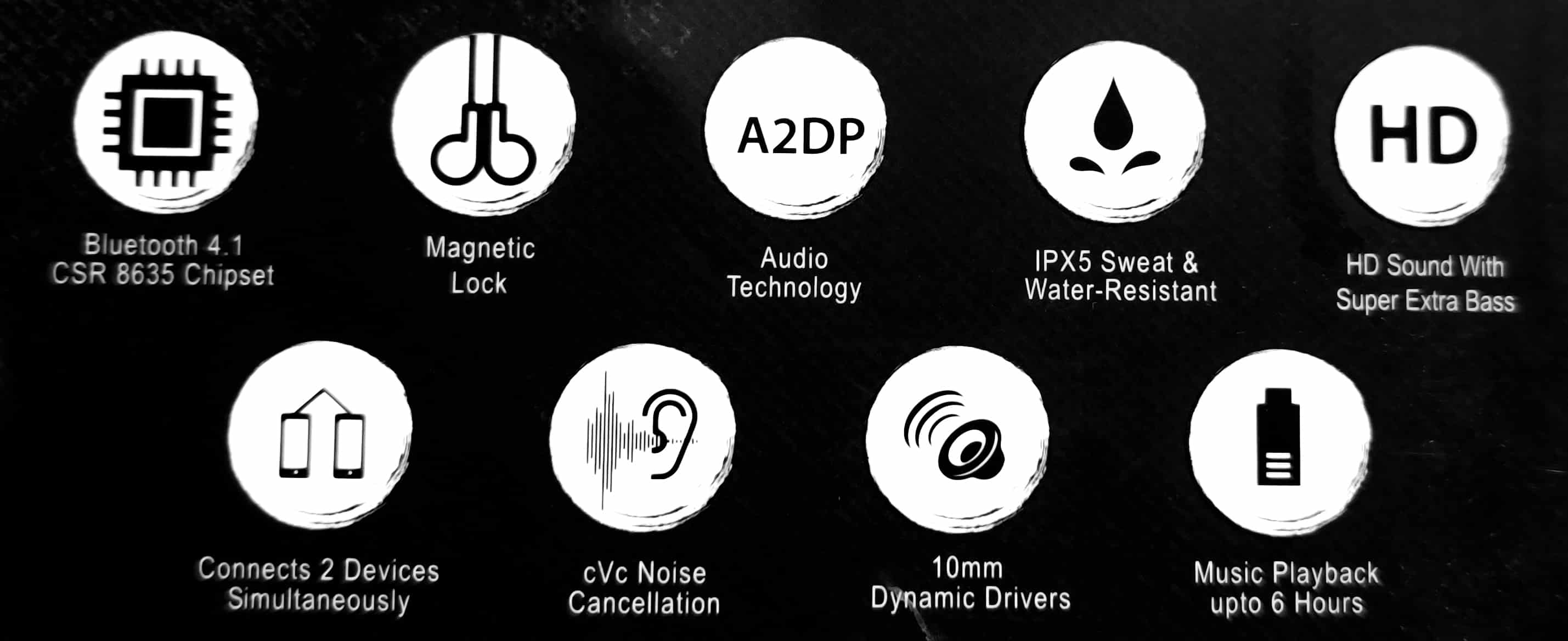 The 10mm drivers installed to ensure that you get an exceptional sound experience with articulate audio reproduction with a blend of pitch-perfect frequency response. The device also supports the A2DP protocol for connectivity.
Bluetooth 4.1 has a decent range of 10 meters. I didn't have any issues against the connectivity. If you have bricked walls in your house and you are sitting with your earphone in one room and the phone is kept in other room, then you will not feel any issue with the sound but if the walls are made up of 100% concrete then you may experience a bit distortion in the sound, which seems to be quite natural.
It is equipped with CVC noise cancellation that provides you clear audio quality during calls when your mobile is in the same room. But just as other Bluetooth connectivity the sound quality starts to deteriorate when you move out of the room.
It's IPX 5 certification makes it sweat and water-resistant. It can resist water and splashes easily. Thus, suitable to wear during workouts.
Like other Bluetooth earphones available today, the boAt Rockerz 255 comes with dual connectivity i.e. you can connect two devices at the same time. But only one device can be used at a time.
The Voice Prompts and beeps tells you about the low battery, switch ON or OFF, incoming calls, etc. It also comes with a multi-colored LED indicator that can notify the user about incoming calls, battery level, etc. But one drawback is that it doesn't tell you who it is calling as in some other wireless earphones. So every time you have to take out your mobile from your pocket to see it.
Battery Life of boAt Rockerz 255 Wireless Bluetooth Earphone
The earphones have a decent battery life. The boAt Rockerz 255 is equipped with a Lithium Polymer 110 mAh battery which takes roughly one and a half hours to charge fully and after full charge you get 6 hours of music listening time or call time. So, you need to charge these earphones twice a day if you are a heavy user.
It also supports fast charging, as per the promises, with 10-15 minutes of charge, you easily get the 45 minutes of playback time. You can also use the magnet of this earphone to conserve the battery. Suppose if you are not using them then just use the magnet and keep them down. This is really good for these earphones under these price tags.
How do you make a Rockerz 255 discoverable?
First of all, switch on the Bluetooth of the smartphone/laptop/tablet, etc, and make it discoverable. Then you have to turn on the Rockerz 255 by long-pressing the middle multi-function button for 3 seconds. A blue light will start blinking on the earphone. This will enable the pairing mode of the earphone.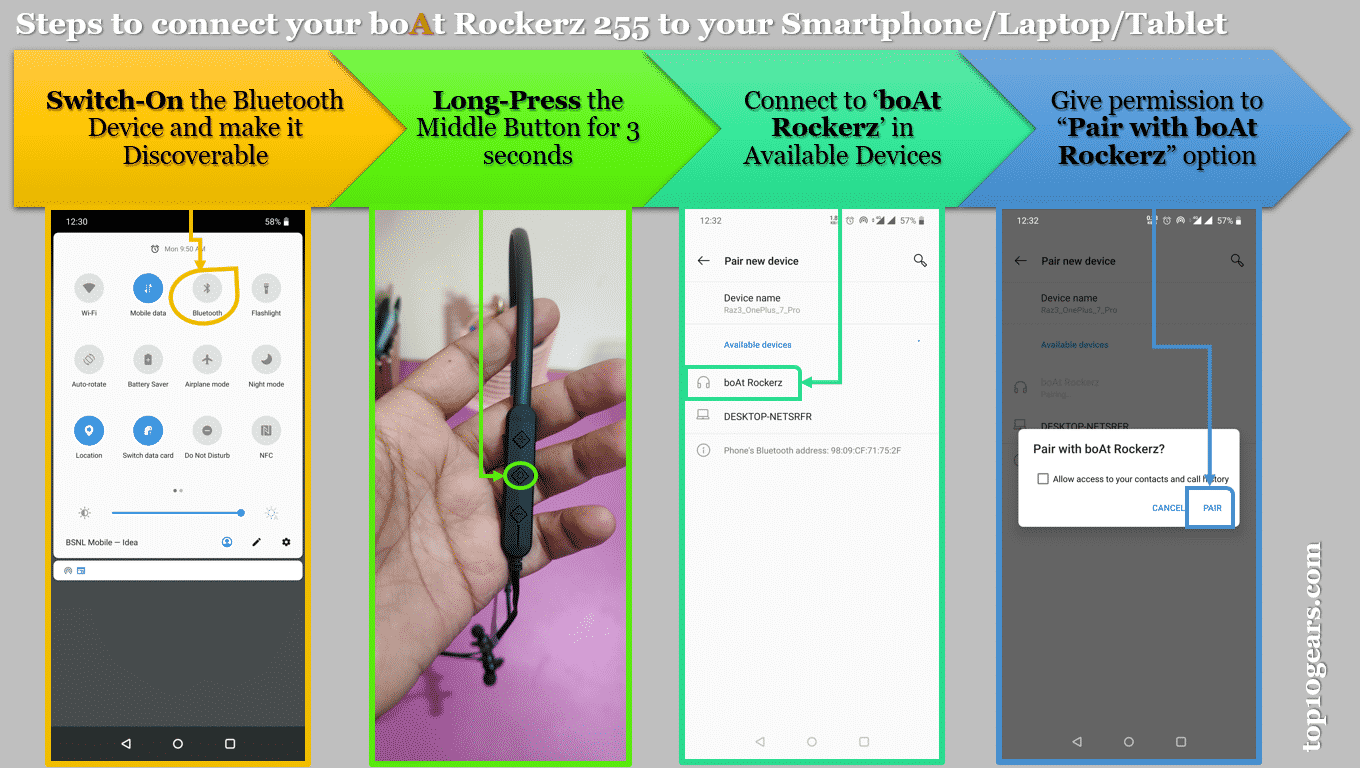 Once the pairing mode is turned on, connect to 'boAt Rockerz' that appears in the list of available Bluetooth devices on the smartphone. A prompt with permission will appear with the message "Pair with boAt Rockerz?". Give permission and you are good to go.
To connect a second device, disconnect the first device, and connect the second device in the same manner as discussed above. Once the second device is connected, reconnect the first device again. You cannot connect two devices at the same time.
The battery percentage is shown on the device connected. And it is 90% Percent accurate.
There are three multi-function buttons on the controller of the boAt Rockerz 255 wireless Bluetooth earphone. With each one, you can perform a specific function.
Central Multi-functional Button(O)
Long press (3+ Seconds) to
Press for 1 second till the beep will
The Sound Quality of boAt Rockerz 255
The boAt Rockerz 255 has a 10-millimeter driver which produces an excellent frequency response and at the same time, they are insanely loud. The sound quality is fantastic. The audio is clear and listening to calls or recordings was satisfactory.
With cVc noise cancellation onboard the boAt Rockerz 255 Bluetooth earphones, you can easily make high-quality VoIP calls without any unnecessary noises.



It is great for music lovers especially those who like more bass in music. As it gives powerful HD sound and deep boosted bass. But it is only comfortable at low volume than on high volume. As a high volume, you miss all other parts of the music as it decreases their frequency.
Based on the sound quality I recommend this earphone to the people who like to listen to extreme Bass. For example, the one that prefers to listen to music in his car with subwoofer Bass tube. If you like to do this, then you will love this earphone. But if you listen to very balanced music then this earphone is not good for you.
As 60-70% of India listen to Extreme Bass so most of the people will love this product. You can enjoy good bass without changing the equalizer settings in the music or video player. it is best for bass lovers
Most of the people will feel that the bass is really balanced. These are not bass-heavy earphone but you will feel the bass when you listen to good music. The sound quality is clear and crispy enough. The sound is really good and loud. You will not have any problem with the music that you hear. I have been using this earphone for more than 3 weeks and I have no issues with them.
Under the price bracket of Rs 1500 or $20, you cannot expect a lot from earphones but I can tell you these are really good. You will not find any other earphone which is better than this in this price range. This one is really worth your money.
Boat Rockerz 255 Vs 255F or 255R vs 255T
There are many variants of Boat Rockerz 255 wireless Bluetooth earphones on different online platforms like Amazon, Flipkart, Myntra, TataCliq, etc.
In this section, we will discuss the questions and the confusion related to the different variants of Boat Rockerz 255 wireless earphones. The most common variants are Boat Rockerz 255, 255F, and 255R. The prices of these models vary from seller to seller. This also creates some confusion.
For solving this confusion, we analyzed the specifications and details of all the variants available with different sellers on different e-commerce platforms. We also searched the official BoAt website and found that only two variants are listed there. One is Rockerz 255 and the other is Rockerz 255R. We then compared the specs and analyzed the result.
Difference Between Boat Rockerz 255 Vs 255F Vs 255R
boAt Rockerz 255 vs 255F or 255R vs 255R
Comparison



Boat Rockerz 255
Boat Rockerz 255F or 255R
Boat Rockerz 255T
Qualcomm CSR8635
Qualcomm CSR8635
Qualcomm CSR8635
Battery Capacity
in mAh (milliamp Hour)
Is boat Rockerz 255, 255F, 255R and 255T are the same?
In simple words, we can say that, yes all the variants like Boat Rockerz 255 and 255F and 255R are the same. Every specification and details of the earphone are the same. Different sellers sell the earphone with different names.
Amazon sells under the name of BoAt Rockerz 255, Flipkart sells under BoAt Rockerz 255F or 255R and TataCliq sells under Boat Rockerz 255T. The boAt Rockerz 255R comes in Red color.
| e-Commerce Platform | Variant or Model |
| --- | --- |
| | |
| | |
| | |
We still don't know why the sellers sell this product under different names even though the product is same. The variation in the price is because the seller set it.
Some reviews on Flipkart suggest that Boat Rockerz 255R has Super Extra Bass, 255F has Extra Bass and Rockerz 255 comes with Ok Bass. However, we didn't find this to be true. Every specification is the same and we didn't find any extra bass in other variants.
The newest model of the Rockerz 255 is Boat Rockerz 255 Pro. Check the price of the Boat Rockerz 255 Pro on Amazon. The Pro is the upgraded version of Rockerz 255 and comes with Bluetooth 5.0 unlike Rockerz 255 which has Bluetooth 4.1.
Price of boAt Rockerz 255
The earphones are priced at ₹1500 or $20 but you can also get this earphone for ₹999/- at the time of sale, which is a reasonable price. Check the price of this boAt Rockerz 255 wireless earphone on Amazon.
On top10gears.com you can also compare the prices of this earphone on different shopping portals.
Note
The warranty is for 1 year. Manufacturing defects are covered in the warranty, not physical damages.
Looking into both the pros and cons we can definitely say that it is a must-buy for people who like more bass. You can use it on the go and even while running without worrying about its opening. The band is also very light in weight. But sound quality could have been better.
However, when we look at the price of the product, it has tried to give you the best features. With this piece of earphone in your ears, you seem to stand out of the crowd.
So that is all about the boAt Rockerz 255 Bluetooth earphones review. What do you think about this product? Feel free to comment on the same down below.