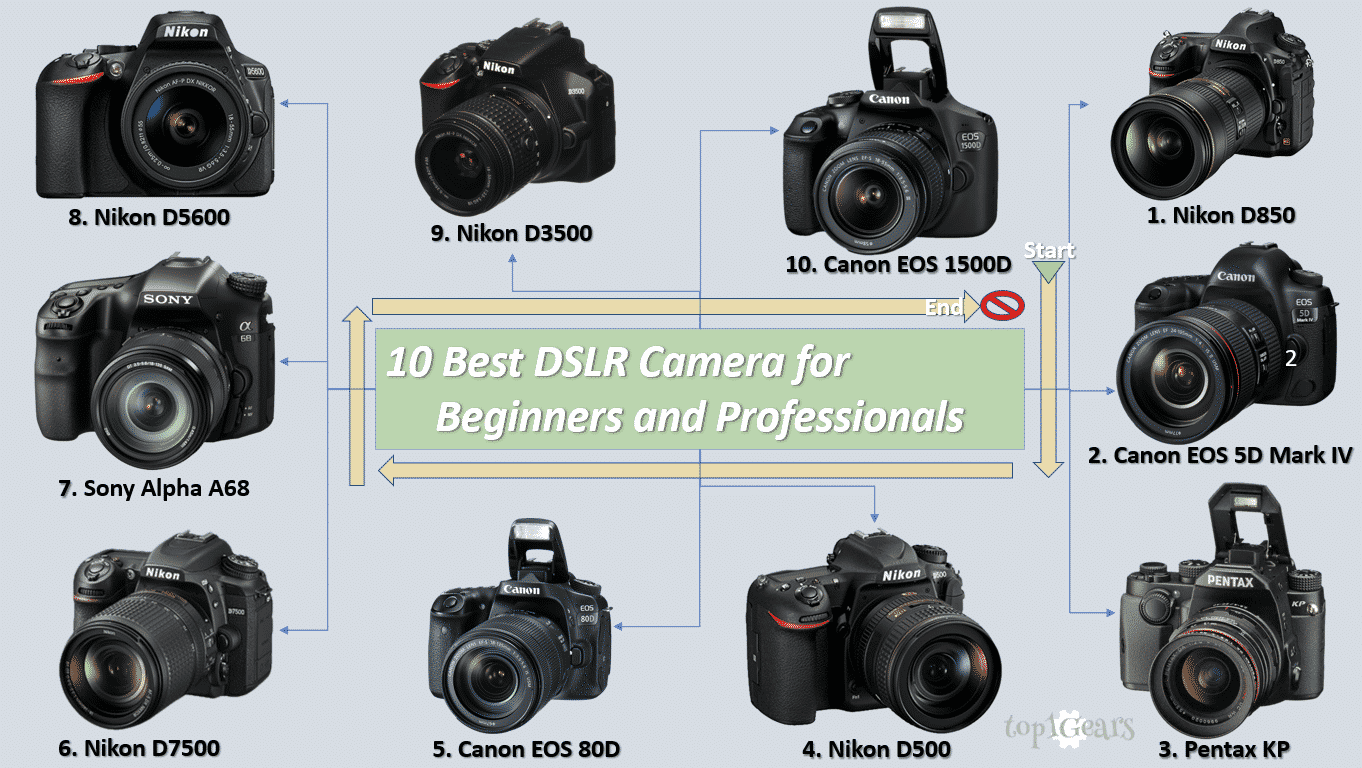 If you love photography and want to buy a DSLR, here in this article we've put together a detailed, illustrated and helpful guide to the best DSLR cameras. We'll help you in deciding whether if a DSLR camera is a good choice for you or not, provide you advice on how to choose the best DSLR camera, and share a list of the top 10 best DSLR cameras currently available across various price points.
DSLR cameras are a popular camera choice for any professional photographer who wants to take their photography to the next level. Whether you're a beginner or a pro they offer great battery life, excellent image quality, a wide range of lens options, and full manual controls.
They allow the person to take a lot of control over their photography and are available at a wide range of price points to suit most budgets.
Nikon D850
45.7-megapixel full-frame backlit-CMOS sensor.
ISO 64-25,600 standard; ISO 32-102,400 extended.
4K 30p video recording.
XQD and SD (UHS-II compatible)
Wi-Fi and Bluetooth.
Nikon packed this camera with tonnes of features that make it's the most versatile DSLR you can buy. It includes a 45.7-megapixel full-frame sensor that should satisfy a wide range of photographers and its 4K video at 30p makes it attractive for hybrid still and video shooters, too.
The D850 is fully weather-sealed so you can keep working through rain, snow, or dust. Where the D850 really shines is its autofocus system. With 153 points, it offers such a high level of accuracy not seen in DSLRs before.
It has a 9fps burst shooting rate with a tilting high-resolution touchscreen which boasts a class-leading resolution of 2.36 million pixels and is one of the best LCDs of any camera, DSLR, or mirrorless.
Nikon also equipped this D850 with its Snapbridge 2.0 wireless connectivity, which uses Bluetooth LE to handle low-level functions with a mobile device, like automatically transferring downsized photos you can then quickly share online. Another advanced feature is support for XQD flash memory.
The sensor, in particular, has been roundly praised as being one of the best in the market. When it comes to the image quality department, the D850 is at the top of its class and shows no signs of aging anytime soon.
In addition to resolution, the sensor also produces excellent dynamic range and very good noise performance up to a maximum ISO of 25,600. Nikon pulled out all the stops in creating its flagship full-frame DSLR camera, and we're still impressed two years later.
No products found.
Canon EOS 5D Mark IV
30.4 Megapixel Full Frame CMOS Sensor
3.2-inch touchscreen, 1,620,000 dots
DCI 4K video capture
Wi-Fi ,NFC,Microphone and Headphone ports
Dual SD and CompactFlash card slots
It is one of the best Canon DSLR Camera which first came out in the autumn of 2016. It is a hyper camera targeted at enthusiasts and professionals who want to get into photography and videography.
Ergonomically speaking Just holding this in your hand, you immediately realize that you have a quality, robust piece of canon equipment. With its current design, it is viable for long term shooting.
It is a full-frame camera with an impressive 30.1 megapixel CMOS Sensor. The ISO values it offers allows shooting in a low lightening condition without a large number of grains so you can retain great quality in poor light conditions.
Off-course it depends massively on the kind of lens and for Canon, So we always recommend L-series Canon lenses.
It is equipped with DPAF(Dual Pixel Auto Focus) which is a very big deal, especially for videos. You can easily manage focus and switch between subjects while shooting videos using the touch screen and live view.
You can also set it up to track your subject of interest and keep it in focus and for still photography u can tap anywhere on the LCD screen and can get quick accurate focus. The best thing is that it has autofocus Multi-directional Joystick to focus on any direct. Video quality is brilliant, colors are good with accurate details.
You can store canon log in 4k filming capabilities. However, 4K capabilities cropped down by 1.74 which reduces the working area. With its Wi-fi functionality, you can pair your camera with your phone to control your camera and see what you are shooting.
It has large 3 inch LCD screen for nice playback and great viewing, especially during day time and a really large viewfinder. Buttons are super responsive. It comes with GPS for geotagging your photos.
It has dual CompactFlash card and SD card slots even if your one of the card is failed you have all your photos and videos intact. The equipment is weatherproof and waterproof.
Canon EOS 5D Mark IV is still a brilliant and top-notch camera and one the canon's best camera released till date. It does not provide much flexibility in terms of video recording but for a hybrid camera, it is the beast. It is still known for its better accuracy and faster performance.
Last update on 2023-12-05 / Affiliate links / Images from Amazon Product Advertising API
Pentax KP
24.3 MP APS-C AA filter-less CMOS sensor
ISO 819200; 7 fps Continuous Shooting
Pixel Shift Resolution System w/ motion correction function
SRII five-axis Shake Reduction System
3 inch, 921k-Dot Vertical-tilt-type LCD monitor
Built-in Wi-Fi
Pentax is a Japanese camera brand which is in the market for a very long time. PENTAX has devoted most of its effort to reduce the size and weight of camera bodies.
Considering that portability is an important factor in the camera's overall performance, the KP is built as an ultra-compact and highly portable DSLR camera with features and controls that facilitate capturing outstanding images, even in the most demanding conditions.

This equipment is well suited for the advanced, beginner as well as professionals and is a proper rival to a mirrorless camera. The KP is packed with an advanced feature not only for carefree casual shooting but also for serious outdoor photography while mountain climbing or trekking.
The build is solid with full Magnesium-alloy casing to optimize durability and dependability. It comes with outstanding electromagnetic-shielding performance and is highly durable, dependable even after unfavorable weather conditions.
Pentax is famous for the very rugged camera and this KP is no exception. It can withstand temperatures as low as -10°C. It comes with 67 sealing parts which make the KP as an All-Weather, dustproof, waterproof camera.
Its also come with 3 interchangeable handgrips(small, medium and large ) which allow you to customize the body for maximum comfort.
The KP delivers high-quality imagery through an advanced highly sensitive 24.3 Megapixel APS-C CMOS sensor that is designed to create detailed images with minimal noise at sensitivities up to ISO 819200.
It is the first APS-C camera to incorporate shake reduction II (SR II), which features a five-axis mechanism to compensate for camera shake up to 5 steps.
The new sensor enables shooting in extremely low-light conditions, with sensitivity to ISO 819200, making the camera ideal for night photography. The camera is equipped with the power of the PRIME IV 14-bit image processing engine with accelerator unit to create large images with ease and speed.
The PRIME can also deliver photographs at up to 7 fps in raw format. With these capabilities, it can rival massive full-frame monsters any day of the week.
Image quality is excellent, colors with great dynamic range are quite good. Picture quality has been fantastic with image stabilization that's been rock solid.
Pentax has provided this camera with 3 wheel control – one wheel is for iso, another wheel for shutter speed, and another for aperture – the exposure triangle is so much easier to optimize.
It also has a large optical viewfinder. It has SAFOX 11 AF system which makes sure you can lock on to subjects quickly and accurately. This phase-detection TTL autofocus method offers 27 points, along with 25 cross-type points in the center for improved accuracy.
It also features the optical AA (anti-aliasing) filter to optimize the image sensor's outstanding imaging power. The KP is equipped with the capability of Full HD video at up to 30p or 60i using H.264 compression.
In addition to this, it also provides the facility of high-resolution motion capture. With this, you can record the 4K videos very easily. It is also equipped with a microphone jack for high-quality audio support.
It has a vertical-tilt able 3 inches LCD screen with peaking. The recourse outline peaking goes away as soon as you hit the shutter button. Additionally, the camera is provided with 3 customization FX buttons.
The camera is also equipped with Wi-Fi connectivity so that you can operate it using mobile devices such as smartphones and tablet computers.
It also has some drawbacks. Firstly, its autofocus system isn't on the same level as similarly priced options from Canon, like the T7i and 80D, and Nikon. Secondly, it comes with only one SD card slot and its battery backup is not good.
You need to buy a couple of extra batteries especially if you like to use live view a lot. It also does not have GPS for geotagging your photos and it lacks HDMI port.
Overall it's a great, dependable, travel camera for still and landscape photography. Pentax KP is a very capable camera in an impressively compact package.
Last update on 2023-12-07 / Affiliate links / Images from Amazon Product Advertising API
Nikon D500
20.7MP APS-C (DX-format) sensor
153 point AF module with 99 cross-type points
10 fps shooting for up to 200 shots
4K (UHD) video from 1.5x crop of sensor
2.36M-dot tilting touchscreen display
Wi-Fi,Bluetooth,NFC and USB 3.0
Nikon in January 2016 release this masterpiece as the best sports and wildlife photography camera of all time. It is a camera with APS-C "crop sensor" designed for enthusiast and professionals who are looking for a camera that shoots with high pace for fast-action photography.
D500 are for people who like to explore and events. It is a professional Dx camera which means every lens you put on you multiply by 1.5 to get the 35mm equivalent.
It is quite big compared to the rest of the Nikon lineup. However, it is super light with its carbon construction on the inside. When holding the camera the grip is nice and feels great in the hand. In addition to this, the camera is rubberized all in the right area.
So if you are gone be using for a long period it feels quite nice and you know that is not gone slip out of your hand. If you are using the D500 in the low light condition the back buttons, as well as the top, are illuminated which is nice and handy.
On the side of the camera, you have got a USB 3 port for fast tethering and transfer you have got a headphone jack and an external microphone jack.
If you are going to be doing a video you have got an HDMI port also. In this camera you have also got the NFC tapping point, so you can connect to your phone via snap-bridge.
You have also got the SD as well as the XQD card slot. At the back of the camera, you have got a big viewfinder with a hundred percent frame coverage and a nice big and bright 3.2-inch touch screen for live-view as well as for playback.
This Nikon D500 is equipped with multiple futures. Firstly it uses a 20.9-megapixel APS-CMOS sensor combine with an EXPEED 5 image processor which allows you to have a native ISO range of 100 to 51200 and continuous shooting speed up to 10 frames per second with a ginormous 200 raw file in a row. The ISO capability of this camera is going to surpass the Nikon D750.
Secondly, in terms of its video specs, they are not amazing but it does do 4k video up to 30fps and full HD up to 60fps which is enough for anyone who wants to dive into the video realm.
This is the first Nikon to offer you the 29:59 i.e 29 minute and 59 seconds of continuous video recording at 4K up to 30 FPS. Thirdly, the actual body itself is made up of magnesium alloy with some carbon on the inside which makes it fully weather-resistant.
Lastly, it has a 153 point multi-cam autofocus system which is the combination of 153 face detection points with 99 cross-type point design for grid tracking accuracy at speed. It has the same autofocus system as that you will find in Nikon D5.
Where the Nikon D5 doesn't allow you to take your focus point all the way to edge because it is full-frame, the D500 does. You have those 153 points to get all the way edge to edge. With this you will be able to cover all the viewfinder with autofocus points is incredible.
In terms of the performance, Nikon D500 is fantastic, coming from a landscape photographer you can easily fell that why this camera is appealing for people who do sports, professional events or wildlife. The autofocus system is really snappy and extremely quick.
The photos on D500 are excellent. The JPEG burst great color and the raw files dream to work with. The D500 preserve a lot of details and has plenty of dynamic range to work with even when shooting in low lite or with high ISO. The quality is something reflective of D500 which anyone can expect from a premium Nikon body.
The D500 does have a couple of shortcoming in terms of video recording. However, it makes upward for its robustness, high performance in autofocus as well as overall image quality.
If you are a professional and looking for one reliable lite APSC body for that extra range, D500 is the perfect camera for you. if you are an enthusiast who wants to get into wildlife and sports and also want to do landscape and portrait then D500 is also great.
The cross-sharing of features from the much more expensive D5 professional DSLR (Rs4,45,950), just lends weight to the D500. It has pretty much everything to keep the enthusiast happy. At last, we can say that it is a baby D5.
Last update on 2023-12-05 / Affiliate links / Images from Amazon Product Advertising API
Canon EOS 80D
24.2MP APS-C CMOS sensor with Dual Pixel AF.
45-point AF system with all cross-type points.
3″ 1.04M-dot articulating touchscreen.
1080/60p video capture.
Wi-Fi + NFC.
This is the best Canon camera for enthusiast photographers who already have the basic knowledge and want to upgrade their gear.
It sports a new 24MP APS-C CMOS sensor which, offers Canon's Dual Pixel on-sensor phase-detection autofocus system. The 80D also equipped with a new 45-point hybrid AF system with all of the points being cross-type.
The vari-angle screen adds to its versatility, making it easy to take pictures at all sorts of odd angles, and with a continuous shooting speed of 7fps, it's pretty handy for sports and action too. The EOS 80D doesn't shoot 4K video, alas, only 1080 full HD, but that's a minor drawback in a camera as good as this one.
Canon EOS 80D has a body sealed against dust and moisture and it has a polycarbonate exterior and magnesium alloy chassis. It's premium built, with sensibly arranged controls, good ergonomics, and an extensive feature set. Most importantly, the image quality is extremely good with lots of detail, especially at the lower sensitivity settings.
Last update on 2023-12-05 / Affiliate links / Images from Amazon Product Advertising API
Nikon D7500
APS-C CMOS sensor, 20.9MP
3.2-inch tilt-angle touchscreen, 922,000 dots
4K video capture
The Nikon D7500 is a mid-range DSLR and is a fantastic combination of the ultra high-speed imaging guts of the D500 put in the more practical body of the previous D7200.
It comes with a 20.9 MP DX-Format image sensor coupled with EXPEED 5 image-processing engine, that takes your pictures and videos to the next level. The camera is also capable of expanding its sensitivity to a maximum of ISO 1,640,000.
It has a Monocoque design and extensive weather sealing to withstand moisture, dust and some heavy use. It supports 4K Video recording at up to 30fps, 4K Ultra HD time-lapse movies and GPS and Bluetooth.
Nikon D7500 brings added speed and buffer depth to the enthusiast level and adds improved subject recognition. More comfortable to hold than its predecessor, the addition of a tilting touchscreen-only adds to the camera's excellent ergonomics.
The D7500 incorporates eight types of preset Picture Control — Auto, Standard, Neutral, Vivid, Monochrome, Portrait, Landscape and Flat — which you can select before shooting, according to the subject and situation.
It supports a 51 focus points (including 15 cross-type sensors; f/8 supported by 1 sensor) autofocus system, continuous shooting speed of approximately 8 frames per second and offers an ISO range of 100-51200.
The Nikon D7500 is provided with a 3-inch 921k dot LCD display with 170-degree viewing angle, an eye-level pentaprism SLR viewfinder and with SD, SDHC, and SDXC memory cards compatibility.
It also uses 180,000-pixel RGB sensor to detect human faces and improve AF performance during high-speed shooting. In addition to these features, it also has headphone and microphone jacks.
Last update on 2023-12-05 / Affiliate links / Images from Amazon Product Advertising API
Sony Alpha A68
24.2MP APC-C CMOS sensor
Tiltable 2.7-inch LCD screen
OLED electronic viewfinder
79-point AF system
8fps shooting
ISO 100-25,600
It is mid-range or premium entry-level DSLR for enthusiasts and ambitious beginners who want to have real performance and value for money. Sony calls it a DSLT camera where "T" stands for "translucent" mirror technology and indicates that it has a mirror. This camera falls into Sony's A-mount category.
Sony has adopted this Translucent Mirror Technology for long now. In this, most of the light reflected from the mirror but some amount of light goes through the mirror and hit the sensor.
This mainly lets the camera shoots faster in burst most mode and making it the fastest entry-level camera shooting up to 8 fps. It also provides the camera with the ability to full-time continuous AF.
The downside of this technology is that it makes the camera darker to see it through the viewfinder. So Sony has incorporated the camera with an OLED electronic viewfinder (EVF).
The A68 is has a high quality 24.2 megapixel APS-C Exmor CMOS sensor and BIONZ X image processing engine with an ISO range from ISO100 to ISO25600.
The camera also has a 4D tracking focusing system with 79 phase-detection AF points, 15 of this being cross-type.
It is solidly built with a plastic camera body and a good deep tilted rubber grip that make the camera comfortable to hold. It has a nice matte finish which does not attract fingerprint much but feels plasticky.
There are a good number of controls and buttons on the camera making it quick and easy to change settings. It is also equipped with in-body stabilization and can take all the alpha mount lenses.
It comes with a 2.7 inches non-touchable non-articulating tilting LCD screen which can't go 180° on the front so you can't see yourself. The downside is that it has a low-resolution screen. The fonts on the screen are pixelated and the red color it looks faded.
Unlike many other DSLR where card compartment is within or adjacent to the battery compartment, it has a separate card compartment. It is much easier to operate this way. It also has external mic jack but no headphone jack. It also includes an HDMI port. It also lacks wi-fi connectivity and a dedicated video menu.
The autofocus system is generally spot on and is pretty quick with the 79 points covering a good area of the sensor. The RAW image processing ability of this camera is pretty good.
Under enough lightning condition, you will get good color and contrast in JPEG and the pictures are with lots of details. Under low light, the amount of details reduces but the sensor still does not over-process the image. The colors are accurate and more towards natural.
The monochromes also have proper contrast of light and shadows. The dynamic range is also very good with all the details. It records high bit rate videos XAVC up to 50Mbps. The video is smooth and sharp.
At last the high points for the camera is 79 auto-focus points with in-body stabilization which you can't get at this price range easily. The speed and performance are also on the positive side.
The downside is burst and buffer rate in addition to the plastic body. Overall the A68 brings many features of premium mid-range camera and should be a great buy at this price range.
Last update on 2023-12-06 / Affiliate links / Images from Amazon Product Advertising API
Nikon D5600
24.2MP APS-C CMOS.
3.2-inch articulated touchscreen, 1,037,000 dots.
Burst shooting: 5fps.
39-point AF.
Full HD 1080p.
Wi-Fi, NFC and Bluetooth.
Battery life: 820 shots
The Nikon D5600 is the sixth member of the Nikon's D5000-series camera club. This series cameras are the only DX-format Nikon SLRs with a vari-angle screen. The camera is novice-friendly and its small size make it ideal for both first-timer camera users and photography students. It is an advanced entry-level DSLR.
The most notable new feature to its predecessor D5500 is Nikon's SnapBridge technology, by which anyone can sync photos to his phone automatically while taking pictures. SnapBridge also lets us see live view remotely and take pictures, although it is not sophisticated enough to let us control other camera settings.
Nikon D5600 is featured with an Excellent 24.2 Megapixel high-resolution APS-C CMOS sensor paired with EXPEED 4 image processor which produces very detailed images.
It is also equipped with the ISO range from ISO100 to 25,600 which provide it with the ability of comfortable shooting in a wide range of lighting conditions.
It has an optical viewfinder covering about 95% of the frame, an articulating 3.2-inch touchscreen display with a 1,037,000-dot resolution, and a decent 39-point AF system
Just like a mirrorless camera, D5600 is very compact and lightweight having a deep and well-sculpted grip. It is packed in a strong polycarbonate body, pretty much identical to its predecessor Nikon D5500. Nikon D5600 fits nicely in the hand and provides a very comfy grip.
It comes with a programmable function button on the front of the camera. The downside is that it does not have as many buttons and options as higher-end cameras do. Overall the build quality is surprisingly good and the camera certainly feels good in the hand.
D5600 comes equipped with Nikon's 39-point Multi-CAM 4800DX autofocus system which provides it with a good focusing system. This system works well in low light conditions and tracks subjects better.
The single and continuous AF modes are fast and accurate. The negative this about this AF system is that the system has to focus on hunting the moving subjects.
The image quality is very good considering the price range of the camera. Colors are accurate and pleasing to the eye. The images are properly saturated and are with great dynamic range. It's Optical Low Pass Filter provides a sharp image with lots of details.
Till ISO 1600 images are without noise and with good details but beyond that the noise level increases. In the low light condition, it performs better than any camera in its segment.
Nikon D5600 can capture full HD video with time-lapse. It records video in the.MOV format, which makes the video easy to view and edit. The video quality is quite good, with accurate colors and smooth footage.
The Continuous-burst mode can capture up to 5 fps (JPEG and 12-bit RAW) or 4 fps (14-bit RAW).Battery life is quite good and you can shoot up to 820 shots.
Overall the camera is good for pros who want a backup and is a well-spec'd DSLR that should satisfy both new or more experienced users.
Last update on 2023-12-06 / Affiliate links / Images from Amazon Product Advertising API
Nikon D3500
24.2MP APS-C CMOS.
3.0-inch fixed display, 921,000 dots.
Burst shooting: 5fps.
11-point AF.
Full HD 1080p.
Bluetooth.
Battery life: 1,550 shots.
It is Nikon's entry-level DSLR camera and is probably the least expensive DSLR you can buy. Even though it is inexpensive, the camera doesn't feel cheaply made.
It has a pretty standard hard plastic body with a nice, deep, well-designed grip. It is a highly compact camera. Although it is bigger than the mirrorless camera, for a DSLR it's quite good.
The grip and balance on the camera are quite enjoyable and it allows you to even shoot the picture with a single hand. The button layout is very intuitive and easy to reach.
It also comes with a toggle switch with which you can toggle between live view and viewfinder. As with many cameras, it comes with the popup flash and hot shoot mount.
The 3-inch display is pretty sharp, bright and works well even outdoor. The only thing missing is that the screen doesn't articulate or even flip-up.
So if you are planning to use this camera for blogging, it won't work but if you want to record YouTube videos you can always connect an external monitor using the Mini HDMI port present onboard. It doesn't, however, come equipped with a mic-jack, So you have to use the built-in mono microphone.
When it comes to shooting pictures it can take images as large as 24 megapixel and stores them either in JPEG or RAW or both. The images are really impressive especially for an entry-level camera with a kit lens.
The pictures are nice and sharp, well exposed and the colors are very well reproduced. The sharpness of the kit lens is very impressive.
The only caveat in all this especially if you are coming from smartphone or point and shoot, is the lack of the right focus point and to take a picture you have to use the viewfinder.
The live view autofocus through the screen is almost unusable, it struggles a lot to focus on complex subjects and is completely useless in low light. Unless you are willing to learn to use the viewfinder, you can't take gorgeous images.
In the low light, the camera takes a nice photo with the viewfinder. The shots seem to highlight Nikon's dominance in low light. It is cable of shooting 1080p videos at 20/24/26/30/50 and 60fps. The videos are sharp, well exposed, and has a beautiful shallow depth of feel.
However, the live view autofocus system is a pretty big liability, and when you really can't use the viewfinder the camera struggles to lock focus on complex subjects and makes it pretty difficult to get a good shot.
The D3500 is equipped with built-in Wi-Fi and you can connect this Nikon D3500 with your smartphone via the SnapBridge app.
If you plan to get it as your first DSLR and want to learn photography and willing to use the optical viewfinder, it is indeed a fantastic choice. However, if you plan to use it as a blogging camera or a camera for videos, then we recommend stepping up to a better DSLR or a mirrorless camera.
Last update on 2023-12-06 / Affiliate links / Images from Amazon Product Advertising API
Canon EOS 1500D
24.1-megapixel APS-C CMOS sensor.
Burst mode 3fps
Full HD Videos
9-point AF system
3-inch TFT LCD screen with a 920K dot resolution.
ISO range of 100-6400, expandable to ISO 12,800
Wi-Fi and NFC connectivity
It is a low cost, entry-level DSLR Camera that provides better image quality than the smartphone. It is designed for beginners or students who want to buy their first DSLR or bloggers on a budget.
This Canon EOS 1500D is featured with a 24MP APS-C sized CMOS sensor paired with a DIGIC 4+ processor allowing 14-bit RAWs (the only camera at its price range to offer this) and is capable of full HD video recording, burst shooting at 3fps, 9-point AF system, and Wi-Fi and NFC connectivity.
The camera offers a limited ISO range of 100-6400, expandable to ISO 12,800. It is also equipped with Canon's Scene Intelligent Auto mode for simple point-and-shoot photography.
The Canon EOS 1500D is packed in a carbon-fiber-reinforced polycarbonate body. It comes with ample rubber cladding on the right side, which offers an ample amount of grip to the user and makes the camera ideal for single-handed usage.
All the controls are located on the right side, making it comfortable to access almost everything.
On the left side, you get a standard flap housing a Mini-USB port, Mini-HDMI port and inputs for a wired remote. It comes with a non-touchable 3-inch TFT LCD screen with a 920K dot resolution.
The image quality is much better with decent color saturation. The images are sharp and with great color accuracy. In low light, the camera is better than average and does a commendable job at color representation.
Up to ISO 1600 range the camera handled the noise well and details are preserved. However, beyond ISO 1600 there is a drop in the quality, with details getting missed out.
The downside is the white balance which is not up to the mark and did result in a bit of unnatural color reproduction. The other limitation is that in the burst mode it can capture only at 3fps which is not enough for fast-moving objects, even in the Sports mode.
The Canon EOS 1500D has four video recording options which are pretty standard for an entry-level DSLR. You can only shoot video in live view mode. It can capture video at 1080p at 30fps.
Video quality is pretty decent with color accuracy and detail. The overall quality of the video is better than most competing cameras.
Finally, we can say that the price to performance ratio is pretty good. The camera is relatively compact, light in weight and easy to operate. It is an excellent option for beginners but not the only option available in this price range.
However, going by today's standards, I fully expected the camera to offer much more, particularly in terms of AF. I would personally recommend the Nikon D3400 as an alternative to this.
No products found.
Our Verdict
As you have gone through our list of the top 10 best DSLR cameras available in the market and seen the different features and latest technology in various brands, we finally recommend you No products found. Camera as a complete package. It is equipped with the latest technology and various feature that is suitable for all your photographic needs.
If you are low on budget or a beginner photographer who is still learning, then we recommend No products found..
Last update on 2023-12-06 / Affiliate links / Images from Amazon Product Advertising API
You can also check our "15 Essential DSLR Accessories "Must-Haves" for a Camera" section for the things to buy after getting a new DSLR camera that will take your photography a step further and make your photography more productive and efficient.
However, if you need any other help or have suggestions for us, then please do comment below and we will get back to you with the best possible information and details. Your advice, comments or suggestions would be greatly appreciated and welcomed.