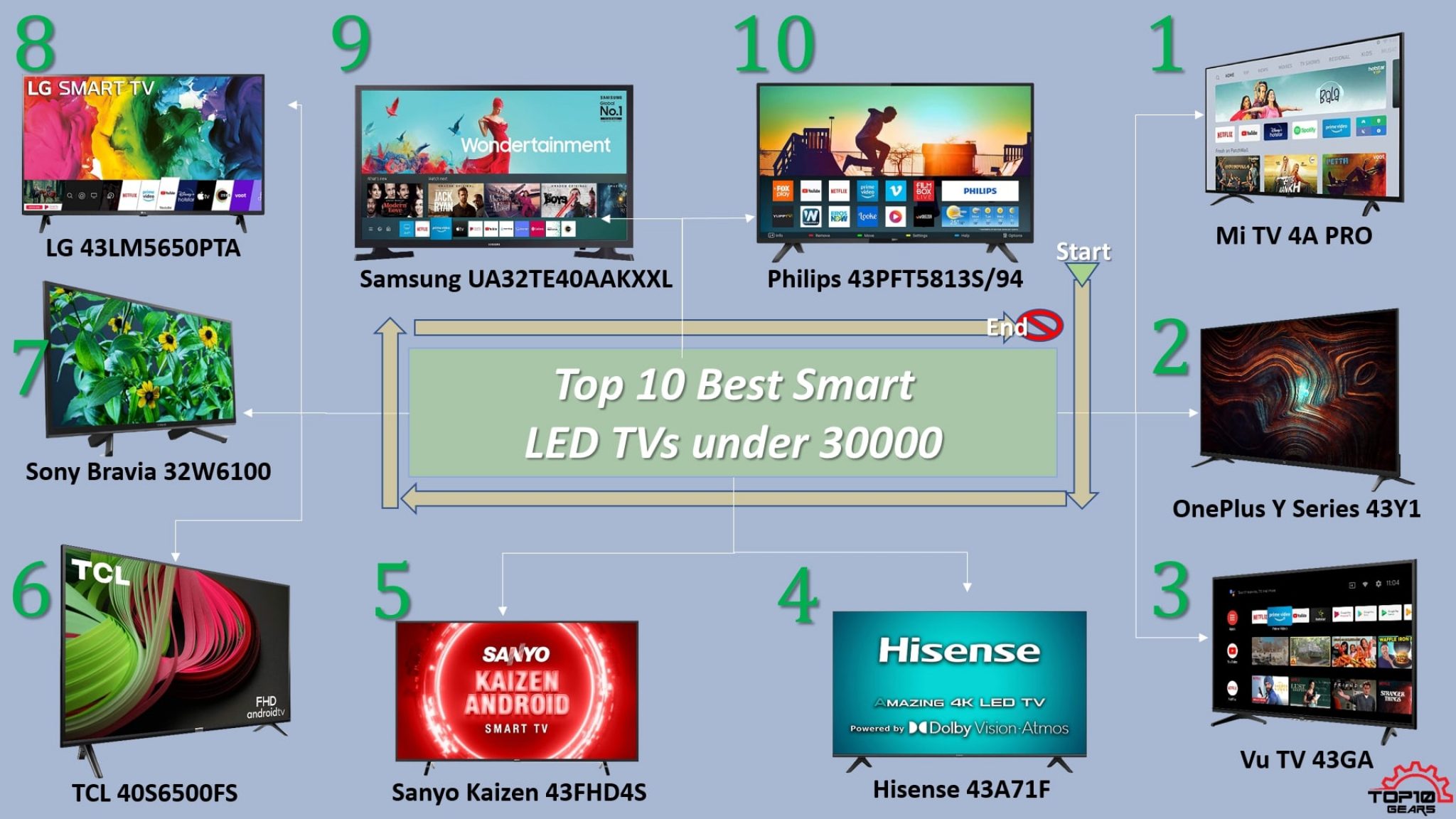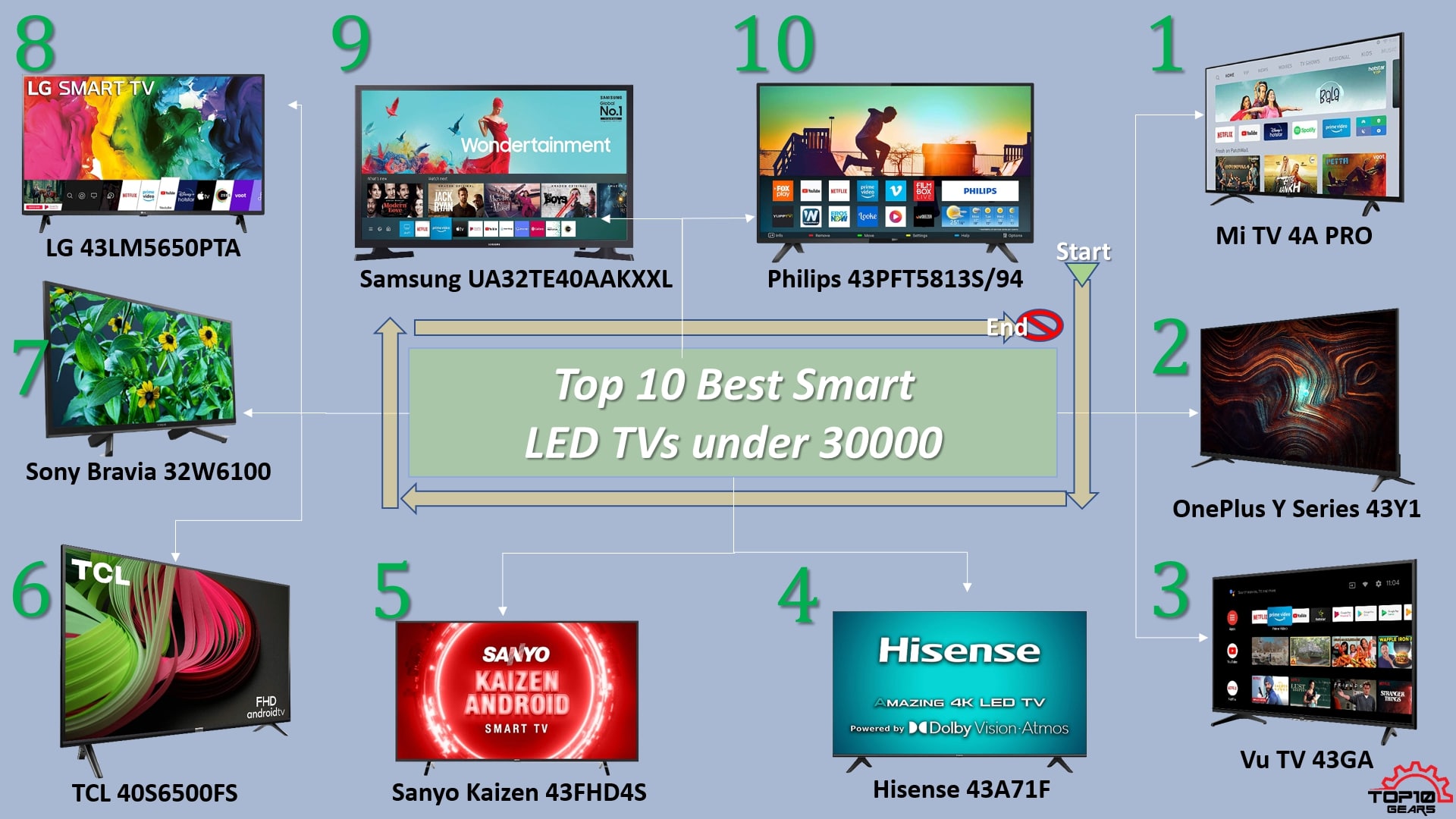 Have spending limitations been discouraging you from buying a smart TV? Smart TVs are slowly replacing the entire television landscape as more and more people are switching to streaming content of their own liking rather than changing channels to find something of interest.
Youngsters are ditching traditional PC gaming for a larger screen smart TV gaming experience while the elderly are adapting to automated features like virtual assistants and live screencasting.
Why stay behind from what's hot and trending and miss out on the viewing pleasure when all of it and more is completely affordable and can fit right into your budget? Let us help you out with how and which smart TV to buy, in this guide.
Top 10 Best Smart TV under 30000 in India
As per the latest available models and offers, here's a comprehensive list of all you need to know about the top 10 smart TVs in your budget.
The first one on our list isn't a smart TV, but the smartest TV in India, as Mi calls it. Besides the fact that it is loaded with smart features including a virtual assistant, a data-saving algorithm, Android 9.0 support for the smoothest experience, and Chromecast just a click away, perhaps the efficiency of each of the other features makes it one of the best in the segment.
It's also preferred by many for an extensive, almost unbeatable content range as it brings to you all of Amazon Prime, Netflix, and other mainstream and unconventional content partners. And for that price range? The deal is pretty incredible.
With its in-built Chromecast, casting all your downloads from your phone on to the large screen has never been easier. It also comes with in-built Google Assistant, one of the most excellent voice command controls that can now make operating your TV more exciting.
Well, if that hasn't got you fascinated yet, one of the best parts about getting a Mi TV is the immediate and excellent service and support that comes along. Right from installation, technical problems, to help with navigation and settings, Mi support is known to be at your beck and call.
Right from installation, technical problems, to help with navigation and settings, Mi support is known to be at your beck and call.
Mi TV 4A PRO: Specifications
Price Range: INR 20,000 – 25,000
For warranty and information by the manufacturer, click here: Mi 4A Pro With Data Saver.
OnePlus Y series boasts of excellent specifications. Right from connectivity, sound output power, resolution, refresh rates, and screen/body ratio, the package is hard to find in a smart TV as reasonable as of this one.
The TV is also compatible with other virtual assistants like Alexa besides the one that's in-built to enable seamless voice control.
A special feature offered exclusively by OnePlus is Shared Album to ensure memories captured in your phone can be saved on your smart TVs by sharing them anytime, via this shared album.
Oxygen Play, makes your streaming, choosing, and viewing experience comprehensive, concise, and clean. Google Assistant allows browsing through hundreds of channels to view/ listen to the news, weather updates, and more.
Equipped with over 8 languages, your Smart TV will understand your every mood and language.
OnePlus 43Y1: Specifications
Price Range: INR 20,000 – 25,000
For detailed product information, visit here: OnePlus 2020 Model 43 Inches.
Vu's Ultra Android smart TV aims to make your life clearer and easier with its exceptional display performance and MPEG Noise Reduction. You get hotkeys on your remote, the most sought after content on your fingertips, and a highly intuitive interface, to begin with.
If you're planning to make use of your smart TV for more than just viewing and streaming, this TV is for you. It's one of the best in the segment for gaming, not only because of its gaming mode but also, thanks to its excellent connectivity.
This smart tv is featured with two modes, PC and Gaming. You can switch to these modes and watch your screen adapt in terms of refresh rates, detailing brightness, and more for better long-time exposure.
If the ports were not enough, you have the option to stay connected and keep your devices seamlessly connected to your TV with the latest in-built Bluetooth version 5.0.
In the audio department, this smart tv has incorporated DTS Studio Sound with Dolby Audio which provides the most cinematic sound experience, especially when switched to Movie or Cricket modes.
Vu LED TV 43GA: Specifications
Price Range: INR 20,000 – 25,000
Find out more about this product here: Vu 43GA 2019 Model.
If picture quality and the display are what you really go for in a TV, this model by Hisense is the right choice for you. If you're looking for a smart TV that integrates almost all of the smart features, this is still the TV for you.
And if you're looking for a larger screen with a lower budget, this will again be one of the best choices for you.
The hardware connectivity is excellent, it gives you the flexibility of 3 HDMI ports, 2 USB ports, gaming console support, and more. In terms of wireless connectivity, it gives you Bluetooth and 5G Wi-Fi support.
The one thing that makes your TV way smarter and smoother, is Android 9.0 that brings all of your phones to the big screen and makes it more accessible and navigable.
In a nutshell, Hisense literally packs all the great features in an affordable price range. With its 40 times brighter vision and 1000 times greater color offerings, it's easily one of the best deals you will get out there.
Hisense 43A71F: Specifications
Price Range: INR 25,000 – 30,0000
Check out the specifications here: Hisense 2020 Model 43 Inches.
Sanyo's Kaizen series checks all the right boxes — excellent picture quality, sound system multi-equipped by digital processing, superior audio systems, two-way audio link, and a large screen.
In terms of content, you can enjoy your favorite shows on Netflix and Amazon Prime, Disney+ Hotstar, Youtube, Zee5, among others but that's relatively limited to such mainstream mediums unless you Chromecast content from your smartphone.
It has one of the greatest processing powers and refresh rates in the segment. It also has Android 9.0 and Google Assistant which Offer seamless operational and voice control.
Sanyo Kaizen XT-43FHD4S: Specifications
Price Range: INR 20,000- 25,0000
You can check this TV out here: Sanyo Kaizen Series 2020 Model 43 Inches.
A slightly unfamiliar brand in India, TCL brings in the best of a smart TV with some of the most cutting edge technology on a 40 inches display in the price segment of the lower end 32 inches.
Smart Volume takes off the responsibility to switch and alter volumes from you. Based on the type of content you are viewing — sports, movies, music, or news — the smart volume adjusts the volume for you.
In-built Google Assistant is available with voice commands accepted in US English. Along with the voice search and control remote, your smart TV becomes smarter.
With all the fundamental features of a smart TV that you can ask for, packed in a relatively large screen, and with fairly good compatibility with all OTT streaming platforms, the price package is a deal you cannot imagine to get elsewhere.
TCL 40S6500FS: Specifications
Price Range: INR 15,000 – 20,000
For detailed product information, visit here: TCL FHD 2020 Model 40 Inches.
Besides its relatively smaller screen size, Sony Bravia hardly lacks anywhere in this segment. You're covered with excellent connectivity and partnership with all sorts of content streaming channels, the picture, and sound quality is one of the best, and the interface is more than just seamless.
Audio System is excellent with Clear Audio + technology and open baffle speakers, expect a life-like listening experience. Although voice control and screencast is not present, USB connectivity to phones makes up for it.
All in all, it's one of the few TVs that is ideal for all — the cinema enthusiasts, gamers, sports lovers, and music lovers.
Sony Bravia 32W6100: Specifications
Price Range: INR 20,000- 25,0000
Check out pricing options here: Sony Bravia HD Ready 2020 Model 32 Inches.
This one's for those who value the brand and service support more than loads of features and are looking for a simple, widescreen smart TV with a great display, sound, and content compatibility.
Unlike regular smart TVs that are powered by Android, LG implements its exclusive smart WebOS to integrate more advanced features interconnected through a consistent GUI.
Its multitasking feature enables you to watch TV or stream videos simultaneously while browsing the internet or going about other daily tasks.
Screen Mirroring allows you to mirror the contents of your phone on to the large screen.
It even has Office 365 which gives you the alternative to open your docs on smart TV instead of fetching your notebook every time.
LG 43LM5650PTA: Specifications
Price Range: INR 25,000 – 30,000
You can browse through buying options here: LG Full HD 2020 Model 43 Inches.
Wondertainment is hands-down one of the best series in terms of durability and quality of Smart TVs that you will find out there. That pretty much makes up for the smaller screen that you get in your budget.
It comes with a Smart Things App that assembles all of your favorite channels, web series, games from different platforms in one smart app.
You do the talking while Alexa does the working with its superior voice command and control. It also has Bixby and Google Assistant, in case you have a preference.
Screen Sharing and Mirroring gives you the option to do multiple things on your phone while viewing your favorite movie on the large screen with live mirroring.
It's the perfect option if you're one to love cinematic experiences thanks to the music system and mega contrast display. However, if you're looking for a TV that can also be your gaming haven, this might not be the right pick for you.
Samsung Wondertainment UA32TE40AAKXXL: Specifications
Price Range: INR 15,000 – 20,000
Love it already? You can buy it here: Samsung Wondertainment 2020 Model 32 Inches.
Few of the Philips models fit under this budget as the brand generally is very particular about integrating the best of display panels, sound systems, content partners, and other exclusive features that regular android TVs don't have.
This smart TV is powered with an exclusive SAPHI Operating System, which is known to be seamlessly smooth for a better experience with the user interface.
Few areas where this smart TV lacks as compared to its competitors is content compatibility with non-OTT platforms, connectivity, or in-built virtual assistant support. Considering these are all important smart TV features, this may look like an unconvincing deal.
However, the support, brand value, reviews, and durability along with additional features make it one of the more trusted choices.
Philips 5800 Series 43PFT5813S/94: Specifications
Price Range: INR 25,000 – 30,000
Check out the specifications here: Philips 5800 Series 43 Inches.
Last update on 2023-09-26 / Affiliate links / Images from Amazon Product Advertising API
Guide To Buying A Smart TV With A Tight Budget: To Do Or Not To Do?
After our list of the top 10 best smart TV in India under 30000, if you are still unable to decide, let's quickly walk you through what to look out for and what to avoid while choosing your smart TV.
What To Do and Look Out For
Know Your Priorities and Expectations
First off, you should know that in this price range you may not be able to get a touch screen or 3D options but pretty much every other smart TV feature is available. Be clear with whether larger screen matters to you more than the brand, display, and resolution are more important or the content compatibility.
Consider other factors like sound processing, operating system, connectivity, virtual assistant support, and cloud sharing options.
Compare The Highlight Features
Once you know what you want, compare the highlight features among the smart TVs that check out most of the items on your list. The final decision should be based on which TV offers the best specifications on these features.
For instance, an Android 9.0 is better than a lower version.
What Not To Do and Avoid
Base Your Decision Solely On Price
Don't believe that a 25K smart TV will automatically be better than a 15K one. It's highly likely the higher-priced one just operates on brand value and durability whereas you are looking for greater features and compatibility.
Consider all options with only your requirements in mind.
Miss Out On Offers, Warranties, and Guarantee Policies
Offers can include anything from discounted opportunities to add upgrades, accessories, or subscription packages. These hold great long-term value and should not be missed.
Warranties and guarantees are like your TV's insurance policies. Make sure you study them properly before you buy them.
If you want to learn more about the factors to look for while choosing your budget smart tv, you can check our article on Top 10 Best Smart TV In India Under 50000.
Our Verdict: Which TV Is The Best For You?
Having considered all options and details of each of the best smart TVs, let's now help you narrow down your best options.
Best Value Deal
Both OnePlus Y Series and Vu Ultra Android are your winners. They are both loaded with similar features and check all items of a modern smart TV checklist. Both are highly reviewed, however, OnePlus has a greater brand reputation due to its established presence in the smartphone segment.
Best Brand Package
If you are only considering your options among the higher end, reputable brands, LG Full HD LED Smart TV is an unbeatable choice. It practically packs every feature, a relatively larger screen, and years of reputable brand value in India, in one lucrative package.
Best In Budget
Clearly, TCL Full HD LED is the winner. There's only one another in a similar price range, Samsung, which may be a greater brand but cannot beat TCL in its value offerings and exciting range of features.
Choosing and buying a smart TV cannot get easier than this. With everything listed, sorted, and compared for you, all you have to do is weigh these best options against your priorities and usage.
If going for a budget option gives you the legroom to equip your set up with enhancing accessories, that sounds like a good investment as well.
What matters is to buy a package that meets both, your expectations and necessary requirements, from a brand you can trust. So make your choice wisely.
Hope this article was helpful to you and if you need any other help or have suggestions for us, then please do comment below. We will get back to you with the best possible information and details. Your advice, comments, or suggestions would be greatly appreciated and welcomed.