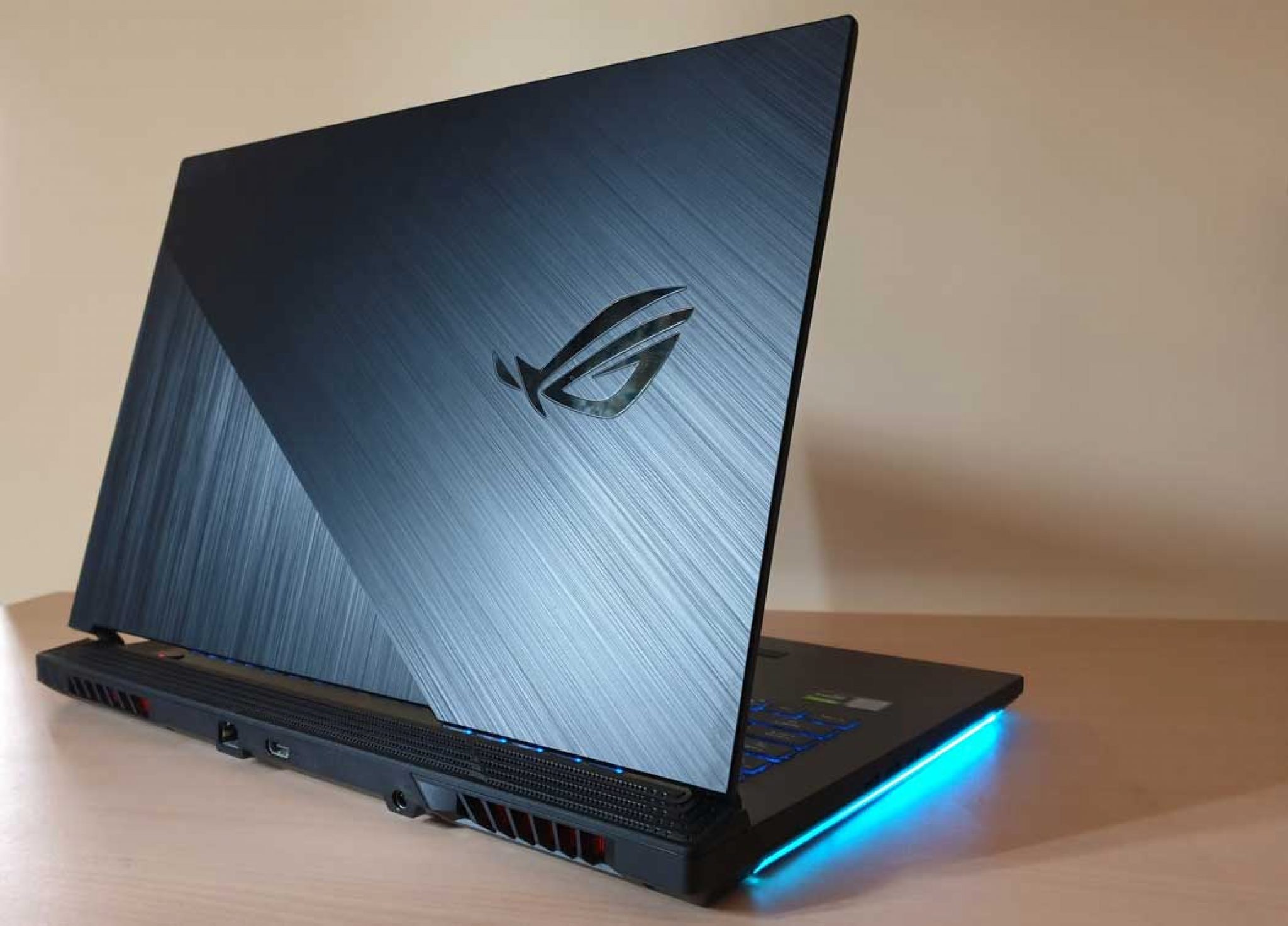 Affordable Gaming Laptop
It's a beautifully designed, impressive laptop, with a strong performance, good battery life at affordable prices.
Positive
Stunning Design
Great performance
Solid Build Quality
Comfortable Keyboard
Good battery life
Negative
No Webcam
No SD card reader
No Thunderbolt Support
ROG Security Keystone missing
Asus is doing quite well when compared to other brands in the gaming laptops industry. Asus ROG (Republic of Gamers) series is known for providing good and durable gaming laptops at an affordable price in India. Be it consumer or gaming laptop, Asus is surely known to deliver the best.
Recently, Asus came up with its new ROG series laptop i.e. Asus ROG Strix G G731GT-AU059T at the price range of Rs. 1,12,500/- or USD $1476. It is specially designed for FPS gamers and has a number of variants. It is available on all online and offline platforms.
The Strix G series comes in two different screen sizes, a smaller 15-inch with name G531 as well as the larger 17-inch model which bears the G731 moniker.
In this Asus ROG-Strix G G731GT series review, we will go through the overall performance of this laptop and its complete feature. We will be using the ROG Strix G G731GT AU059T model as our review unit.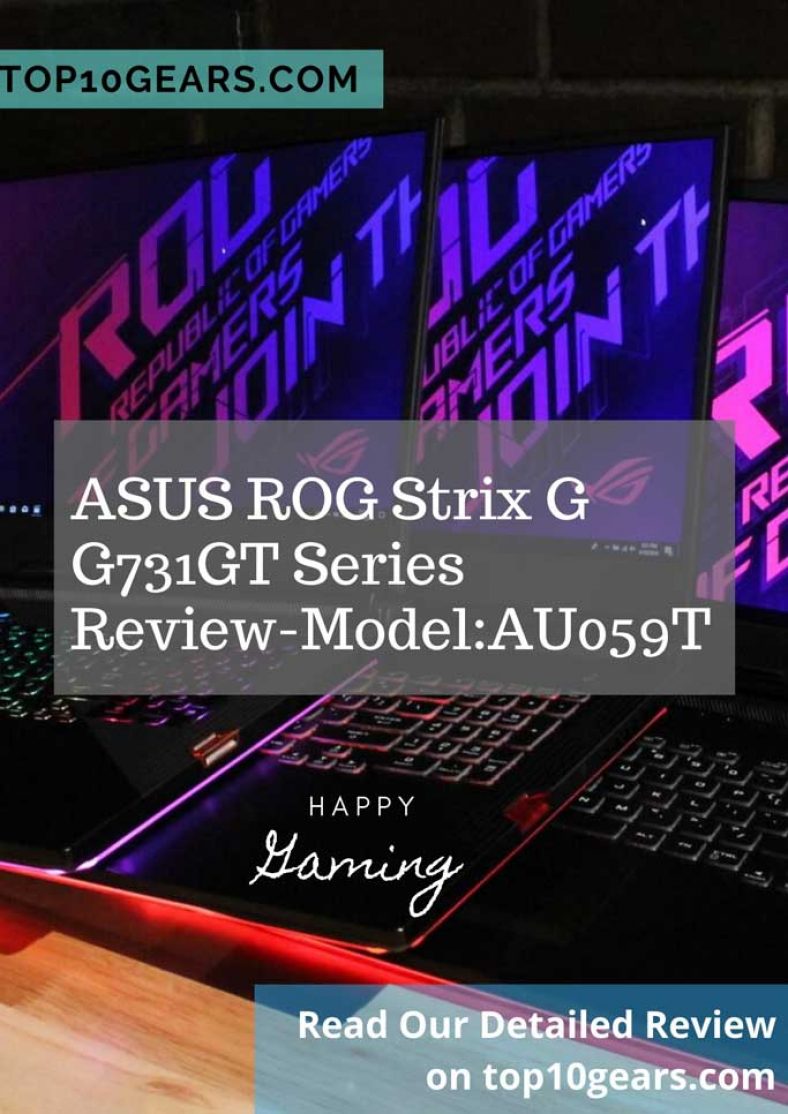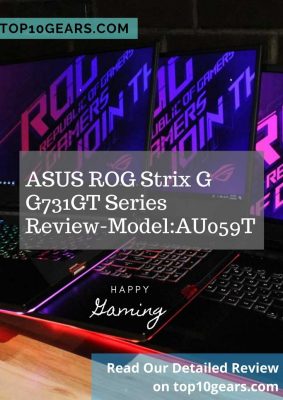 Asus ROG Strix G G731GT: Unboxing
1 Asus ROG Strix G731GT AU059T Laptop

1 AC Adapter 150W

1 SATA Cable Connector

Some Screws

User Guide

Manuals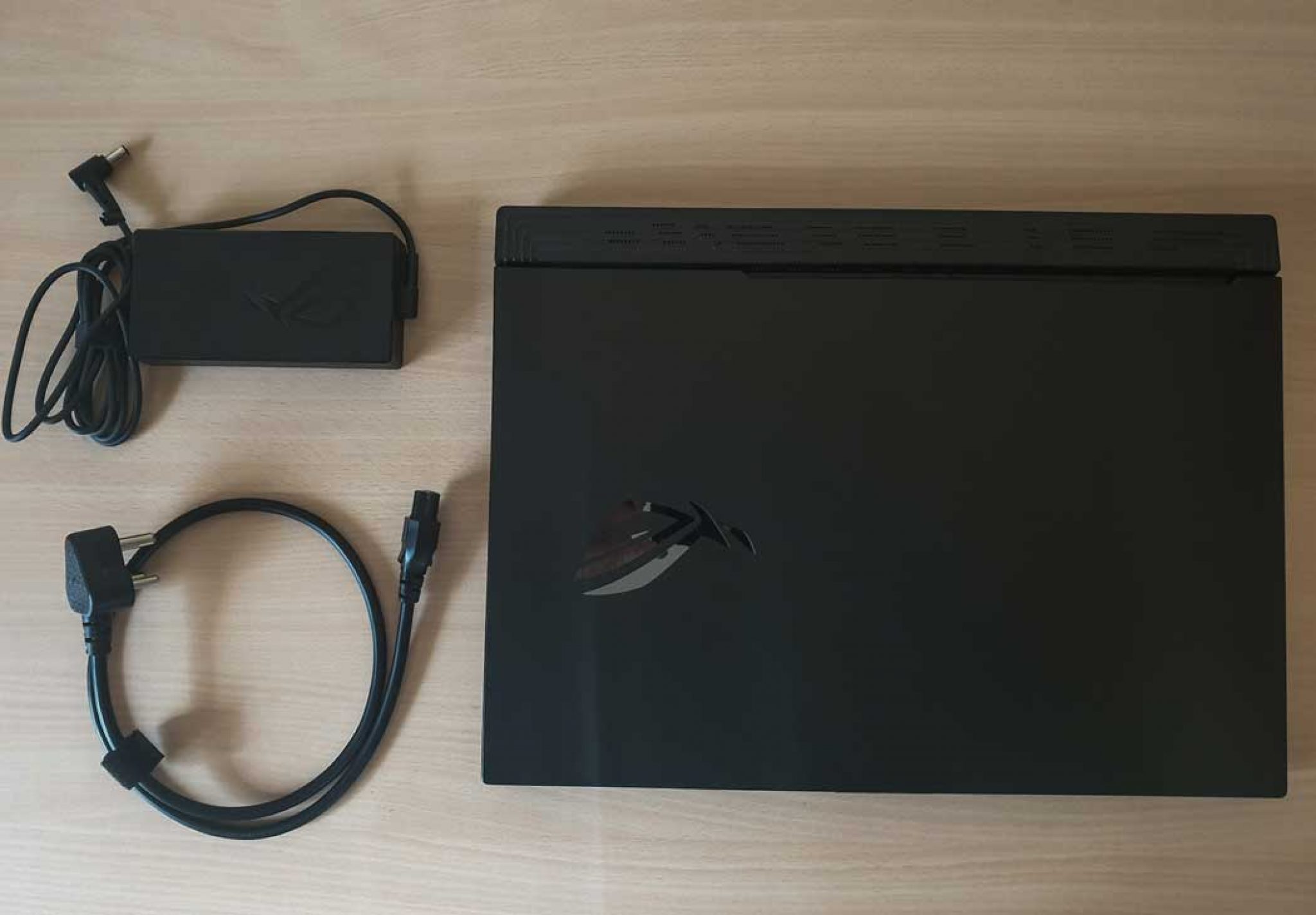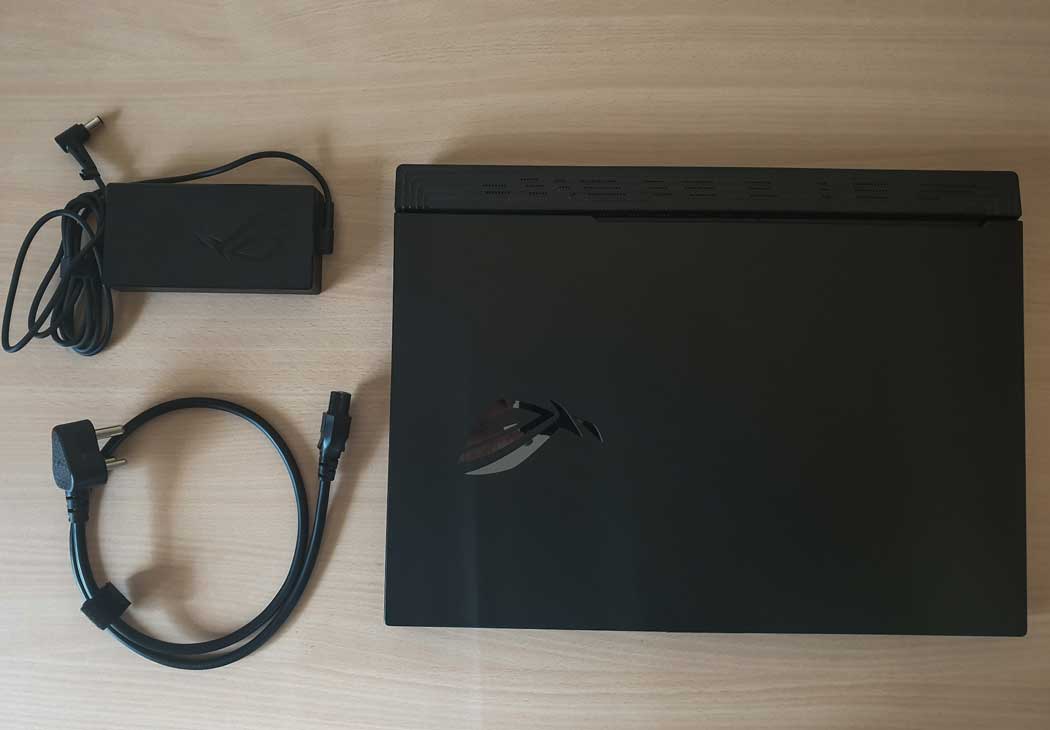 This laptop comes in a black rectangular box with an aggressive-looking packaging and has a red handle on top. It has the Strix branding and signature logo for their ROG lineup in front of the box.
The black color box has a nice premium matte finish with the large, reflective "ROG" logo. The color red, which has been adapted by Asus ROG for its branding, it feels like, it is splashed everywhere.
Inside the box is a cardboard casing which includes a clear frosted material plastic-wrapped laptop. The smaller box has an insert with a warranty card, quick start guide book, charging cable guide, and other reading materials.
The box also includes a 150W AC Adapter with 20V DC @7.5A (Ampere) and 150W DC output. It is capable of 100~240V with 50/60Hz universal AC input.
This laptop is powered by an Intel 9th generation i7-9750H processing chip with a base speed of 2.6Ghz. The laptop felt strong, durable, and looks attractive to the eyes. The bezels are very thin, it makes it beautiful to watch the 17.3-inch display, though, there is no webcam placed on this laptop.
Asus ROG Strix G G731GT AU059T :Specifications
This laptop comes with an Intel i7-9750H 9th generation processor which is a Hexa core processing chip having a base speed of 2.6 GHz. It can be boosted up to 4.5 GHz and memory can be upgraded to 32GB RAM.
This laptop has 12MB of cache memory and there is a 16GB DDR4 RAM with dedicated 4GB of NVIDIA GTX 1650 GDDR5 graphics for high performance, which is an updated cost-effective GPU. It is equipped with PCIe NVMe 1TB M.2 SSD and there is no hard drive on this laptop.
Specifications
Details
Model
Asus ROG Strix G G731GT-AU059T
Display
17.3-inch Full High Definition with 1920×1080 px reolution, Anti-Glare IPS-level panel having 60Hz, 100% sRGB and 81.5% screen-to-body ratio
Processor
Hexa-core Intel 9th Generation i7-9750H Processor with base speed of 2.6GHz boosted up to 4.5GHZ and 12MB Cache Memory
Graphics
Intel UHD 630
NVIDIA GeForce GTX 1650 GDDR5 4GB VRAM
Storage
PCIe NVMe 1TB M.2 SSD (Intel 660p QLC), additional slot for expansion
Memory
16GB DDR4 2666MHz RAM that can be upgraded to 32GB RAM
IO
3 x Type A USB3.1 (GEN1), 1 x HDMI 2.0b, 1 x 3.5mm Audio Jack, 1 x Audio Jack Mic-in, 1 x RJ45 LAN Jack, Without CD-Drive
Wi-Fi and Bluetooth
Intel 802.11ac Gigabit Wi-Fi 2×2 with Multi-Antenna Rangeboost technology
Software
Windows 10 Home (64bit) with lifetime validity
Battery
48Wh, 150W power adapter
Dimensions
39.9(W) x 29.3(D) x 2.7 (H) cm
Audio
2x 1.5W with Smart AMP Technology with 6.5dBA Dynamic Range
Keyboard and Trackpad
Backlit Chiclet all-Zone RGB with highlighted WASD keys, N-Key Rollover, Precision trackpad, with Hotkeys (Volume down, volume up, mute, HyperFan, Armoury Crate)
Weight
2.85Kg
Biometric unlock
No
Webcam
No
Warranty
1 year Global Warranty and Onsite Domestic Warranty.
Asus ROG Strix G G731GT: Design and Build Quality
Asus' collaboration with BMW designing works group makes the designing of this laptop more attractive, as they implemented cutting edge technology in this laptop. The design of this most affordable ROG laptop is certainly inspired by the more premium Strix Scar III laptop.
Asus retains the most of fine Strix Scar III design minus a few elements like the security Keystone. It comes with the same distinctive wraparound RGB LED light strip at the bottom and on its edges.
Like any other ROG laptop, it comes with a rigged design theme that has the same strong and thick metal-plastic chassis. The laptop looks handsome yet aggressive at the same time. However, the ROG logo on the aluminum lid doesn't glow.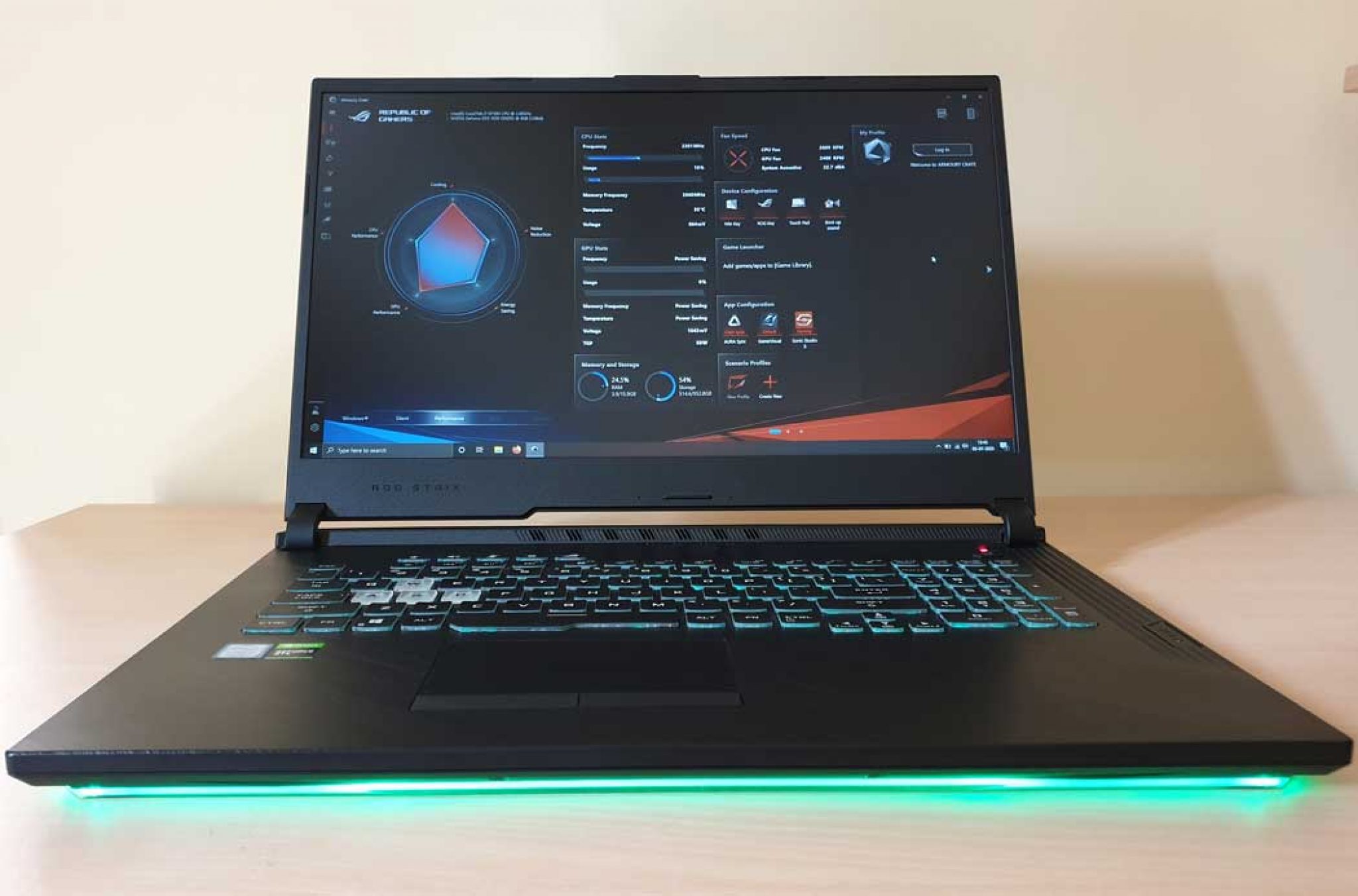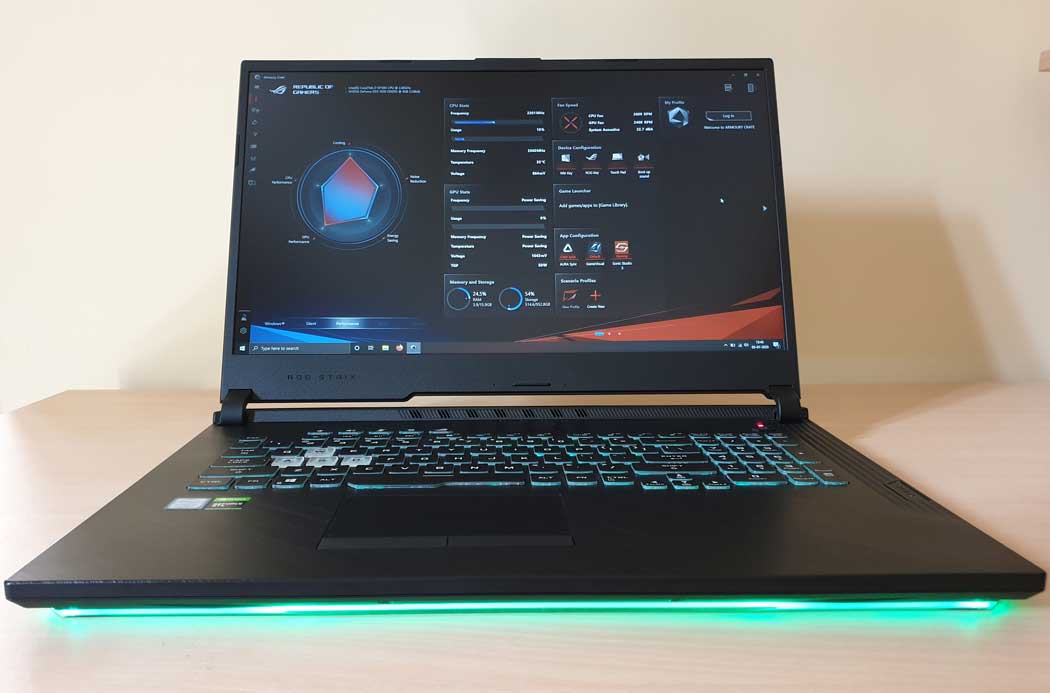 The lid and the keyboard deck come with this faux brushed metal finish too, giving it that edgy, gaming laptop aesthetic that ROG loves showing off on its laptops.
An asymmetrical cutout that ensures unrestricted airflow around the back and the hinge gives more room for additional venting. It has a light bar that wraps RGB around the edges.
The laptop is quite heavy and is substantially thick to accommodate all the essential ports you would expect in a gaming laptop.
I like the Scar-signature RGB light strip that runs across the bottom edge of the laptop — this makes the Strix G731GT an instant head-turner.
To make the laptop affordable, ASUS had cut the costs by making the entire casing out of polycarbonate. However, despite the heavy use of plastic, it doesn't feel cheap, in fact, it looks quite sturdy (flex is minimal).
The bezels on top and both sides of the display are quite narrow. This is one of the main reasons, for Asus to ditch the Webcam. However, the bezel at the bottom of the screen is huge, but the presence of the air gap at the bottom of the screen and the asymmetrical cut (which also helps with ventilation) prevents this huge bezel from being an eye-sore.
The ventilation is proper and ASUS calls this a heavy ventilated 3D Flow Zone. The raise ridges above the keyboard base for air circulation is a good addition to the laptop. There is no heat vents on the sides and the exhausts open on the rear, thus making extended gaming sessions a convenient one.
Overall the ROG Strix G731GT is neatly and smartly designed, and I am sure you are going to love this machine.
Asus ROG Strix G G731GT: Display
The screen is 17.3-inch full HD (1920*1080) with ANTI GLARE IPS-level panel having a refresh rate of 60Hz, but you can also get the panel in 120Hx and even with 144 HZ refresh rate option. The one we got in our laptop is a standard 60Hz, with 81.5% screen-to-body ratio and 100% sRGB with a pixel density of 127 PPI.
It comes with a good refreshing rate so you will get good picture quality for developers, and video editors also. This screen gives a better experience to get the best output. It has the right color and resolution features, and it doesn't have a reflective finish.
This gives a great viewing experience for mid-range gamers. You can work on this laptop continuously without having any problems. Although the display is good for editing photos or videos and mid-range gaming, we recommend you go for a higher refresh rate option if you are planning to do some serious gaming.
Asus ROG Strix G G731GT: Keyboard and Touchpad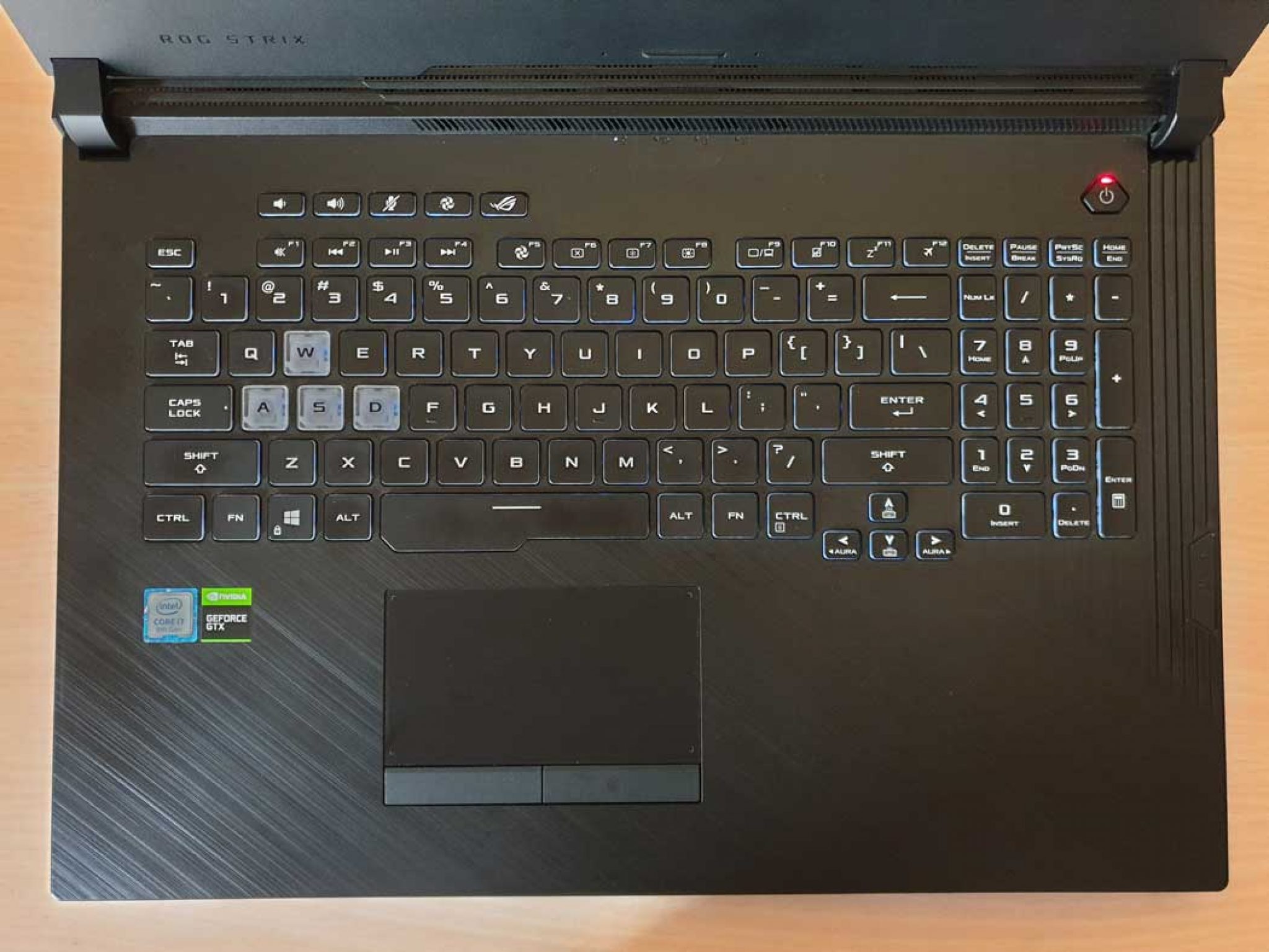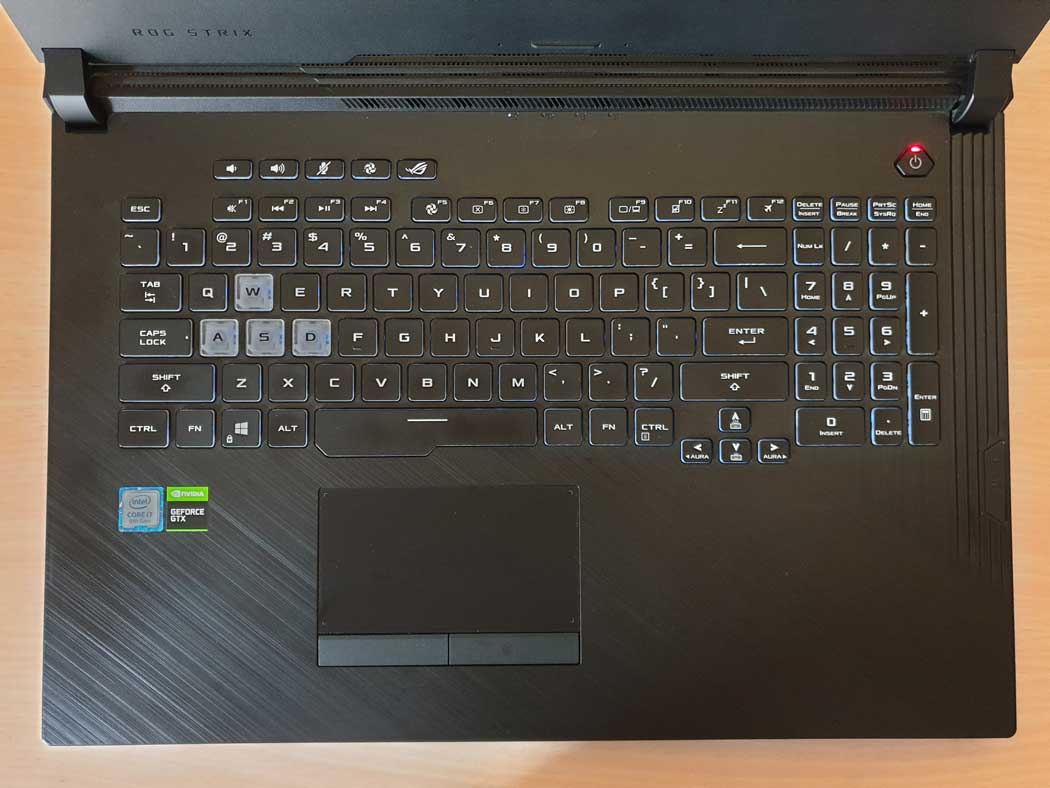 Like previous Asus ROG series laptops, the keyboard is designed for gaming. There are beautiful RGB lights placed under the keyboard that you can control to adjust different contrast levels and different color themes in the Aura Sync tab of the Armoury Crate app.
However, the keyboard area is small but comfortable to use while typing or gaming for long hours due to carbon-fiber palm rest. The keys felt smooth and have curved keycaps. They offer enough bounce for a satisfying sensation.
Palm rests on the keyboard is very good and you won't feel much pain even if you spend a lot of time on this laptop.
We tested the keyboard on the 10FastFingers.com scoring 72 words per minute with 94% accuracy, the key travel seemed ok and typing feel great.
There is a highlight one zone RGB light in the keyboard which highlights four keys for gaming purposes. There is a dedicated button on the keyboard for performance mode which helps to boost up the performance.
The touchpad is relatively soft and is smooth to the touch. The touchpad comes with multi-touch gesture support and responds well to Windows 10 gestures like two-finger scrolling and three-finger tabbing.
Asus ROG Strix G G731GT: Portability
The weight of this laptop is 2.8 kilograms which is heavier than regular laptops, and if you are on moving work, your shoulder will feel a bit extra weight but it is manageable throughout the day.
Asus ROG Strix G G731GT: Battery
This laptop comes up with a 48-watt hr 3 cell Li-ion battery which will give you around 3-4 hours of battery backup depending on the brightness and refresh rate. The battery capacity is pretty average considering the 17-inch gaming laptop.
In our test, the battery lasts about 3 hours 18 minutes of normal use (includes web browsing and media consumption) at peak brightness, but that number drops to about an hour if you're gaming.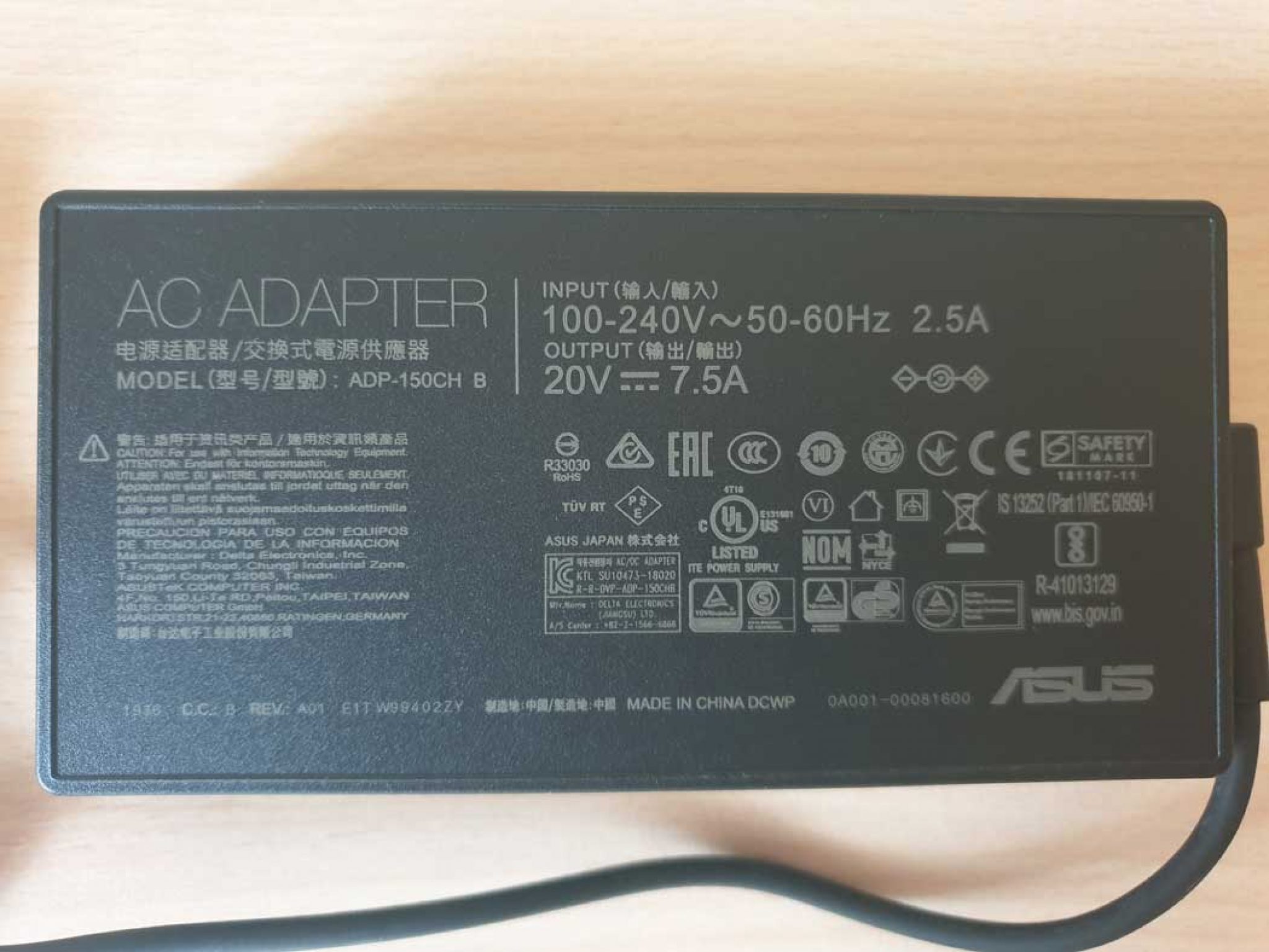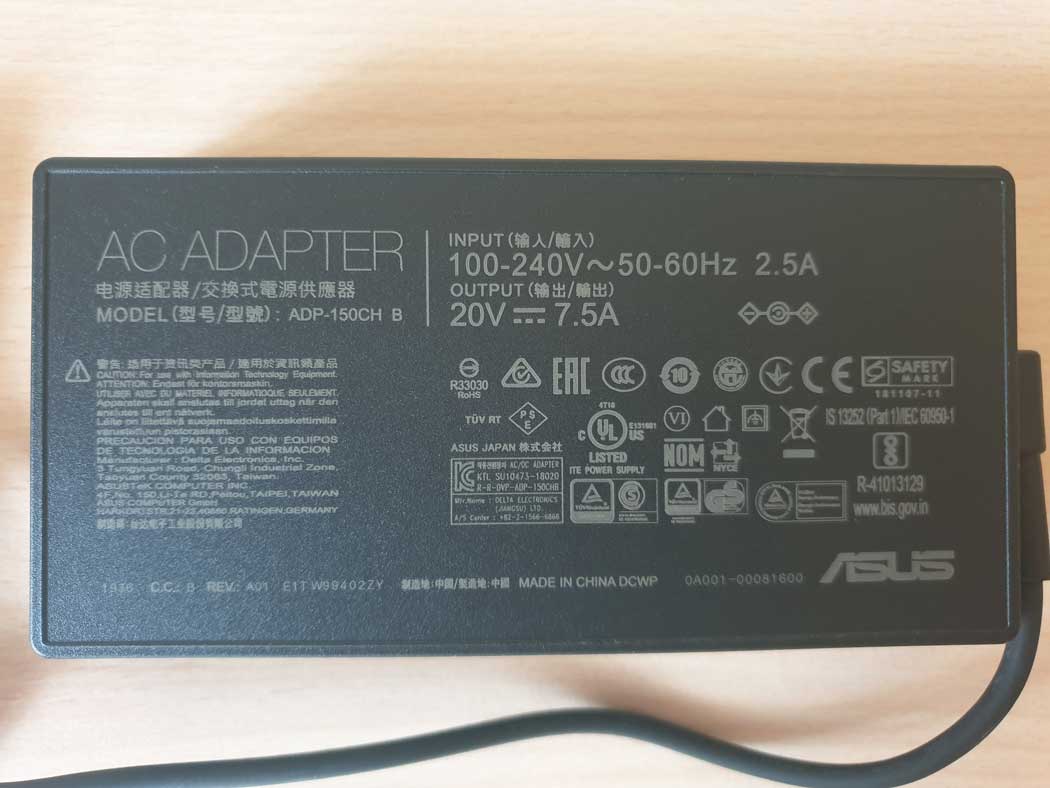 There is also a fairly dip in performance once we switch to battery mode. It is charged by 150W charger to juice up the machine that takes around 90 minutes to fully charge the battery.
Normally gaming laptops won't give good battery backup but, on this laptop, the battery is not a problem as it gives decent backup for daily usage.
This time Asus is providing much battery power than the previous laptops so we can expect decent power backup form this laptop. It comes with an AC travel adapter which you can carry easily whenever you are going outside.
Asus ROG Strix G G731GT: Connectivity
This laptop includes inbuilt Intel 802.11 (2*2) Gigabyte Wireless-AC 9560 Wi-Fi card with Asus patented multi-antenna RangeBoost technology which helps you to get good Wi-Fi signals anywhere you hangout.
Asus is the pioneer in the world to inducted this multi-antenna Wi-Fi technology in its ROG Strix series gaming laptops.
ROG RangeBoost technology offers the highly stable Wi-Fi signals by evaluating the signal intensity of multiple internal antennas and picks the best pair for your location. With this technology, you get 30% more range, higher throughput, and few connections drops.
The technology also covers dead spots, provides the strongest, fastest, and most stable connections for online gaming. Getting Wi-Fi signals from nearby routers won't be a problem now with this all-new Asus rog laptop. It offers 1.72 Gbps of maximum speeds. This laptop is also equipped with Bluetooth 5.0.
Asus ROG Strix G G731GT: Ports
Asus ROG-Strix G comes with three first-generation Type-A USB 3.1 ports, and one multi-purpose 3.5 mm Audio jack with the mic on the left side for all of your must-have gear. On the backside, this laptop hosts an HDMI 2.0b port that allows you to connect an external 4k monitor or TV screen to watch movies and play games at up to 60GHz.
On the same side, we also have one RJ45 Integrated gigabit Ethernet jack, and a power port. These up to date ports will help us to connect all our external devices to the laptop.
To our surprise, there is no USB Type-C port which is a big miss although higher configurations do offer this port. Other notable omissions are Thunderbolt and an SD card Slot.
Streamers are also going to be disappointed because there is no webcam either. But you can certainly connect an external webcam to it. We recommend you to check Logitech HD PRO Webcam C920 webcam on Amazon.
Asus ROG Strix G G731GTL: Audio Quality
The machine hosts two 1.5 watt speakers with Smart Amp Technology that increases the peak output of the speaker without damaging the cores. This Smart technology replaces the hardware-based speaker protection methods by taking the help of predictive algorithms, speaker characterization tools, and real-time signal monitoring.


The audio output has more bass, less noise, high dynamic range, and higher potential output.
The speakers are good and give a balanced boost and trebles. The audio is clear and loud enough for watching movies and playing games. The background effects of music are very good. However, we recommend you to use headphones to fully appreciate the audio experience while gaming.
Asus ROG Strix G G731GT: Performance
When compared with the price, this Asus ROG laptop is one of the decent budget gaming laptops in this price range. The display could have been better but if you compromise with that you can go with this laptop.
The performance of this laptop is smooth and consistent, there are not many frame drops as this system is powered by Nvidia RTX 1650 with 4GB GDDR5 VRAM and its thermal management is very good which improves the performance of the laptop.
This laptop comes with an inbuilt Asus ROG Gaming Center that helps gamers to increase the performance of the computer by releasing memory running applications and overclocking the central processing unit (CPU).
Boosting fan's performance along with lighting effects can be controlled wirelessly using your android phone. You simply need to install the Asus ROG Gaming Center App on your mobile phone.
This ROG gaming center has a feature named turbo gear option which will increase the performance of the laptop while gaming. You can also modify CPU and GPU frequency manually.
Ventilators do the job very well, the laptop doesn't have many heating issues as it comes with intelligent cooling. The laptop is featured with a well-ventilated exterior having two exhaust on the rare side with a self-cleaning terminal module that ejects dust automatically.
ROG's Intelligent Cooling system includes double n-Blade fans with 83 blades that increase the airflow in the laptop. The fins are ultra-thins that extend the surface area of the cooling system for more heat dissipation.
This laptop has one special software named ROG Armoury Crate that helps to control our system at our fingertips in a single utility. It also switches between operating modes to optimize performance.
With this software, you can very easily create your own customize scenario profiles that automatically make adjustments when you launch your favorite application.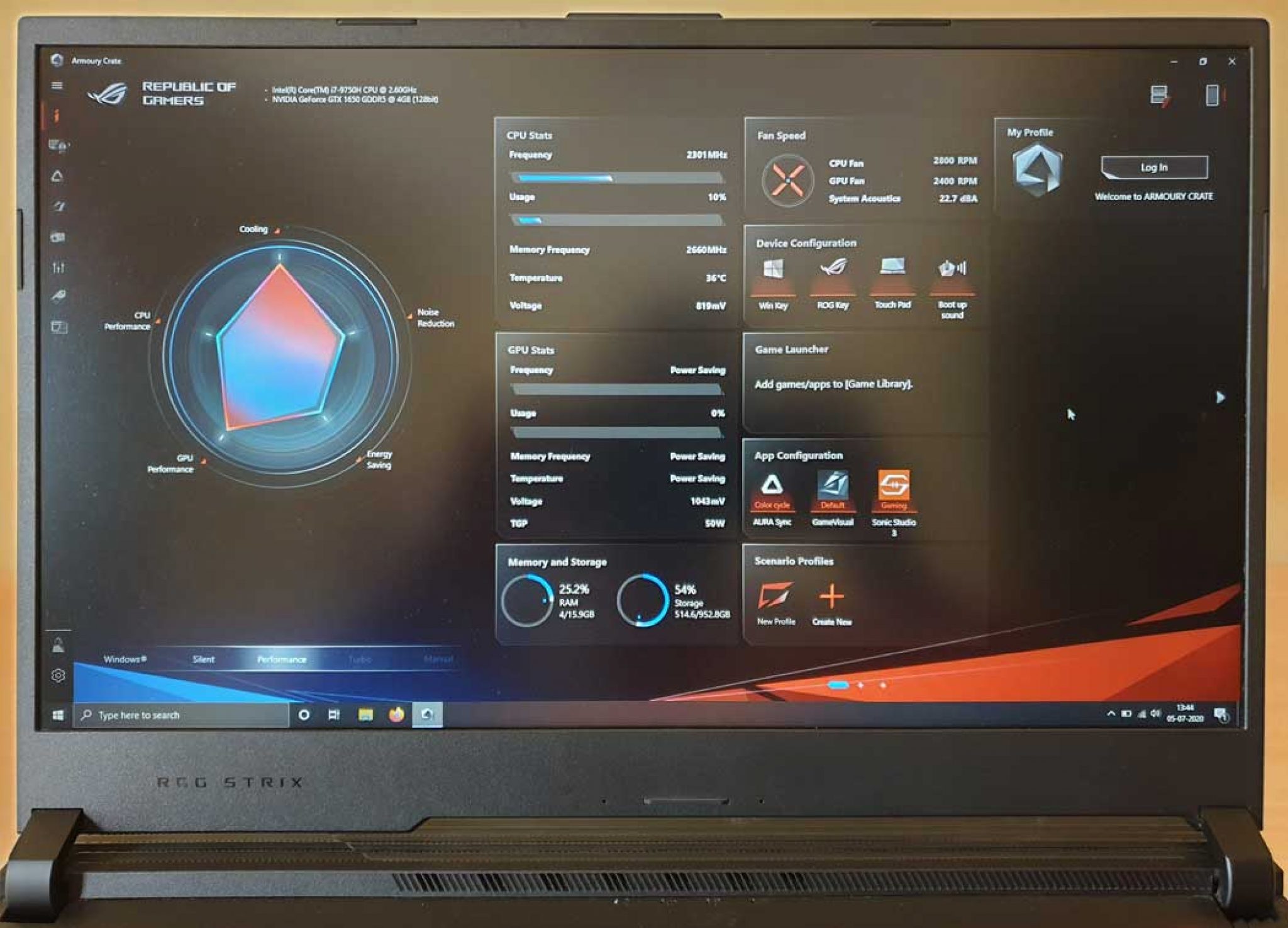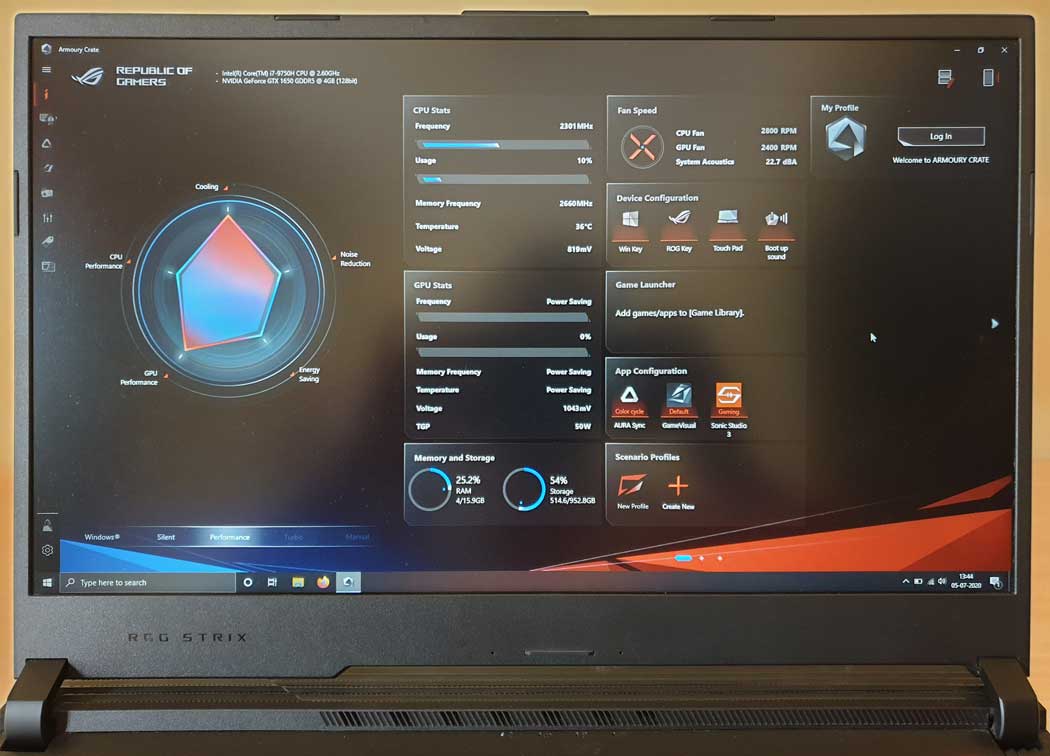 The Asus ROG Strix G is one of the top-end models with an Intel Core i7-9750H processor along with the Nvidia GTX 1650 graphics card and 16GB RAM, the performance is flawless. The loading times of games were significantly faster due to 1TB SSD.
Gaming on this laptop felt smooth on medium 1080p settings and we didn't face any FPS drops while playing games. I have tested it on GTA V, Tomb Raider, CS GO, Apex Legends, Need For Speed Heat, and PUBG. Most of these games ran smoothly but I had to do some graphics adjustment in some of them.
At medium settings, we got a stable 70-79fps on PUBG and Apex Legends. After reducing the graphics settings we managed to get up to 100fps. On Counter Strike Global Offensive we were able to get a stable 60fps.
As the laptop hosts Nvidia GTX 1650 graphic card, it is recommended for mid-range gamers only. For high-end gaming, we will recommend you to go for a higher version of the laptop with RTX card like NVIDIA GeForce RTX 2060 Strix model. For instance: ASUS ROG G703 G703GXR-EV078R or ASUS TUF FA506IV-HN294T
The Strix G is also a beast for developers. The coding, graphics designing, or video editing everything is better on this laptop considering the price range. I did some video editing and haven't faced any lag or issues while rendering high-end videos.
Even for regular usage, the laptop offers smooth and lag-free performance. Streaming music, working on a document, or multitasking is smooth and lag-free.
The best thing on this laptop is a dedicated performance-boosting button on the keyboard. This button will help to increase the performance of the laptop while doing heavy tasks. This laptop supports heavy multi-tasking, opening multiple apps is not at all issue due to its powerful i7 9th generation processor which is enough for midrange users and gamers. When we push this button it instantly increases the performance of the laptop.
I found that the keyboard and front edges RGB lights are very attractive on this laptop and look excellent while working on the darkroom. We can control and choose the contrast and colors of these RGB lights on the laptop with the help of the inbuilt software.
Overall the laptop is a complete package of beauty and the beast.
What does ROG stand for?
ROG stands for the Republic of Gamers. It was founded in 2006 by ASUSTek Computer Inc. or simply ASUS. Its main aim was to create good and dedicated hardware for hardcore gamers.
Does ASUS ROG Strix G have Webcam or camera?
No
, it doesn't come with an inbuilt webcam or camera. But the higher models of ASUS ROG Strix G G731GT come with an external webcam in the box along with other accessories.
Alternatively, you can connect an external webcam to it. We recommend you to check
Logitech HD PRO Webcam C920 webcam on Amazon
.
Can I upgrade my ASUS ROG laptop graphics card or the processor?
No, you should not try to upgrade the CPU or GPU as both are soldered on to your laptop motherboard. If you wish to upgrade, you should visit the nearest service center.
Is ASUS support good?
Yes, the online technical support team of ASUS is good and ready to resolve your issues. However, phone support still needs to be upgraded. We recommend you to choose extended warranties for your laptop.
Is ASUS a Chinese company?
No, ASUS or AsusTek Computer Inc. is not a Chinese company. It's a Taiwan-based multinational company established in 1989 that deals with consumer electronics, computer, and phone hardware. It's headquartered in situated in Taipei, Taiwan.
Are ASUS ROG laptops reliable?
The ASUS ROG laptops have a strong build quality with beautiful design and high performance in an affordable price range. The laptop is reliable than many other popular brands.
Other ASUS ROG Strix G Series Laptops
Final Verdict
Asus ROG is one of the decent budget laptop choices for gamers. It has 1TB off the solid-state hybrid drive which gives a speedy performance and if you are a mid-range gamer, it is very much needed.
The only let down in this laptop is the absence of webcam in it, maybe it's because of its bezels. Those bezels are very narrow and give you awesome viewing experience of the display.
If you want to buy a gaming laptop at an affordable price then this is one of the smart choices available and the support from Asus is also very good. It comes with a pre-installed Microsoft Windows 10 as the Operating System. The 16 GB of inbuilt RAM gives us the best performance and its sufficient for mid-range gamer as well as developer.
So if you are a new gamer/developer you can go for this laptop from any online or offline store. Give it a closer look here on Amazon.
Alternatively, if you can spend 20000 extra then you can go with MSI GL73 8SE-039IN. It has a better graphic card RTX 2060 which outperform RTX 1650 by quite a margin. It also comes with a stunning display of 120Hz which is good for medium to high-end gaming. Give this laptop a closer look here on Amazon.