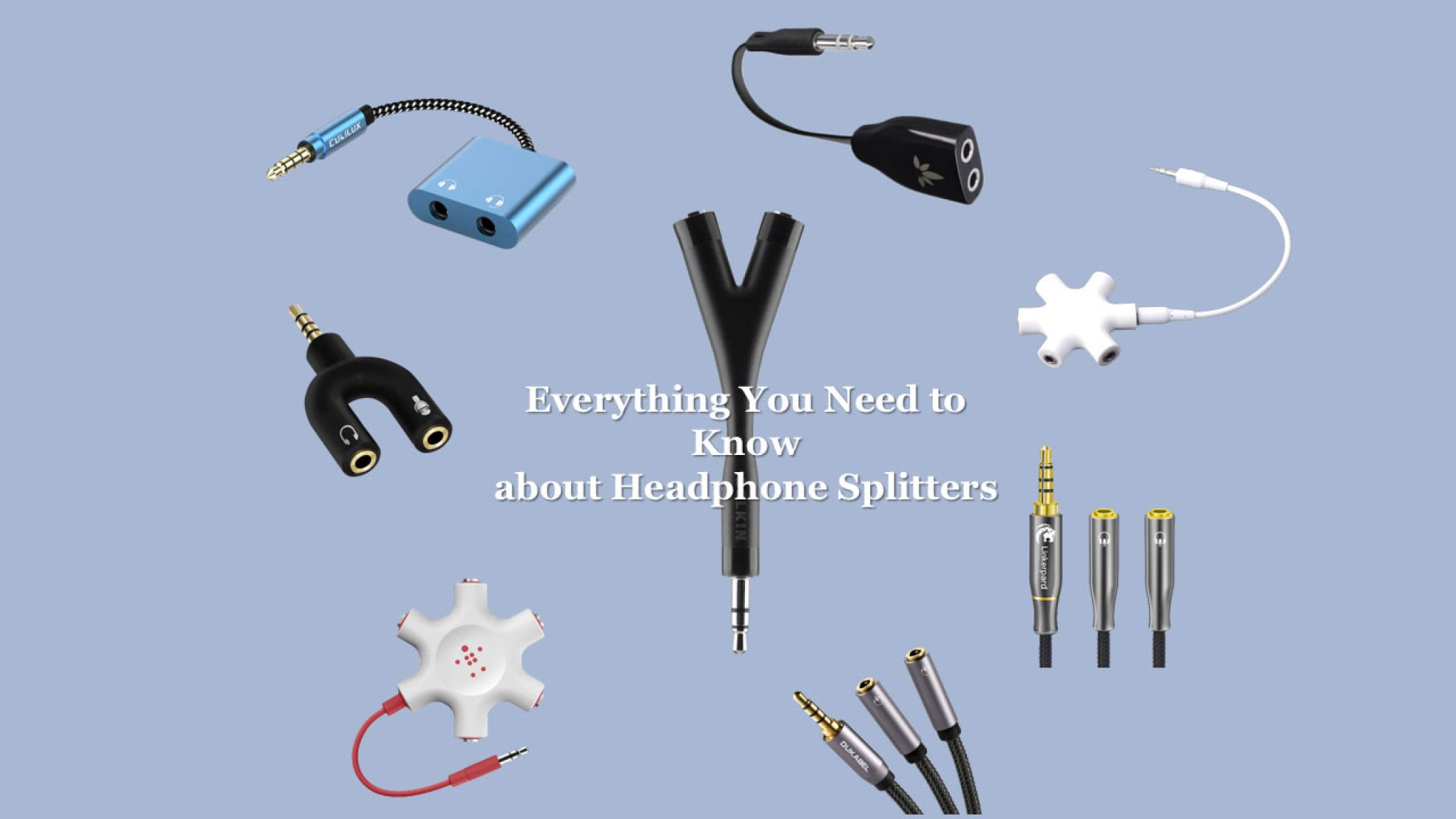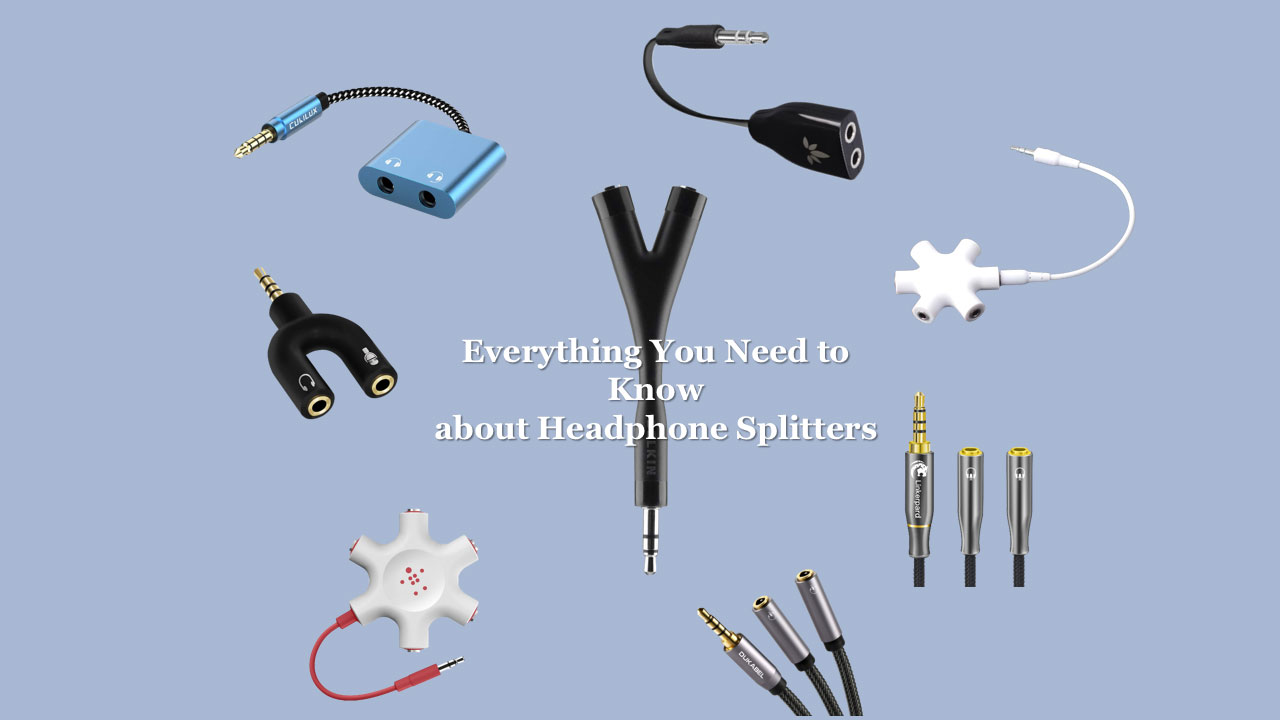 We all can relate to the moment, where we hear a song, and we instantly want to share it with our friends. Hits home, right? Well, we don't always have the privilege to take over the aux. Audio splitters come to our rescue and make sure every musical moment is cherished.
Headphone users worldwide always needed a device that can help them share their music with loved ones. This need gave birth to a new headphone accessory in the form of a headphone splitter.
With this article, you will come to know everything you need to know about headphone splitter and how to choose them. This article also includes all the factors that you need to consider while picking a headphone splitter.
Lastly we have also recommended some of the best headphone splitter that you can buy from Amazon.
What is a Headphone Splitter?
Headphone splitters are audio accessories that route audio into multiple headphones simultaneously. It works on the main principle of diving the audio from the source to different headphones without degrading the sound quality.
Wondering how the magic happens? An audio cable helps connect multiple headphones in a single audio jack. You can join a 2.5mm audio jack to a 3.5mm source with the help of 2.5mm and 3.5mm cables.
It mainly consists of a single plug with various audio jacks. You can even connect microphones, etc.
How does Headphone Splitter work?
Headphone splitters, as the name suggests, works by splitting audio into different headphones. It is more like a pipe that has two openings and can accommodate two different tubes. It enables the water from the main faucet to flow through two other connected pipe.
A headphone splitter can connect to various devices like smartphones, laptops, tablets, etc. You can also sync multiple headphones if your splitter has audio jacks at the opposite end as well.
Moreover, headphone splitters are compact, making them your new traveling companion. You and your friends can enjoy and listen to music while you travel rather than being immersed in your own devices.
Who Uses a Headphone Splitter or Audio Splitter?
Basically, an audio or headphone splitter is helpful for anyone who wants to share his/her music with someone else. Not only that, a headphone splitter has some add-on functions as well, like music mixing, fade-in, etc. These features are helpful to music creators.
There are the list of people who use headphone splitter, but we'll mention only three groups
Music Lovers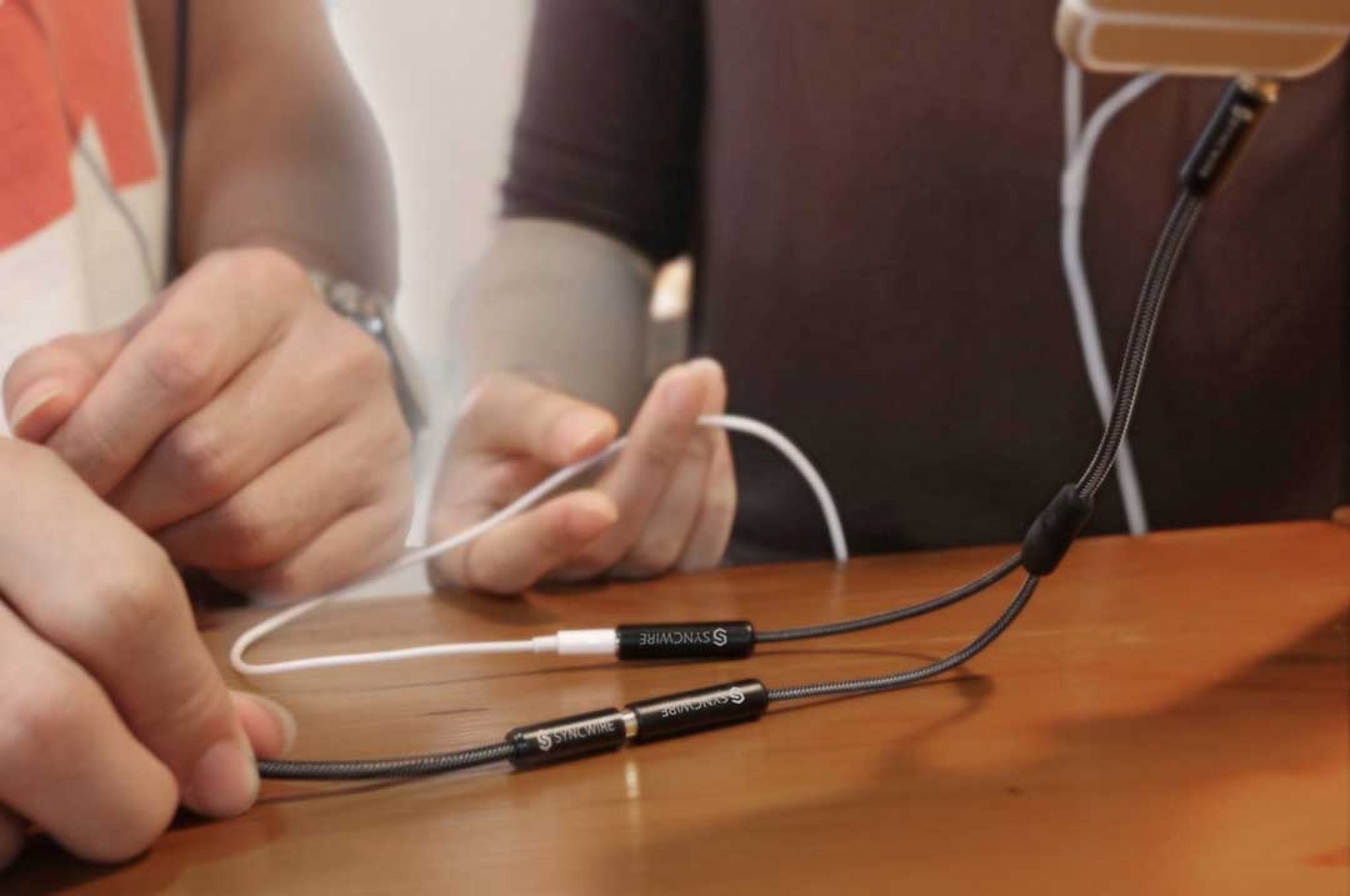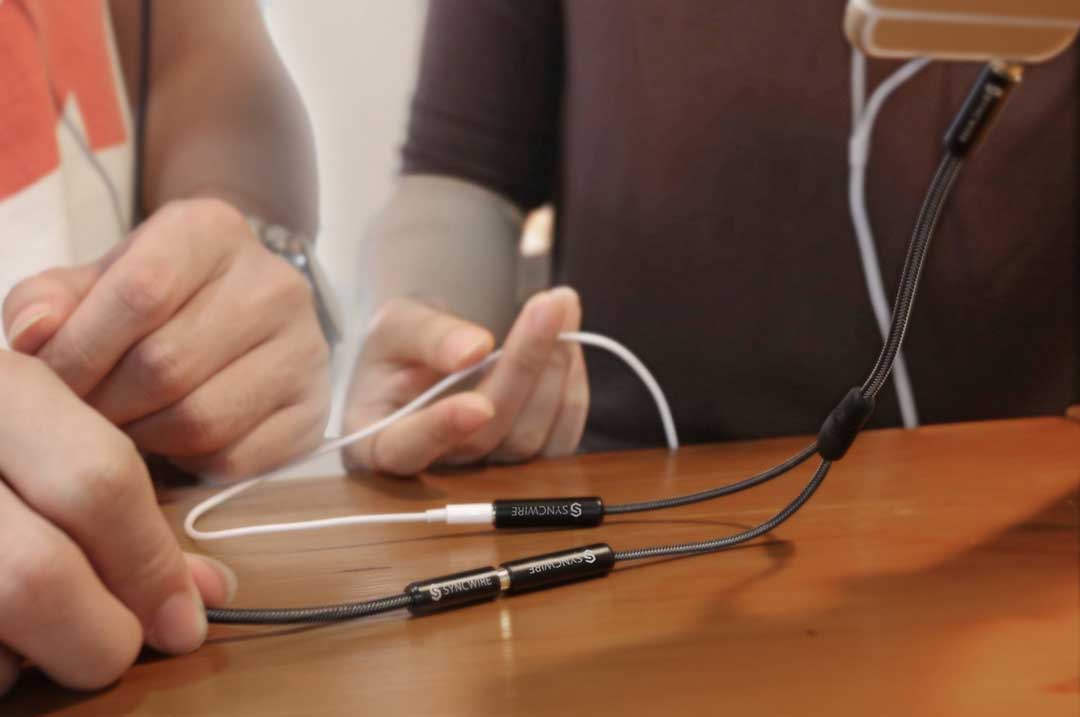 These are young people that fully enjoy the music tracks with a friend or a loved one. They are the most popular user of headphone splitters.
Sharing music from the same source increases the connectedness and feeling of love. It also gives them a party-like feel even in a pretty closed space.
Gamers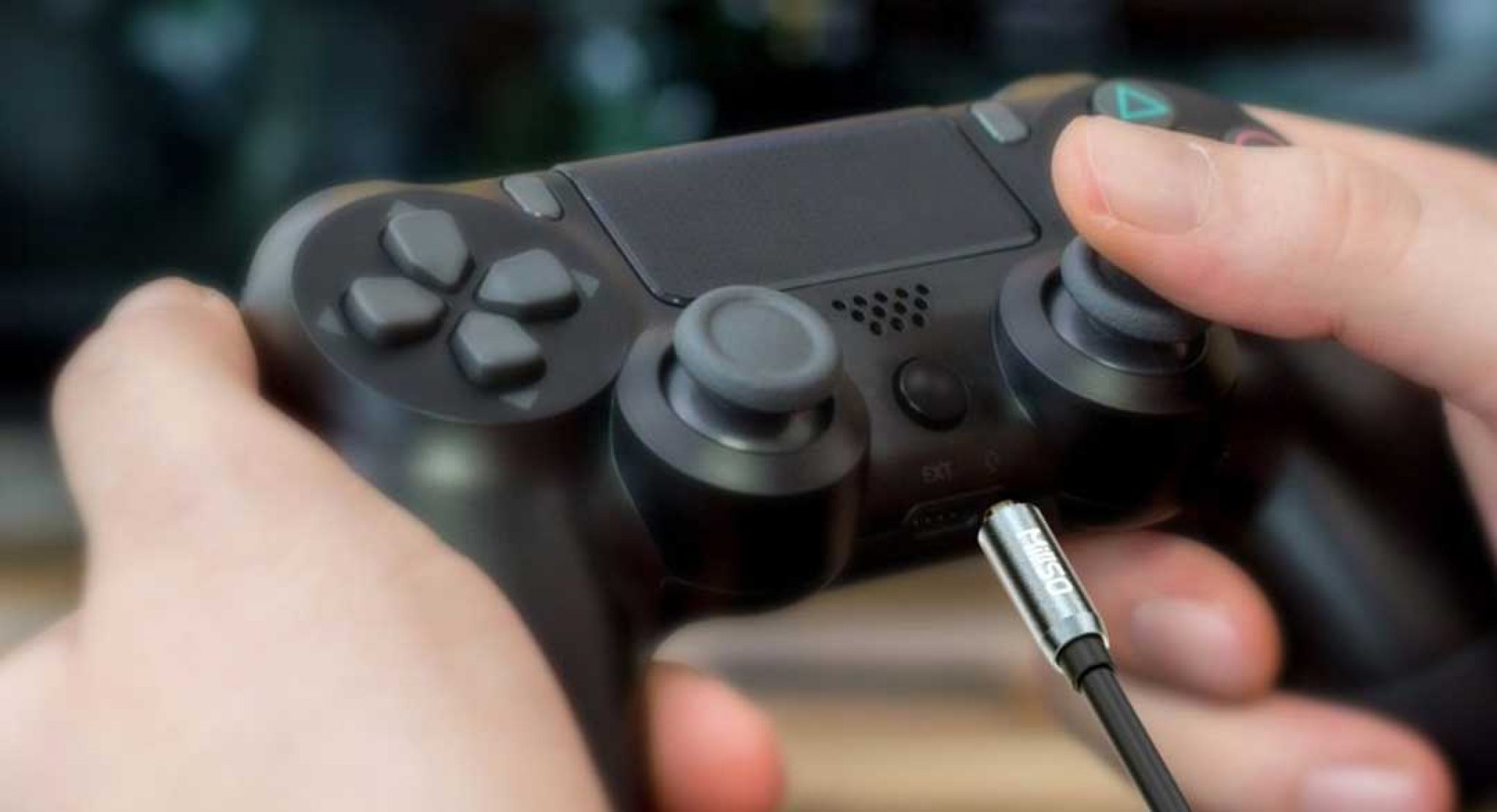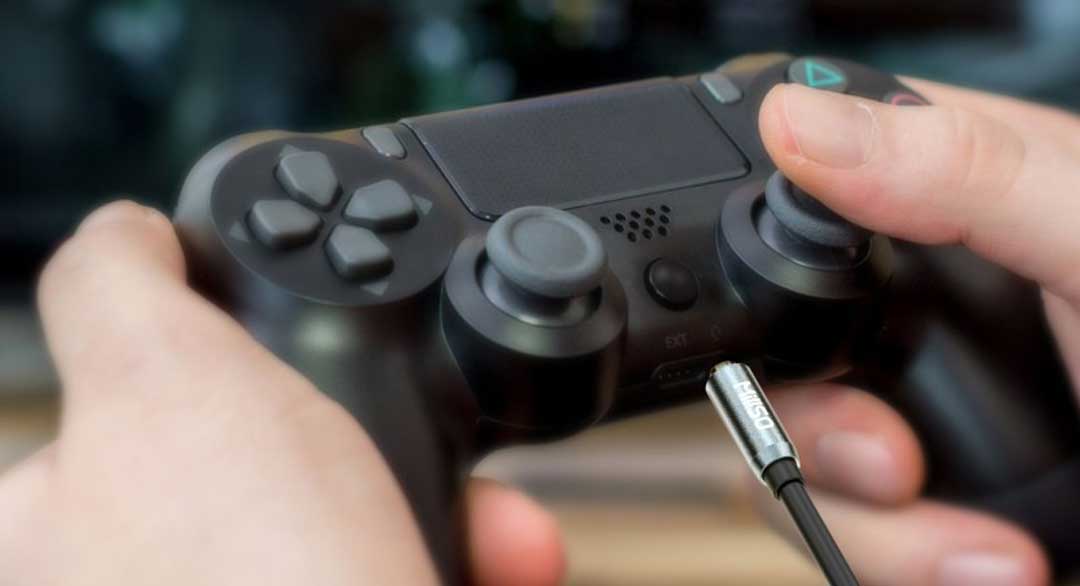 Headphone splitters come in real handy for gamers by allowing them to share audio and enjoy gaming from the same console or PC.
It gives them an immersive experience by sharing the audio with their team in the games like PUBG, CS: GO, COD, and other multiplayer titles.
YouTubers and Podcasters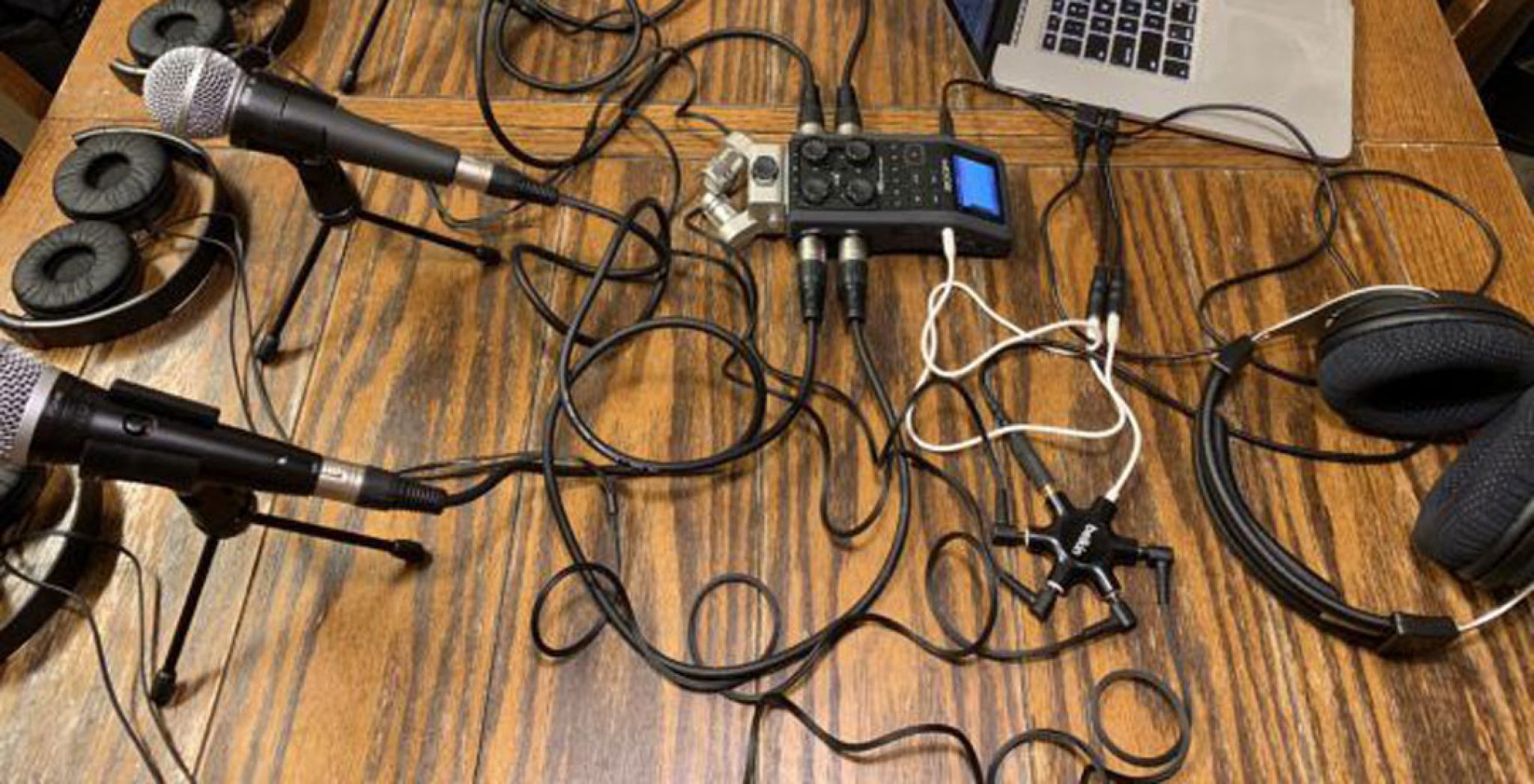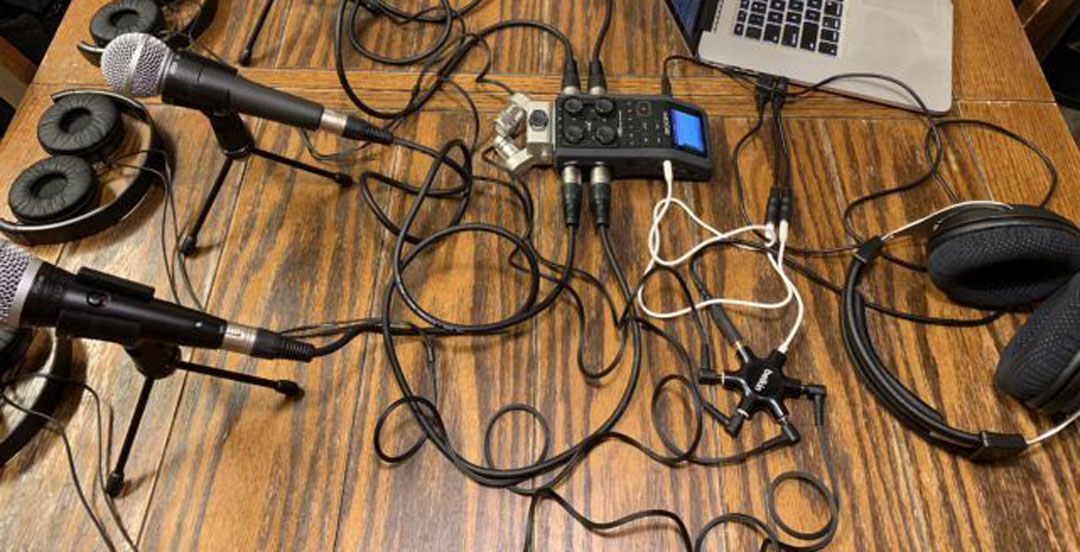 A headset splitter is a must-have for podcasters or YouTubers who want to create content from the comfort of their room on their computer.
It makes the job of recording a lot easier. A Y-splitter is really useful in these setups that can easily connect two or more headsets to the laptop audio jack.
It's a boon, especially when you have a guest for an interview.
Types of Headphone Splitter
Headphone splitters have a wide range of variants. Choosing the right one among them seems quite a challenge.
Before you start shopping, let us dive in further to better understand the different types of headphone splitter and what to expect while choosing the one.
6-Way Snowflake Shaped Headset Hub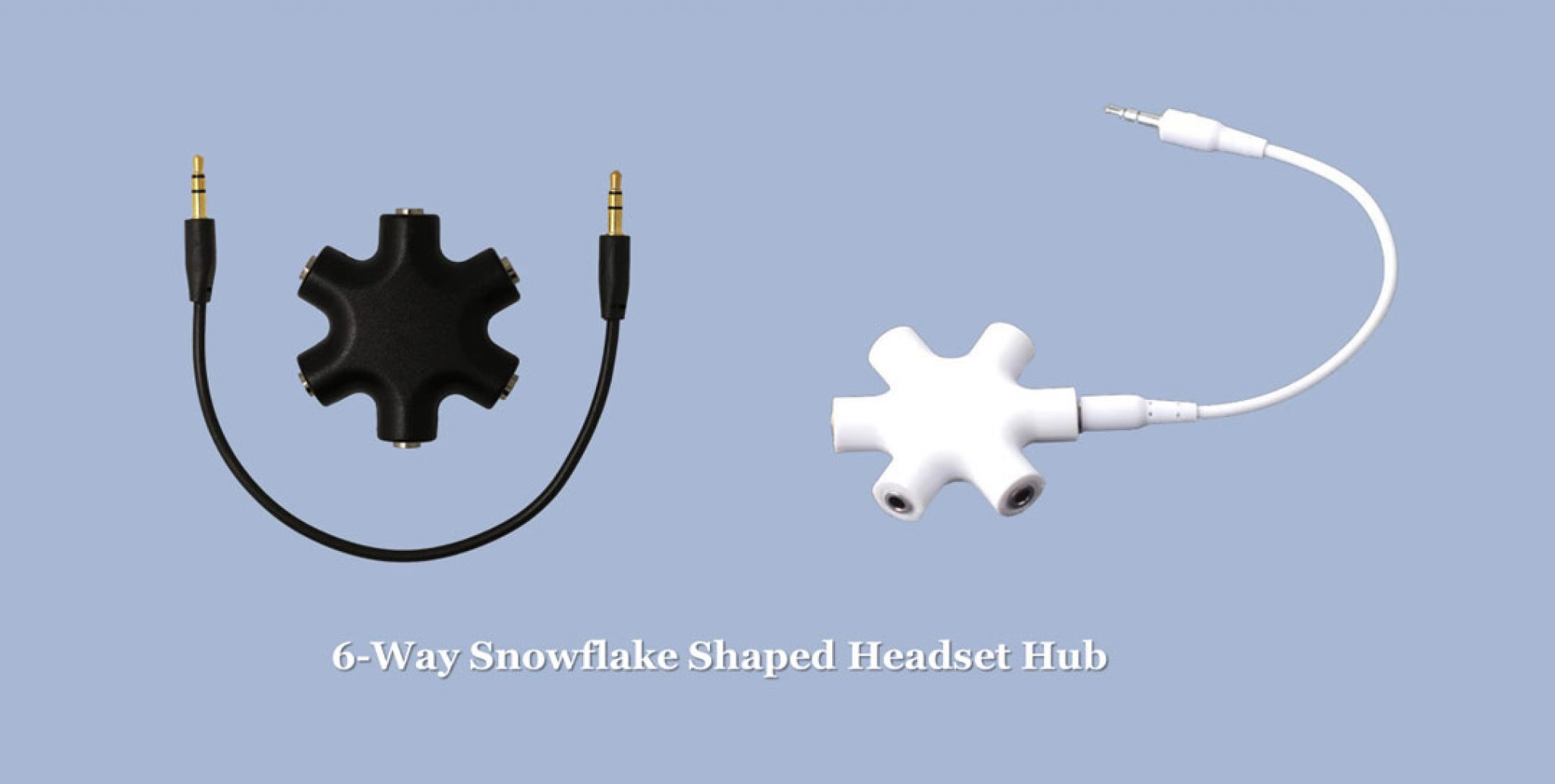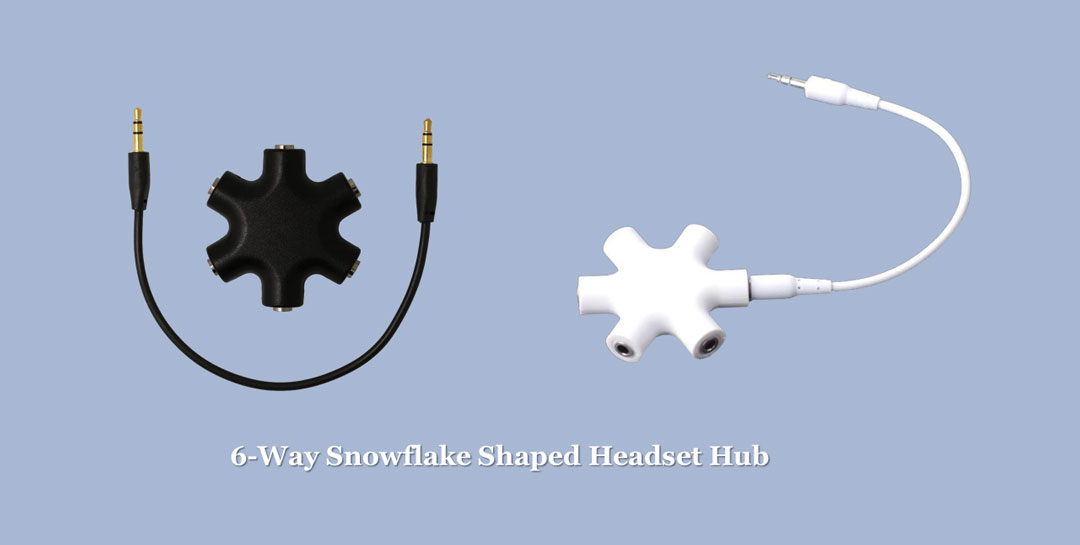 The 6-Way Snowflake Shape Headset Hub type is the perfect choice for families or a group of friends. It has six ports where one of the ports must be connected to an audio source, and the others work as a splitter to share the audio on other headphone jacks.
This always five people to enjoy music together. You can also split the audio while watching a movie or during gaming sessions, etc.
As the name suggests, it looked like a snowflake and is available in various colors and shapes. The build is made of nickel plating, mainly surrounding the 3.5mm audio jacks, protecting them from corrosion and amplify audio connectivity.
The design makes the product promising and will stand the test of time.
You can take a closer look at these 6-Way Snowflake Shape Headset and their pricing on Amazon here.
Dual Headphone Jack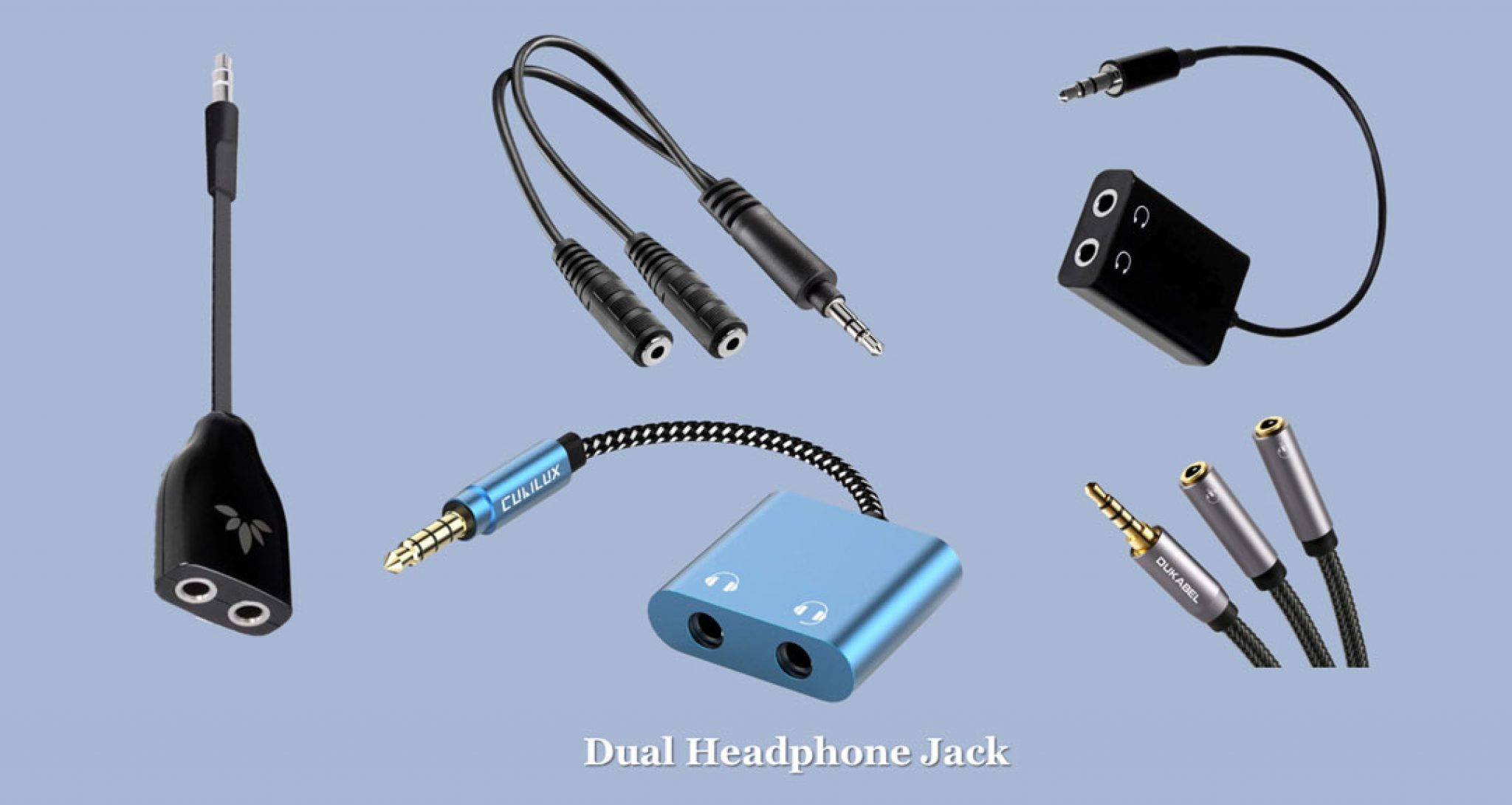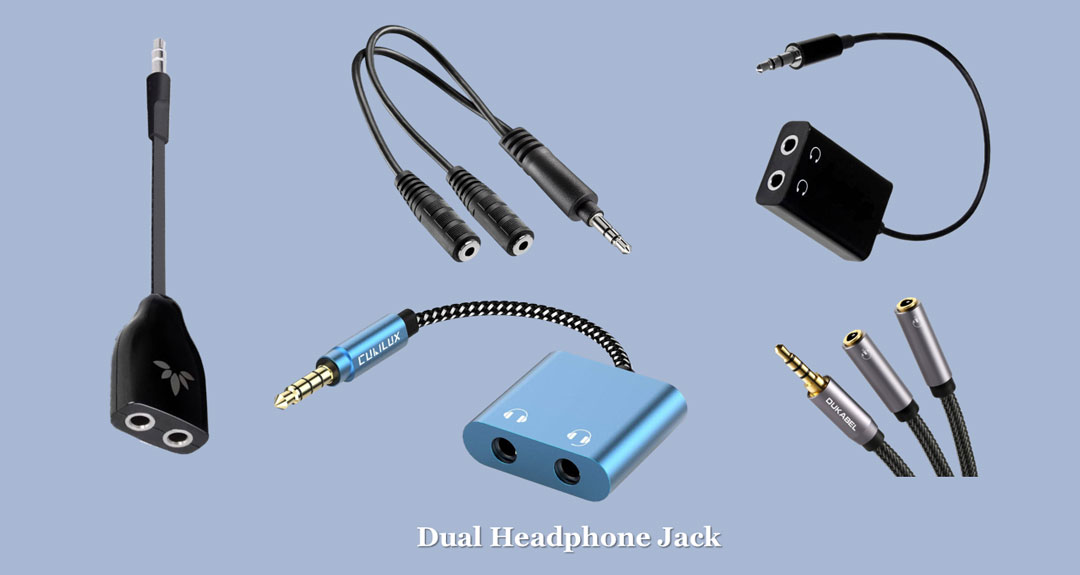 The dual headphone jack type is the most common type of audio splitter. If you are looking for an affordable buy, a Dual headphone jack is an ideal pick for you. Designed with ABS plastic and a PVC cable, this combo audio splitter jack ranks high in functionality is very durable, compact, making it easier to carry it anywhere without a worry.
Moreover, its robust design guarantees long life and connects to a range of devices from smartphones, computers, etc. This can be the best way to spend time with your friend or your partner.
If you're interested in finding out more information about these headphone splitters and their pricing, you can find them on Amazon here.
5 Jack Audio Splitter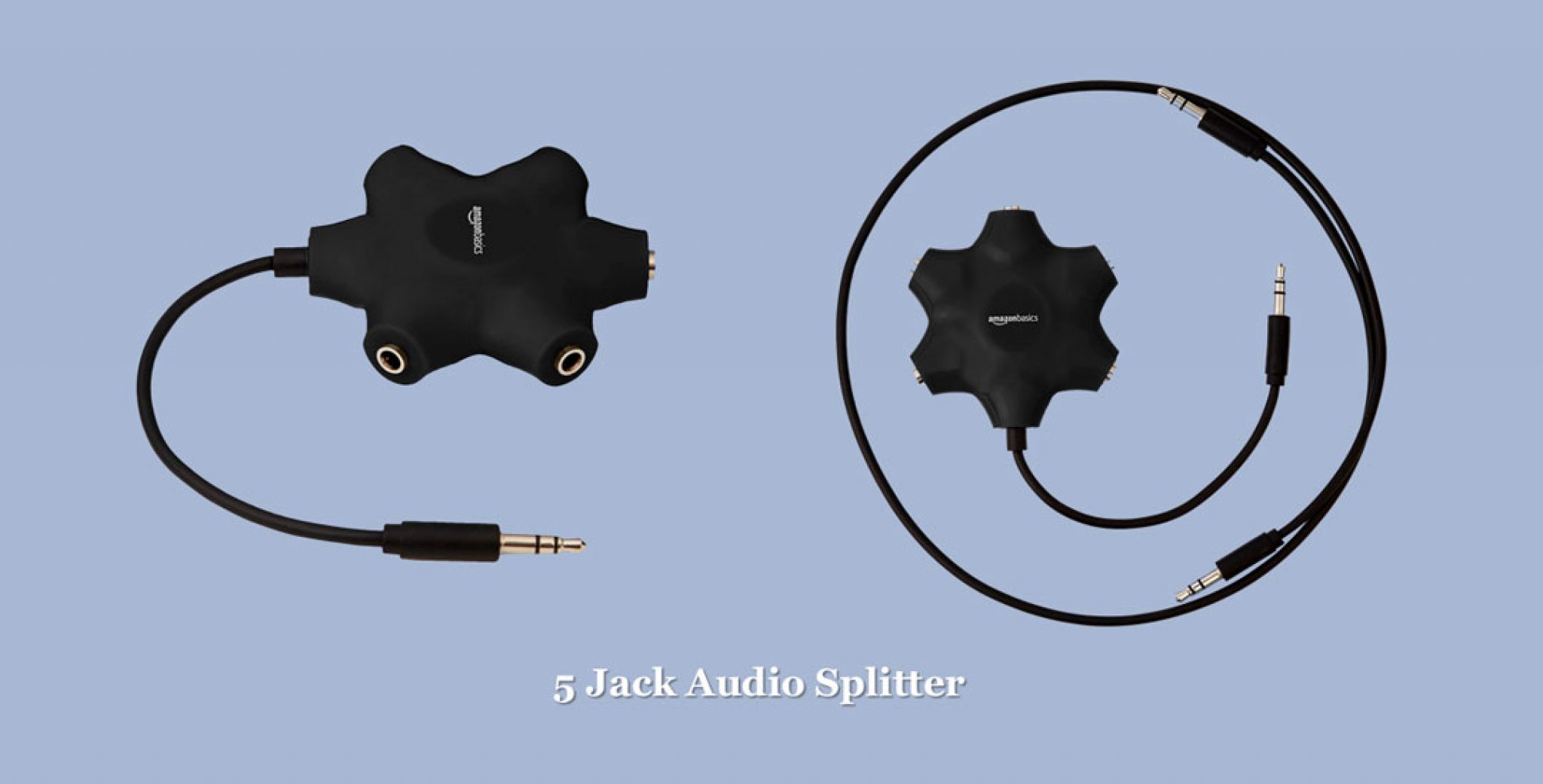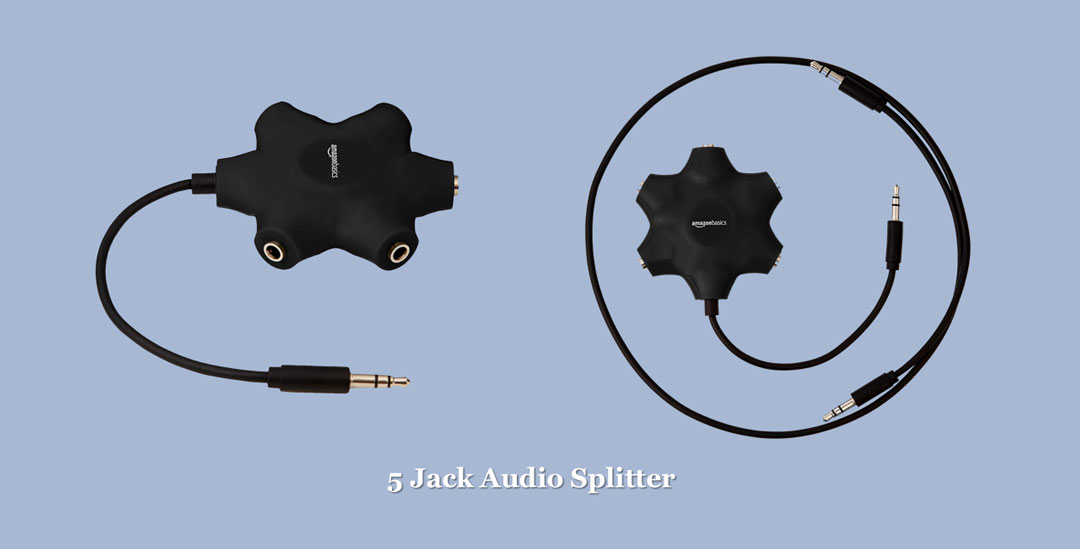 This type of Audio Splitter is the best way to bond with family or friends is through music. What's better than the 5 Jack Audio Splitter? This type of headphone splitter allows you to connect five devices. It offers a primary hard-wired connection for the main audio source.
Also, its features include mix-ins and fade-in options, which are controlled by the main controls of each audio player. It supports various platforms like laptops, phones, iPods, and even portable DVD and MP3 players as well.
These are usually feathery, compact which means this is the perfect accessory to bring along while traveling.
Moreover, if you and your friends are music lovers, then any time can be a concert! This product offers features like splitting speakers to help you create a musical masterpiece and enjoy every bit of it!
If you want to take a closer look at this headphone splitter and its pricing, you can find it on Amazon here.
3.5mm Stereo Audio Jack Adapter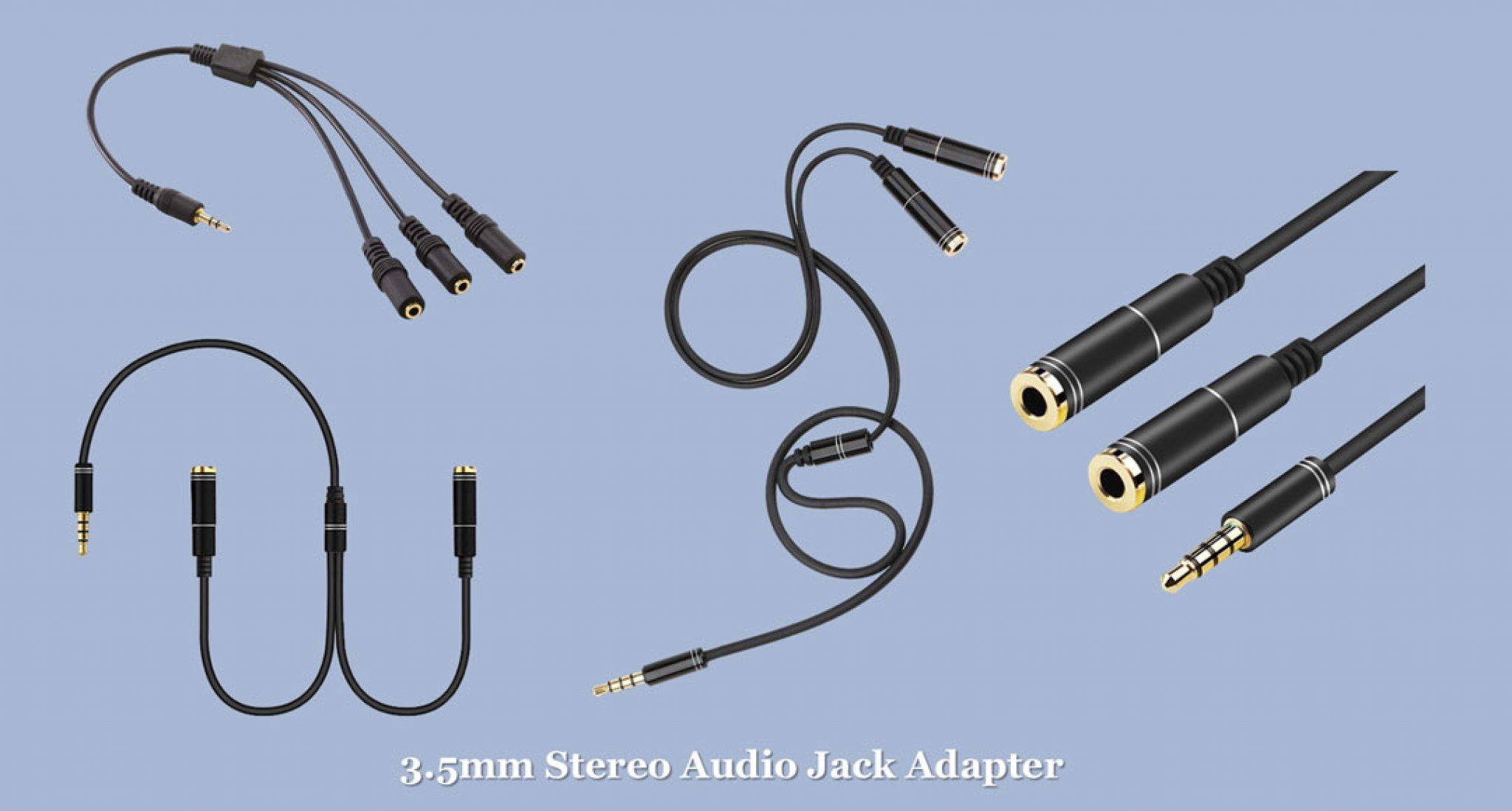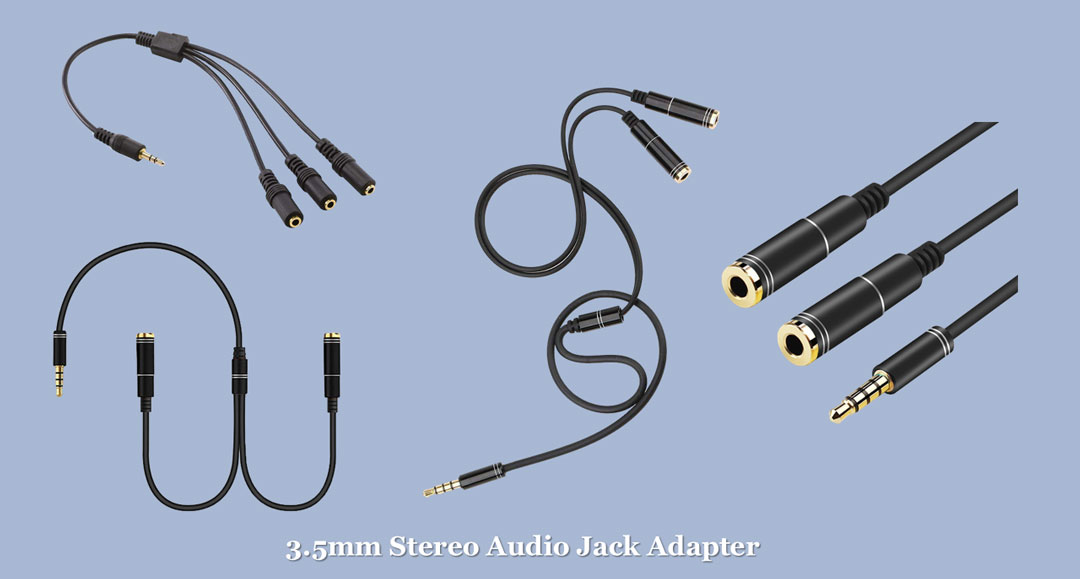 3.5mm Stereo Jack Adapter is one of the most popular and affordable types of headphone splitter. Another budget-friendly pick, a 3.5 mm Stereo Jack Adapter, is a great accessory to bring along on any trip. It offers two or three audio headphone sources from the main input source. A stereo jack accessory guarantees crystal clear audio.
Made with a PVC jacket, it provides a durable yet small design which makes it very easy to carry around in our pockets and bags.
This can be a perfect choice for parents as they can enjoy a quiet traveling experience while the kids watch movies or listen to music in the backseat.
This audio jack adapter usually comes with a male plug and a long cable of 7 inches, and a 3.5mm female port(s). Take a closer look at the 3.5mm Stereo Audio Jack Headphone Splitter with their pricing.
3.5mm Y-Splitter Cable Adapter
Y-Splitter Cable Adapter is an excellent purchase for headphones. This type can also support microphones.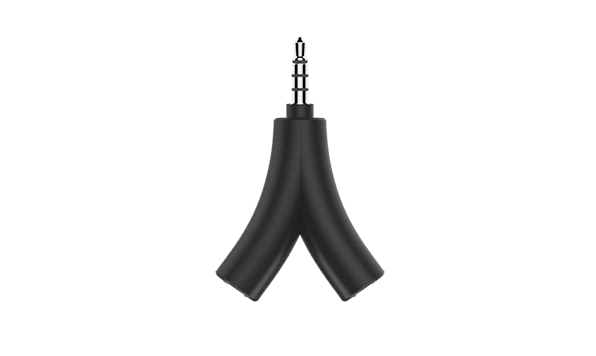 The accessory includes a 3.5mm male plug that supports a plethora of devices like smartphones, tablets, high-quality, etc. It then divides into two female Y ports and ensures excellent connectivity.
If you're interested in taking a closer look at Y-Splitter, you can check it out on Amazon.
Microphone Splitter Vs Headphone Splitter


While shopping for splitters, you might find yourself drowning in a sea of various products, especially when you are a newbie. You might come across products like microphone splitters and headphone splitters. However, both of them have the same principle to split audio; they have some differences as well.
If we are talking about the inputs or outputs, headphone splitters are responsible for the output audio. They help us listen to sounds across various devices like smartphones, laptops, computers, tablets, etc.
Headphone splitters are much more straightforward and convenient. They do not require an amplifier to function. On the contrary, a microphone splitter is responsible for both the input and output audio as well. Since it splits the input audio, it cannot function without an amplifier.
Moreover, headphone splitters do not require a power source and hence are considered a passive splitter. Besides, microphone splitters require a power source and are known as active splitters.
Microphone Splitter vs Headphone Splitter
Comparison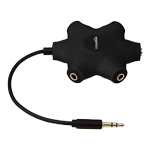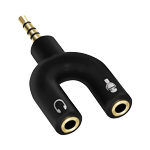 Both of these splitters have the primary objective; however, choosing the right one depends on your expectations and needs from an audio splitter.
Take a closer look at the microphone splitter and headphone splitter with their pricing.
Things To Consider Before Buying Audio Splitter For Headphones
The popularity of headphones will remain evergreen. With each day passing by, we see diversity and upgraded versions of the same. While shopping for a suitable audio splitter for headphones, there are a plethora of things to consider:
Dual Splitters or Multi Splitter
While both help in projecting audio output without compromising the sound quality, the main difference lies in the number of people using it. They both have excellent connectivity to many devices.


Dual audio splitters are ideal for two people sharing the same audio source. On the other hand, multi-audio splitters are ideal for larger groups or people like family or friends.
Audio Mixing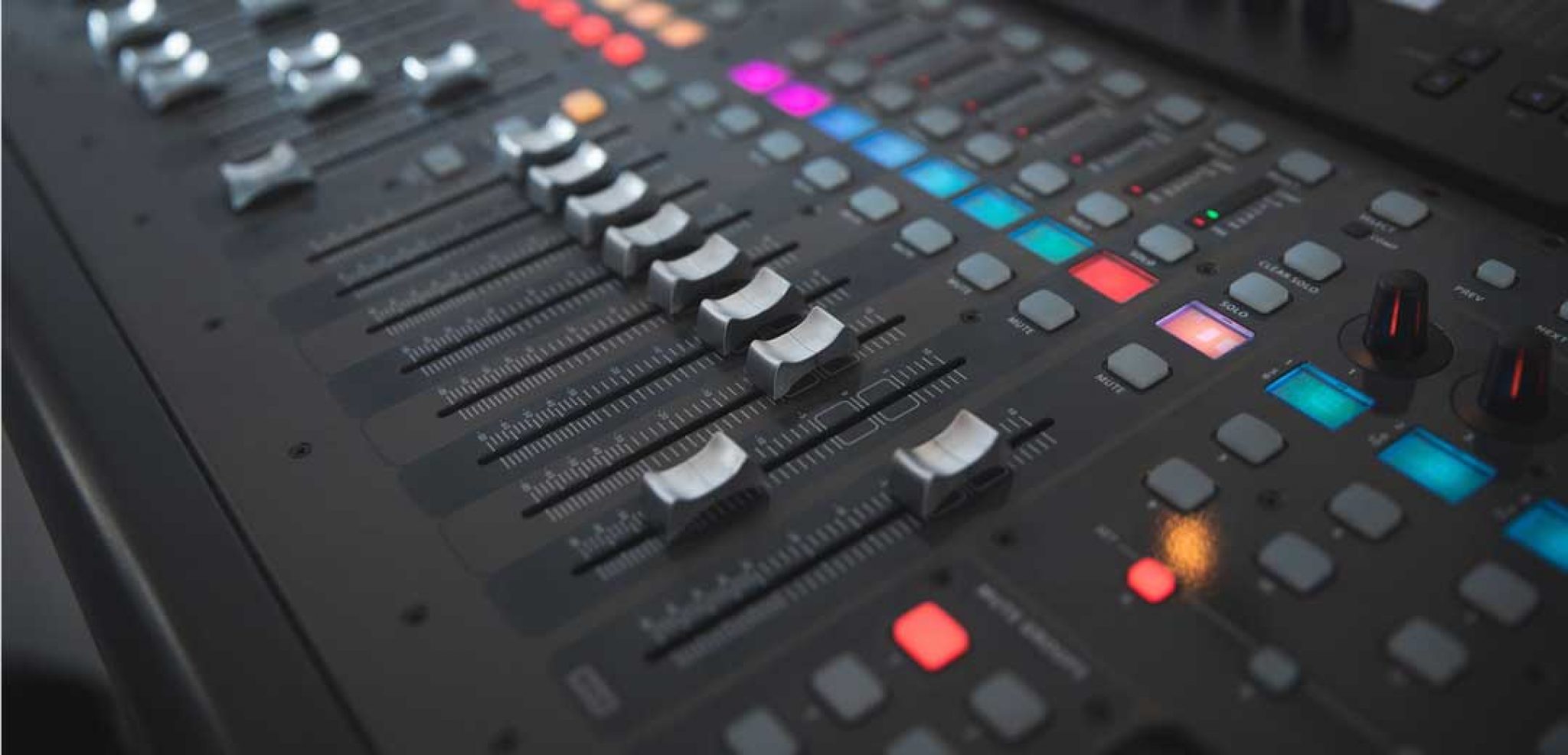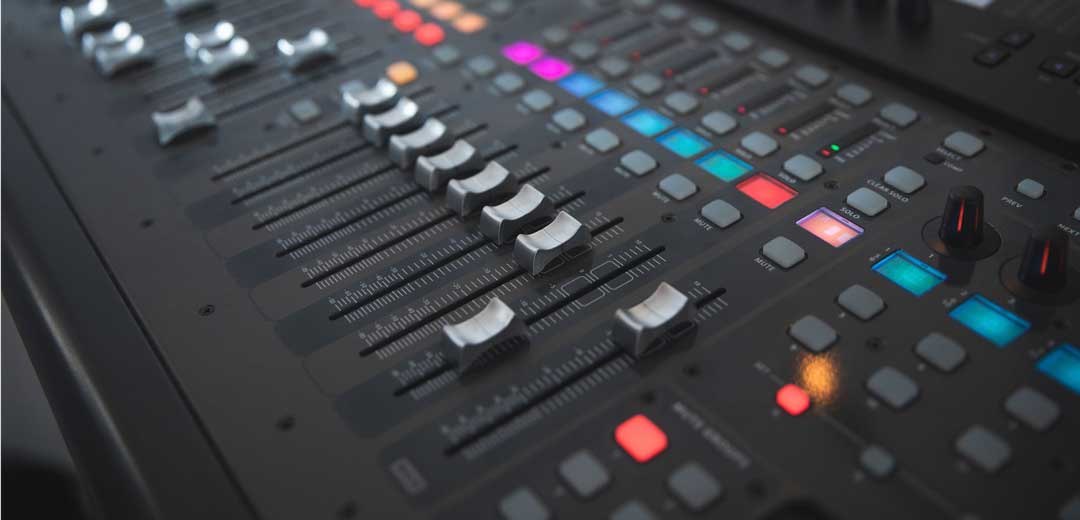 A headphone splitter is not exclusively made for mixing. However, many audio splitters come with features like audio mixing. It gives the authority to the user to control the mix-ins, the fade-ins and create their own music.
Generally, this feature is written on the description of the product itself, but if nothing is written on it, it's just a simple splitter.
If budget is not a constrain, we recommend you to go for this feature. This can be a great way to experience sounds at their best. Also, if you are into music production, this could be one of you!
Splitter for a Headphone or a Headset
It is one of the most significant factors to consider while choosing a headphone splitter. If you want to use your splitter with a headphone and a headset, you need to pick a splitter that allows you to connect one jack with a headphone and another with a microphone.
This choice is crucial as there are no unique designs for headsets for splitters. Before selecting a headphone splitter, make sure you know what you really want from it.
This feature is handy for podcasters. If you are one of them or planning to be one, don't hesitate to buy the one that can connect with your headset also.
Metal plating on the connectors
Metal plating is one of the vital factors to look at while selecting a headphone splitter. A good headphone splitter has either Gold or Nickle metal plating.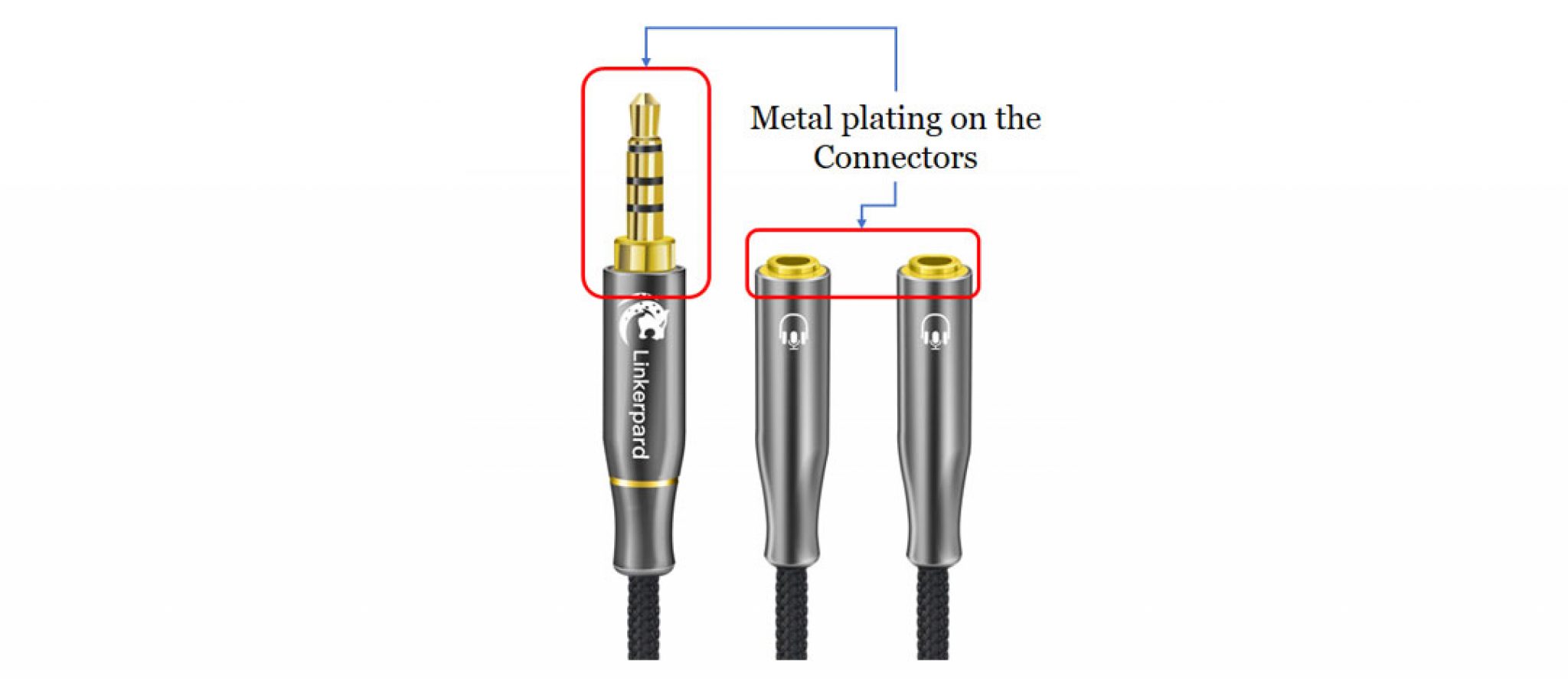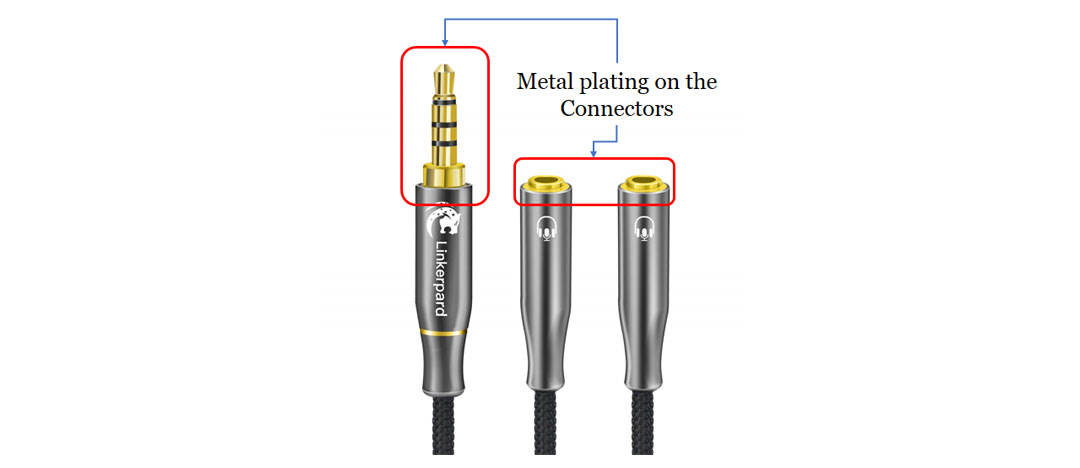 We recommend you to go for a gold plated splitter than Nickle, as gold is the most non-reactive of all metals and a good conductor of electricity.
It is an excellent metal for maintaining a reliable connection. Additionally, it is long-lasting due to its corrosion resistance ability.
Double Shielding
Shielding is one of the non-essential but desirable features to consider while picking your headphone splitter.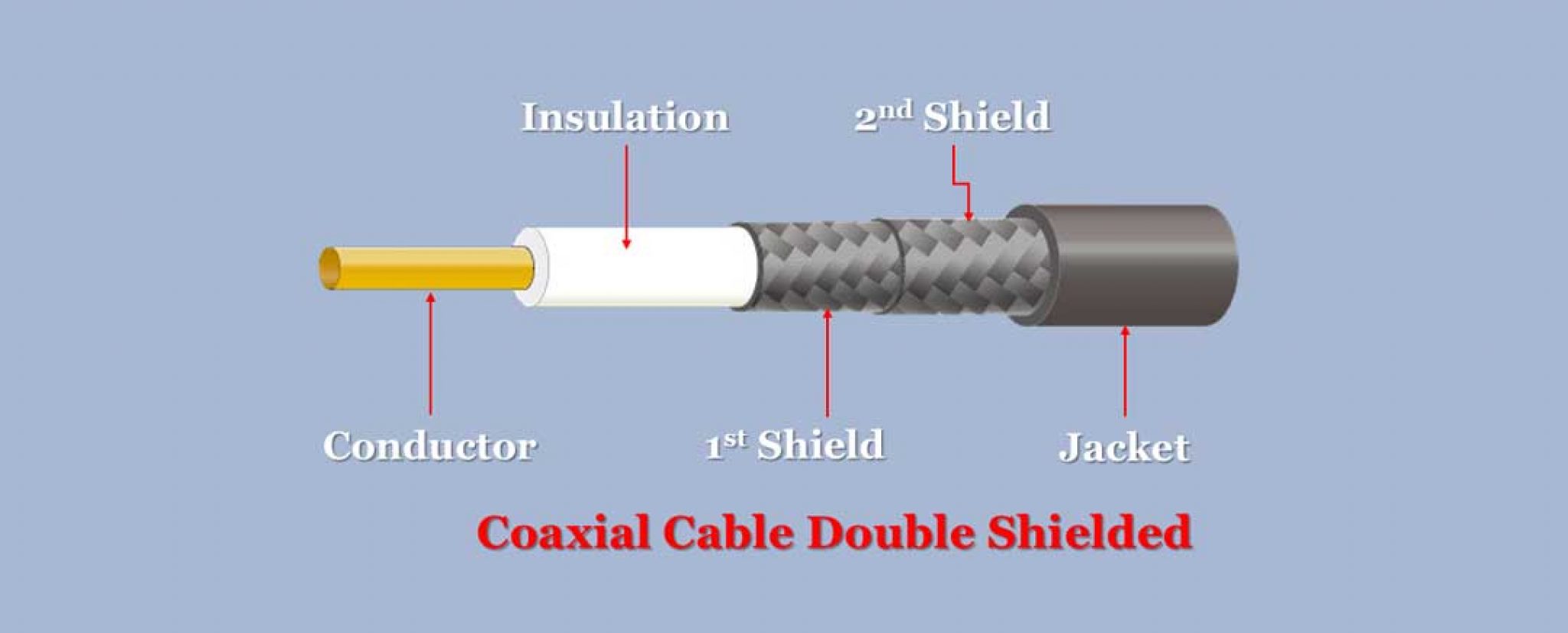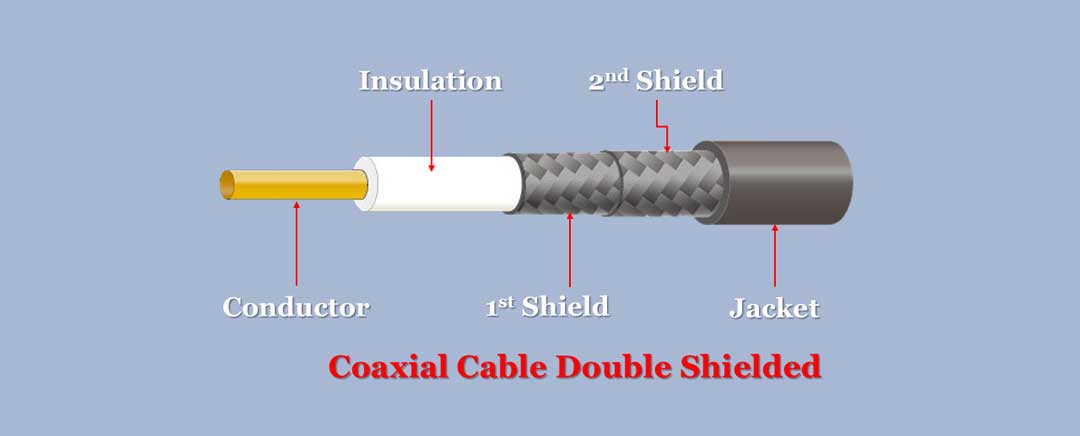 Double shielding is a highly recommended feature as it will not only improve the audio quality but also reduces any sound interferences. It will also prevent audio distortion by avoiding signal loss.
Since there are more than two outputs involved, there are higher chances of sound interference and distortion. This feature will surely come in handy.
Length and Quality of the Cord
The last factor to consider while selecting a headphone splitter is the length of the cord. It's dependent on the personal preferences.


Some prefer shorter cables to avoid entanglement with other cables, others prefer longer cord to have more freedom of movement. Look for the one that best suits your need.
The quality of your cord will decide the resistance, and thereby the distortion, which is one of the significant factors. Look for a good quality braided wire while picking a headphone splitter.
Do Headphone Splitters Reduce the Sound Quality?
It is one of the most prominent questions that most music lovers would ask about a headphone splitter.
The quality of a headphone splitter is determined by the quality of sound it produces.
In simple words, a good-quality headphone will never reduce or distort the sound quality of a track you hear to a perceptible degree. You will not be able to tell the difference in the quality of the sound.
However, conducting wire can lead to little to some electrostatic resistance. It will only happen if there is low quality and long wire used in the headphone splitter that may lower the frequency of the sound output.
The shorter wire means lesser resistance; the longer the wire, the higher the resistance.
This little to no resistance can be overcome by increasing the volume.
Our Top 5 picks
Thinking about which one to buy? We have curated a list of some of the best audio splitters :
Best Quality
Best for Mix-ins
Most Durable
Best for Traveling
Best Stereo
Title
Syncwire Stereo Headphone Splitter
Belkin RockStar Headphone Splitter
Ugreen Headphone Splitter
DuKabel Headphone Splitter
Connector Type
3.5mm Auxiliary Port (AUX)
3.5mm Auxiliary Port (AUX)
3.5mm Auxiliary Port (AUX)
3.5mm Auxiliary Port (AUX)
3.5mm Auxiliary Port (AUX)
Best Quality
Title
Syncwire Stereo Headphone Splitter
Connector Type
3.5mm Auxiliary Port (AUX)
Best for Mix-ins
Title
Belkin RockStar Headphone Splitter
Connector Type
3.5mm Auxiliary Port (AUX)
Most Durable
Title
Ugreen Headphone Splitter
Connector Type
3.5mm Auxiliary Port (AUX)
Best for Traveling
Connector Type
3.5mm Auxiliary Port (AUX)
Best Stereo
Title
DuKabel Headphone Splitter
Connector Type
3.5mm Auxiliary Port (AUX)
Last update on 2023-09-25 / Affiliate links / Images from Amazon Product Advertising API
Syncwire Headphone Splitter

-For high-quality transmission.

UGREEN Headphone Splitter

-Our most durable pick.

DuKabel Headphone Splitter

-Best for Stereo Music.

Belkin RockStar Headphone Splitter

-The best option for mix-ins and fade-ins.

Bloat 5 Way Stereo Headphone Splitter

-Ideal for traveling, affordable, and durable.
Final Verdict
The headphone splitters are designed to impart a multiplicity of music experience that can be enjoyed simultaneously by dear ones. Due to technological advancement in the audio gear industry, there are a wide variety of high-quality audio splitters that you can choose.
The best audio splitter is the one that does the job for you. It is recommended to plan out the features that you would want in your headphone audio splitter.
If you want something for traveling, make sure to consider smaller accessories that would fit anywhere.
However, if you want a product that helps you produce music, choose the ones that assist in audio mixing. Multiply the joy of music with the appropriate audio splitter and cherish every moment with your family and friends.
This must-have music gear is indeed bringing us closer than ever before.
We highly recommend that you also go through our headphone buying guide, where we have given all the necessary steps to consider while choosing a headphone. It will help you in selecting a headphone type for yourself.
If you feel that we have made any mistakes in the article, please inform us in the comments section below, and we'll update the article as soon as possible!