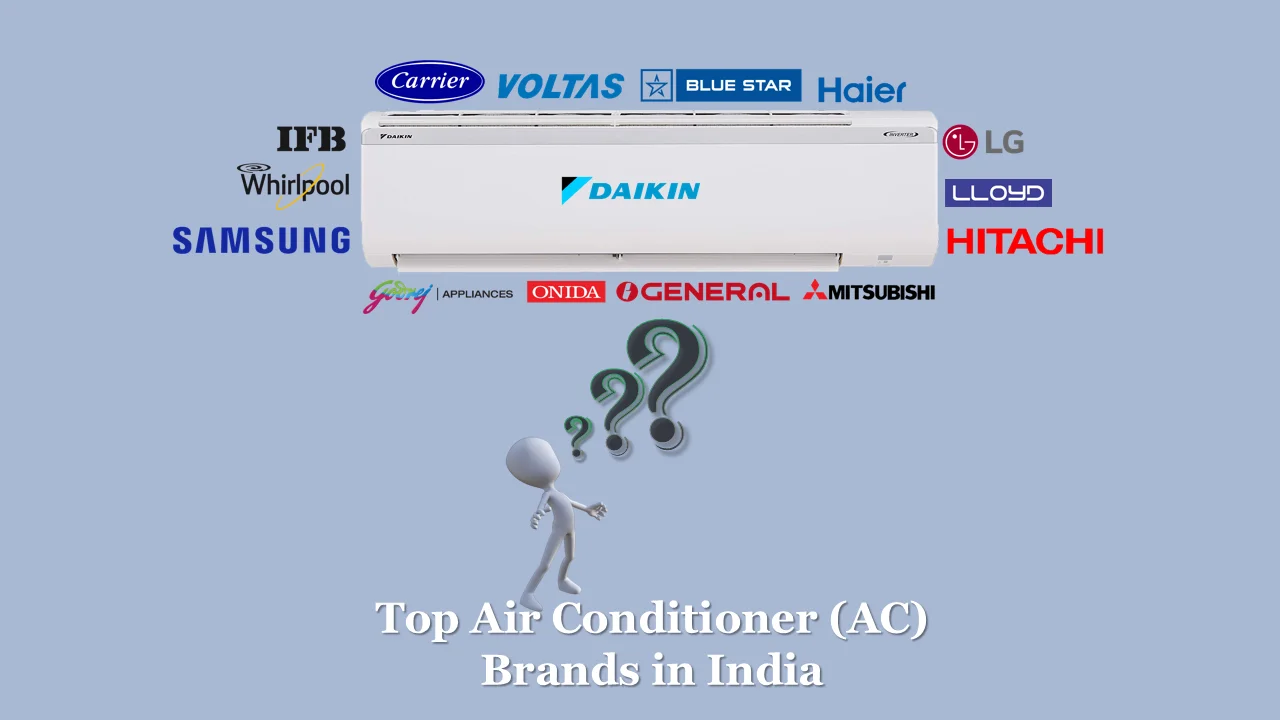 India is a vast and geographically gifted country. It has desert, beautiful beaches, mountain ranges, the wettest place on earth, etc. Each region requires different air conditioning needs. For instance, the desert area need air conditioners with a high ambient temperature that can work in temperature more than 55°C, the beach region requires air conditioner that can withstand corrosion easily, monsoon region requires an air conditioner with the capability of dehumidification, etc.
So, you need to be very careful in choosing the Top AC brands in India because the brand is not just the name of the company, it is the long-term trust and goodwill, their customer support, and most importantly their product and after-sale service.
There are various factors that you need to consider while going for a particular brand of AC. We have listed certain important ones in this article. Before buying any brand home, there are few guidelines to avoid any further problems after installation. From costing to an installation charge, the warranty period to SEER ratings, there is a wide range of confusing questions.
In this article, we will discuss 15 Best AC Brands in India, and why you can rely on them
Daikin is a brand of 90 years old trust. It is a Japanese multinational company specializing in manufacturing high-class air conditioners. The company was formed in the year 1924 by Akira Yamada and has its business in almost all countries of the world.
It is the only brand that has discovered the variable refrigerant volumes in air conditioners. It also falls into the category of premium brands.
Daikin is credited with making the first split and multi-split air conditioners.
Considering cooling as a crucial point, Daikin AC's is unparalleled in the market. The main reason for its popularity and growth was the diverse climate in Japan and its limited resources out of which they brought out the best.
Daikin manufactures the air conditioners for every specific area like commercial centers and also for homes. They give the product the best of designs and techniques.
Daikin's products are eco-friendly. These split system air conditioners are approved by the Asthma + Respiratory Foundation NZ Sensitive Choice program and carry the blue butterfly symbol, which is best suitable for people with asthma and allergies. It provides the best air filtration and purification.


The energy-saving ratings of Daikin AC's are the highest in the market i.e. 24.5 and save a large amount of energy.
The primary reason Daikin attracts the market is because of its low cost but reliable building. Their growth rate is around 20-22%. The components of Daikin AC's are sturdy, even in the hottest weather.
The company offers a 1-year warranty on product and condenser and 5 years on compressor. Also, they always hire professionals for installation & maintenance service.
The downside of this brand is the non-availability of window ACs, and it offers Less Warranty as compared to other AC brands. It is also a foreign brand.
Carrier is an American Company specializing in the manufacturing of air conditioners and heating systems. The company was established in the year 1915 by Willis Carrier and has its headquarters in Palm Beach Gardens, Florida.
It has a presence in more than 160 countries. Carrier is one of the world's best air conditioner manufacturers with a large turnover.
Willis Carrier invented modern air conditioning in the year 1902.
Carrier brand's AC units have been top-notch in every aspect. In a modern household, people want efficiency, slim designs, wonderful quality & a unit that does not make noise. Carrier has it all.


It also ethers to the standards of environmental policies. The company has received certification in producing the world's best air conditioners and heating systems.
It is one of the most successful brands in the international market. The company gives a warranty period of 10 years in parts.
The downside of this brand is its average installation service, and it is also a foreign brand.
Voltas is the first Indian brand that earns its much-needed trust in the market. This multinational company was established in the year 1954 as a result of a collaboration between Tata Sons and Volkart Brothers.
This brand is famous for its faster cooling methods with its turbo cooling technology. Its dehumidification controls the excess amount of humidity in the room during monsoon. It uses R-410 refrigerant which makes it user-friendly.
They also spread airflow by cross-air ventilators with the support of powerful fans. Catechin air filters with nanosilver in them prevent harmful bacteria, viruses, pollens, and dust away from rooms.


The air conditioners of Voltas are designed as per the environmental norms to protect them. The company has received the National Energy Conservation Award.
You can blindly support the brand which is the trusted major supplier of air conditioners in Burj Khalifa and RMS Queen Mary 2. Yes, you read it right.
It is India's most trusted brand with the best services. It gives a 5-year warranty on all the working parts of the unit.
The downside of this brand is that it has a certain model of ACs that are not that eco-friendly because they use R22 refrigerant and also lack horizontal air swings.
Blue Star is a respected Indian brand, founded in September 1943 by Mohan T Advani. It is the country's second-largest homegrown player in conditioning space. What could be better than supporting the home brand, right?
The company provides cooling solutions to a large number of residential, commercial, and corporate customers across the world.
The air conditioners of Blue Star have a sophisticated design on their panel and purify the air in the room by removing the toxic elements. In blue star ACs, the airflow comes with a 4D wide range. That is why cooling each corner of the room is the brand's specialty.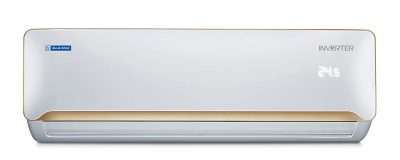 Blue Star ACs are featured with precision cooling, solid side chassis, easy-to-clean filters, smart fans that automatically adjust their speed, dual rotary brushless motor, etc.
For the people who want everything in their hands, the AC comes with smart control technology. You can command it via your smartphone.
The downside of Blue Star is that power consumption is a bit higher than other brands like Daikin and Hitachi.
Haier, a Chinese multinational company is no new name in the electronics world. It is one of the leading AC (Air Conditioner) brands in India. It manufactures, markets, and sells a wide variety of home appliances and electronics such as air conditioners, refrigerators, microwaves, washing machines, and many others.
The Company was established in the year 1984 and has its Headquarters in Qingdao, China. They started their business by selling refrigerators and then it began its business in air conditioners and other electronics.


Haier always provides quality products. That has earned the brand respect & recognition in the Indian market. The AC manufactured by Haier has great cooling even in extreme temperatures of 52°C. They have an air purifier with many other features like timer and turbo functions.
Haier ACs are best known for their superior cooling, high durability, and excellent performance. Moreover, Haier offers energy-efficient and reliable ACs that set Haier apart from the rest. It can dry air nicely, which is a definite perk in Indian humid weather. It is a cost-effective brand & also it values money.
The company offers a 1-year comprehensive warranty on products and 12 12-year warranty on Compressor. The downside of Haier air conditioners is its average after-sale services and it is also a foreign brand.
Hitachi is a Japanese brand with advanced and improved technology. It was established in the year 1910 by Namihei Odaira as an electric motor company and is headquartered in Tokyo.
Hitachi produces high-quality electronic goods and home appliances. The air conditioners of Hitachi are the best in features with awesome designs and are best for schools, colleges, or homes.


It is renowned in the Indian market. These brand units come with intelligent sensors to detect human presence & technology for the utmost cooling effect. They are very economical in use and consume less energy compared to other air conditioners.
The company provides 4 years warranty on compressors and a one-year warranty on product manufacturing. The products of Hitachi have been popular all over the world.
The downside of Hitachi air conditioners is that the AC lacks a sophisticated air filtration system like Daikin and it also lacks anti-mosquito technology. Moreover, it is also a foreign brand.
Lloyd-a Havells brand is a company based in Noida, India. It is established in the year 1958. If you are tight on your budget but want to buy a decent AC, then you can trust this brand.
Their target customers are those who find top-end brands a burden to their pockets. That's why they have built AC that feels light on the budget. They are a brand that values money.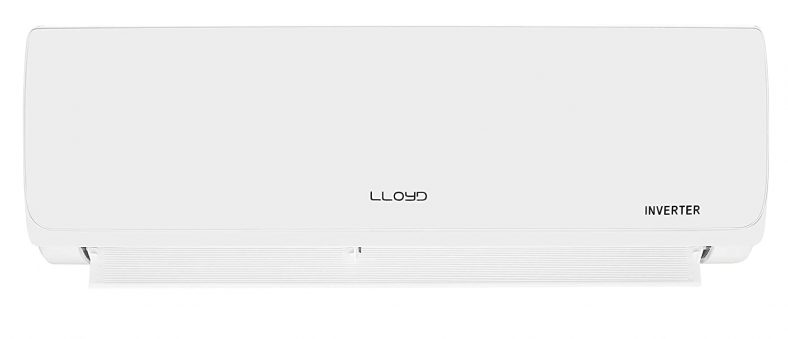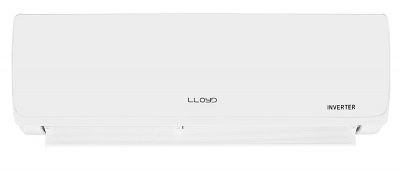 With its wireless control feature, you just need to download the company's app on your smartphone and control the air conditioner from any corner of your house. You don't need to find a remote to switch the AC on/off or to change the temperature of the room. It also gives rapid cooling within a few minutes due to its four-way blade swing.
Lloyd air conditioners are eco-friendly with Inverter and 4D suction technology. It is featured with PM2.5 filters that provide cleaner air to breathe.
The downside of Llyod is that the ACs are very heavy and not that much power efficient.
LG is a South Korean multinational company that was founded in the year 1958. It started its business with television and air conditioners and after some years, LG began to manufacture one of the best LCD televisions. LG manufactures all types of air conditioners such as windows ACs and split ACs.
It is among those foreign brands that are much sought after in India. They have brought technologies to recreate the Himalayas' cooling effect to combat Indian humidity. This brand has everything that is the newest in the market.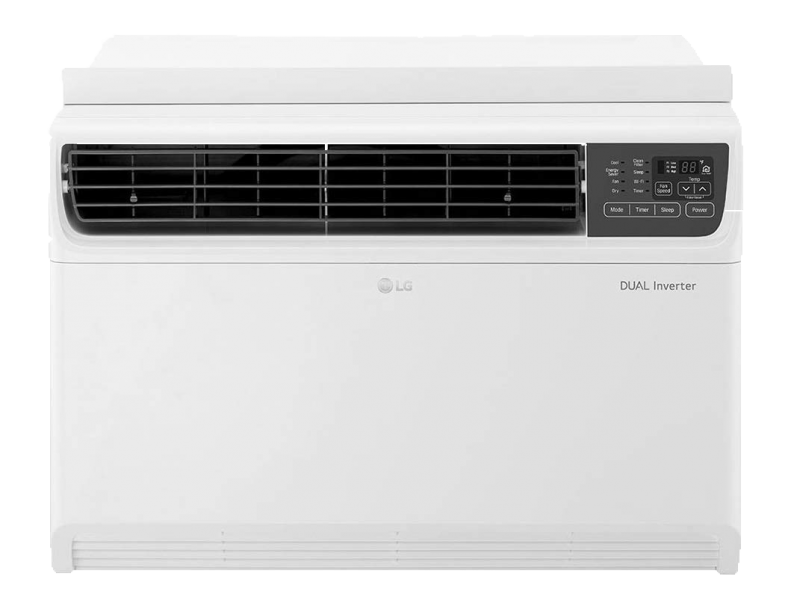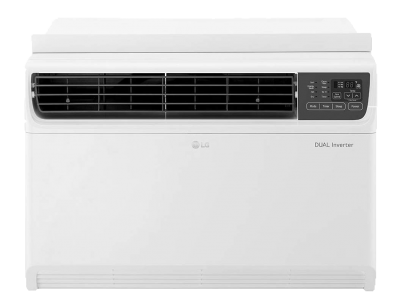 This brand has given special attention to the user's health. From eliminating the low oxygen risk of using ordinary heaters to protect against bacteria & fungus, the brand has covered each area. There is nothing much more needed than good health.
Also, it gives a one-year warranty period on the full set. In part, it is for 5 years. The downside of LG air conditioners is that it mainly offers aluminum condenser models that are difficult to repair and the repair charges also increase due to this. Moreover, LG is also a foreign brand.
Mitsubishi is a Japanese multinational company producing electronics and electrical equipment, especially high-quality television and air conditioners. The company was established in the year 1921 and has its headquarter in Tokyo.
The air conditioners of Mitsubishi are affordable and provide cooling to every corner of the room. It is available in different elegant colors and designs giving a premium look.
The i-see infrared-ray sensor gives personalized cooling technology by monitoring the temperature of your body. The Plasma quad plus gives fresh air to breathe. The double flaps also help in distributing the air thoroughly in the room.


Mitsubishi has its place in the market for its durability & reliability. It comes with technology to sustain a wide range of climatic changes. Also, it is a much-needed environmentally friendly brand.
You also get a longer warranty period of 10 years for each registered unit. Otherwise, it is 5 years for parts and 7 years for compressors.
The downside of Mitsubishi air conditioners is its limited online presence and lack of Windows AC. Mitsubishi an imported brand also has a limited number of service centers and less market penetration. So it is recommended to check for a nearby service center before purchasing this brand.
O-General is a wholly-owned subsidiary of the Japanese air conditioning brand Fujitsu General. Previously, it was a joint venture with Dubai's ETA-ASCON STAR but in January 2020 Fujitsu decided to go solo. O General was established in 2000 with its headquarter in Chennai.
This brand is a premium-cost brand with a minimalistic and sleek design. The air conditioners offered by O General are known for their energy efficiency, noise-free operations, eco-friendly technology, durability, less maintenance cost, and efficient cooling operations at high temperatures consistently.

Air conditioners of this brand are loaded with tons of features such as Auto-Restart Function, Human Sensing technology, V-PAM Inverter Technology, Sleep Function, and many more. These O-General ACs are also capable of providing both heating and cooling.
O General air conditioners are good quality products that can surely satisfy the users' doubt about spending more money. Rather than buying a cheap product & wasting money, it is better to invest in good quality products.
The company provides a 1-year comprehensive warranty on the product and 5 years warranty on the compressor.
The downside of O General air conditioners is that the AC is quite expensive and it is an imported brand. They also lack a strong network of service centers in India. So, maintenance and installation charges are high.
Onida is a leading Indian consumer durables brand established in the year 1981 by G.L. Mirchandani and Vijay Mansukhani as a television manufacturing company and is headquartered in Mumbai.
Onida offers a wide variety of air conditioners with the latest features such as inbuilt Wi-Fi, 4D cooling, smart digital displays, etc. Its smart voice Integrated AI technology powered by Alexa lets you control the AC with voice commands. To power on the AC, you simply need to say "Alexa, switch on AC".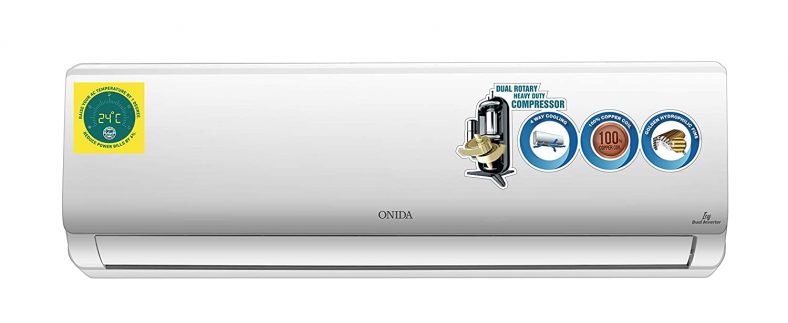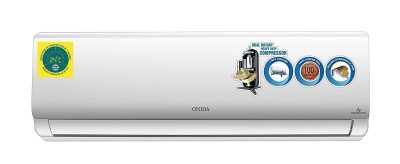 With easy installation & a 100% copper coil unit built, the products of this brand have super-effective cooling technology. It makes less noise while using, which is a definite perk of the brand. In short, this brand can easily satisfy its customers.
One striking feature of this brand is Magnified Cooling with Multiplier Cooling Inverter Technology which delivers 120 percent magnified cooling in just 30 seconds.
These air conditioners are not only energy efficient but also eco-friendly meeting all the mandatory norms of the latest ISEER Ratings.
It also comes with a unique and powerful Smart Home App and 5 years comprehensive warranty.
Godrej is a famous Indian brand headquartered in Mumbai. The company was established in the year 1897 by Adi Godrej and Pirojsha Burjorji Godrej as a lock manufacturing company and entered into the appliances sector in 1958. Since then, they have contributed a lot to India's journey of self-reliance.
In 2005, Godrej appliances launched India's first inverter AC and in 2012, the world's first green AC and 7-star AC.
The air conditioners of Godrej are affordable, durable, and energy-efficient with an impressive and sleek design.


Godrej air conditioners are equipped with hurricane mode and Artic Cool technology for faster cooling which is a much-needed feature for those people who give their blood & sweat in the Indian summer.
Godrej offers an extension on the standard expired warranty period. The standard warranty period is a one-year warranty on manufacturing & 7-year warranty on the compressor in split ACs.
The downside of Godrej air conditioners is the lack of perception and good user reviews on online platforms.
Samsung, a South Korea-based company is a high-end brand in the electronics market. Customer satisfaction has always been the brand's top priority. With technology & inventions, this brand has always been an upper hand in the market.
They have a wide range of quality products from budget-friendly to premium. Although in other segments of electronics/electricals people do prefer Samsung products, the reach of air conditioners especially in market size has been very limited.
To reach consumers more widely, Samsung has made many innovative and efficient changes in its AC technology. The prime example is the wind-free triangular design.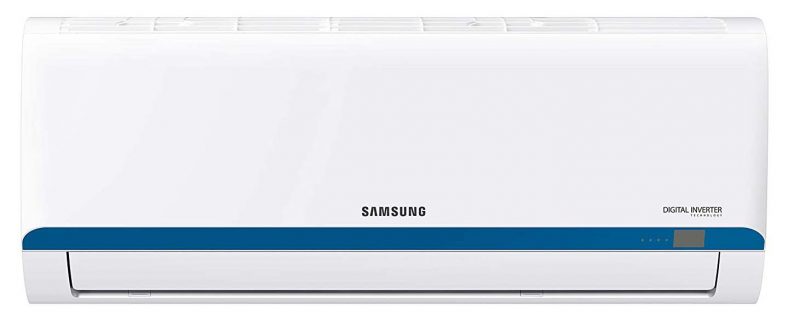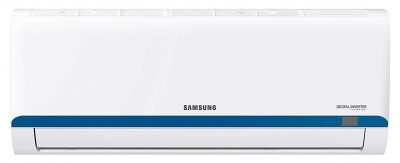 The triangular design is built to draw more air inside. The V blades are bigger as well as the fan, ensuring the faster cooling of air and keeping the reach to maximum. The smart installation feature works on self-diagnosis not only for the faults that may occur during installation but even for the issues that may come up later on.
Fast cooling mode is very helpful, it runs the compressor at the max level for 30 minutes and then switches to comfort mode, so it doesn't become too chilly, and the desired temperature is maintained for longer periods.
Samsung has been a struggling brand when it comes to air conditioners due to the rise of other brands in India. They required a bigger change which their R&D department has come up with. All that is left is delivering the optimum performance in their new design.
It is also an imported brand and offers only Split ACs, not windows air conditioners.
Whirlpool is an American brand headquartered in Michigan, United States. The company was established in the year 1911 by Louis and Emory Upton. The brand name itself is an assurance of the product. After sustaining the great economic depression, it is also a budget-friendly brand. You can choose from their versatile range of products to meet your criteria.
Whirlpool at the moment is limited to only residential Air conditioner which includes window AC and Split AC. The 6th sense intellingComfort technology in their split AC comes with a smart chip within the AC.
The smart chip gauges the humidity inside the room and communicates it with the outer unit to give ambient cooling along with energy-saving.


All new AC models come with an advanced Japanese rotary compressor which is more efficient than a conventional compressor in reducing the loss of pressure as well as lesser noise production.
Whirlpool ACs have 4 4-layer filter which exterminates 99% of PM 2.5 pollutants removing bacteria, allergens, dust, and even foul odor. The Condenser in Whirlpool AC is made of pure copper which has better heat transfer than aluminum. It has more durability and it is pretty easy to clean and maintain.
Whirlpool covers all parts under its warranty clause. It gives a 4-year warranty on the compressor.
The only drawback of Whirlpool ACs is, that the energy efficiency numbers are average or even below average in the star rating range but then again most models come within the middle and affordable budget segment.
IFB is a reputed Indian Brand, founded in September 1974 as Indian Fine Blanks Ltd for manufacturing fine blanking press tools. It entered into the home appliances sector and changed its name to IFB Industries Ltd in the year 1989. The company has its headquarters in Bengaluru.
The company is widely known for its Washing Machine, microwave oven, and dishwasher. IFB is one of the most trusted brands in India.


The air conditioner offered by IFB is efficient, durable, reliable, and long-lasting. It is equipped with a 7-stage Air Treatment that improves indoor air quality and can provide cooling even at a high ambient temperature of up to 58 degrees Celsius.
It is one of the few brands that gives equal importance to customer satisfaction & environmental safety. With 100% copper piping, the air conditioners are highly effective. The user can enjoy a worry-free performance of the product.
The products of the brand have a 1-year manufacturing warranty and 10 years long warranty on the compressor.
Factors to Consider While Selecting an AC Brand
There are tons of AC brands to choose from, each with different features, capacity, budget, quality, and performance. It is better to do a little bit of research before buying an air conditioner that suits your needs.
There are a variety of factors that you can consider before selecting an Air Conditioner Brand. For instance, if you have a small room and you cannot go for a split AC then you can look for window ac you have to look for a brand that offers you the best window AC and you have to eliminate all the brands that don't offer a window ac.
Before selecting an air conditioner brand, you need to be aware of a few important factors that will guide you in choosing the best product for your budget. We have listed some of them below that will help you in making the decision.
Budget
This may be one of the most important factors to consider when we are thinking of buying any home appliances. And we think even more when we are to buy an air conditioner for our home or office as we are going to spend a lump sum for it.
The budget you can spend decides the brand of AC you can buy. Different brands offer different features and performance at different prices. So first you need to decide the amount you are ready to spend on your purchase.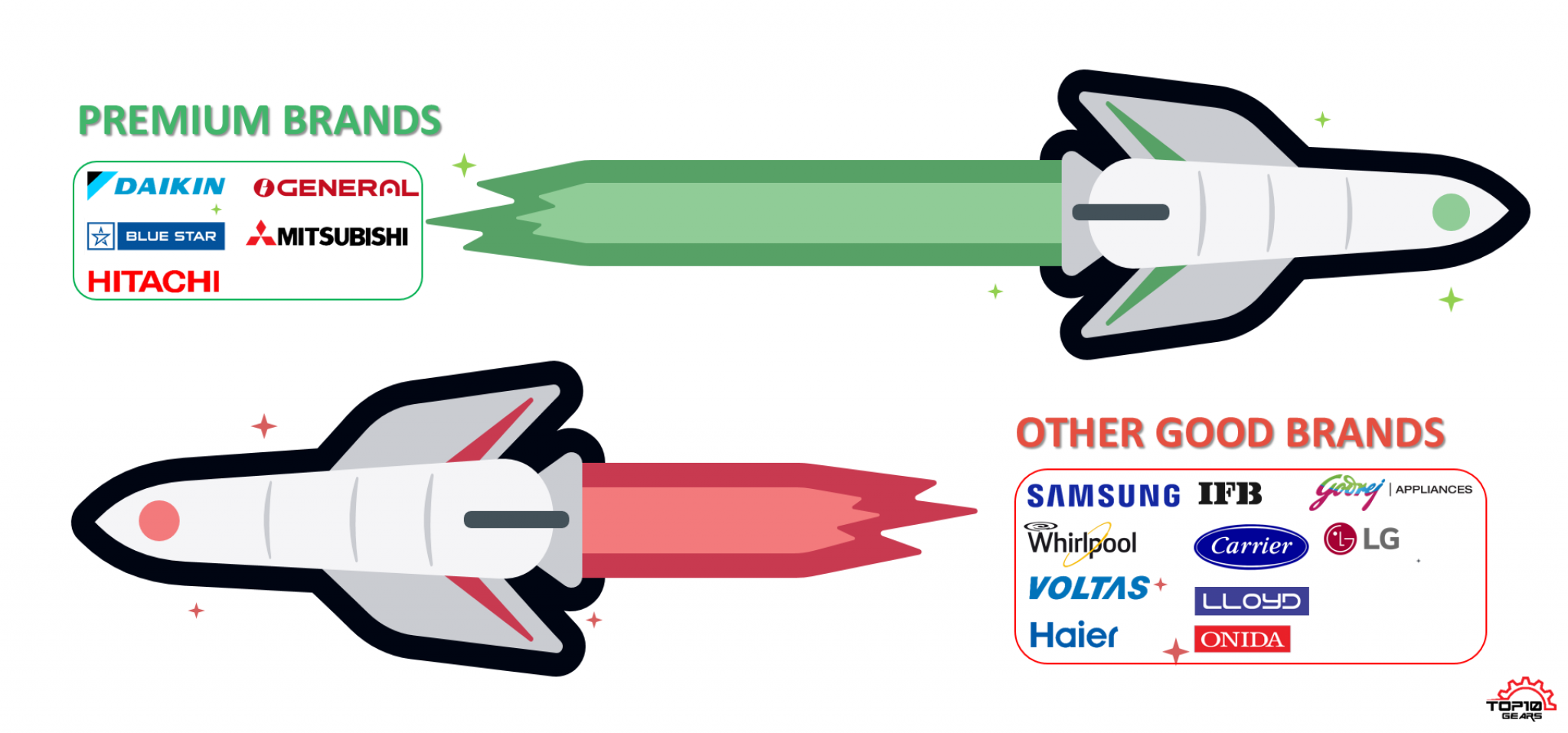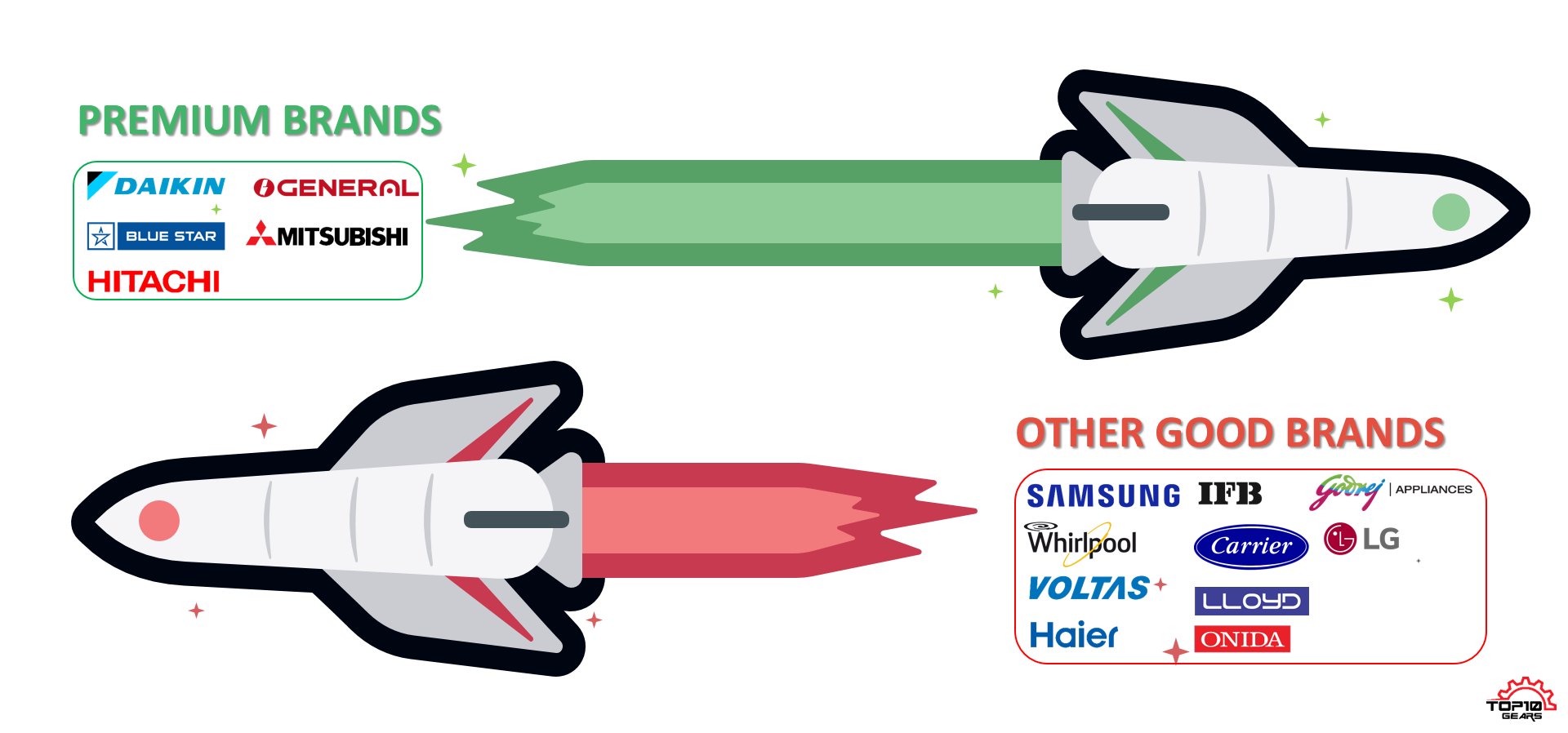 At different budgets, you are left with different brands to choose from. It totally depends upon whether the person wants a premium brand such as O General, Daikin, Hitachi, Blue Star or Mitsubishi, etc. in that budget or any general one. Nowadays brands come with different attractive features that are available in different models at different prices.
Type of AC
You just need to know the type of AC or capacity of it best suitable for your room. For example, a room up to 250 sq ft requires an AC of 1.5 tons. Similarly, it depends upon the infrastructure where you can install a split AC or a window AC.
This is also one of the major factors in deciding the brand of an air conditioner. If you want a window AC, you can't choose brands like Daikin, Mitsubishi, and Samsung that don't offer window air conditioners at all.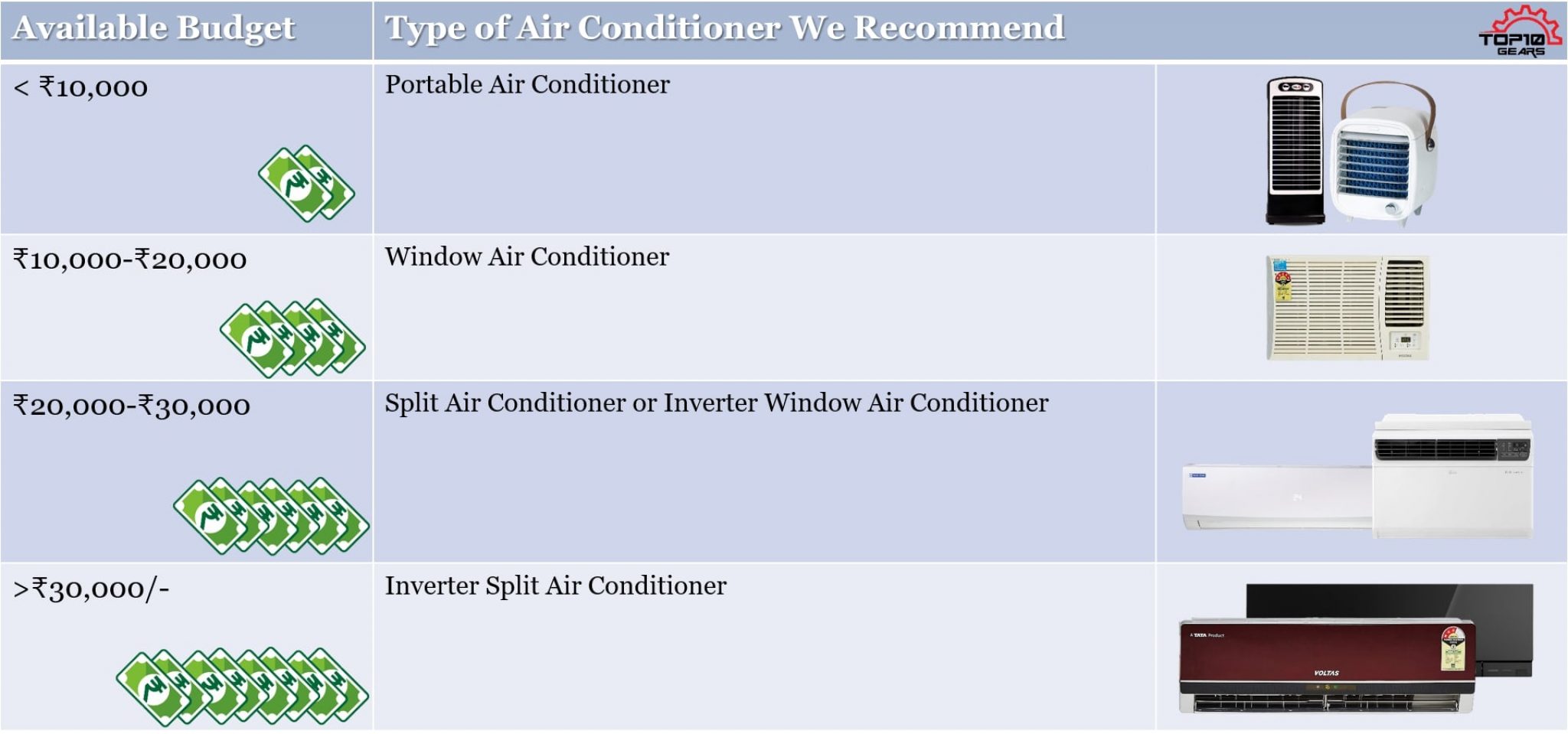 Customer Service
Be it at the time of installation or for solving any problem related to our AC, it is always the customer service whom we approach help. But the service center of different brands is located in different areas and at a different frequency.
If you are buying an air conditioner from a brand like Mitsubishi and you stay at a place where there is no customer center of it, then you have to rely on the unprofessional approach of some local service center. And not only it's presence but also the quality of service decides the brand to choose from.
Thus it is always advisable to look for this key factor(customer service) as for any electrical appliances there will be some issues now or then.
Quality
Now the most important thing that comes to your mind when you are going to spend a good amount on your AC is whether you are spending on the right brand. There comes a quality check. Different brands have different quality and durability at a different price level.
A brand like Diakin is the world's leading air conditioner manufacturer only for its continuous development in technology and design. And thus it always produces premium quality air conditioners for their purchasers.
Deals
It's not that you get the best quality at a high price only. Sometimes you get things at a very low price. The only thing you have to do is to keep a check at different e-commerce sites that offer various deals from time to time.
Sometimes the best brands offer huge discounts, especially during the festive season. And here in India, we get different festivals to celebrate at different points of time in the year. Even in their respective showrooms, different brands offer different attractive deals to grab. If you are in no hurry then you can always wait for the right time.
To get a good deal you can buy from the reputed e-commerce websites like Amazon, Flipkart, etc. The great advantage of buying online is that you can get a decent discount on the air conditioner at Amazon's big billion sales or Flipkart's Big Billion days or Black Friday sale along with discounts on different cards.
Important Features
Nowadays brands are trying to include all the new features like Smart sensor technology, Wifi control, Dehumidification, Auto clean, etc in their latest model. As discussed before Hitachi's air conditioners have smart sensor technology called iSee that automatically detects the number of people in the room and the amount of cooling required. Thus saving energy.
Similarly, other brands have also come up with similar features like Diakin has a smart human sensor and Carrier has "Follow Me". LG, Voltas, Carrier Bluestar has dehumidification mode where it controls the excess moisture in the room during monsoon season, especially in India.
Thus it totally depends upon one's requirement to go for a particular brand. Thus look for the features that are best suited for you then go for a particular brand. For example, if you have an asthma patient at home then Diakin gives the best filtration and purification of air.
Installation and Maintenance
After purchasing your air conditioner the main task is its installation which has to be done very neatly and efficiently for it to function smoothly. So always consider the fact that which brand offers you the best installation service.
A brand like Diakin always offers good service but they charge much higher installation fees. And they give you less number free services compared to other brands. Voltas installation service is much delayed and somewhat poor.
Condenser
Many of the brands like Voltas, Bluestar used to have aluminum condensers for most of their models. But due to negative customer reviews, it has also come with a copper condenser in their latest models. Aluminum is much cheaper than copper and gets easily eroded which makes the appliance inefficient.
But foreign brands like Hitachi, Mitsubishi, or Diakin come with the copper condenser which lasts for a longer period and is thus more energy efficient. It is always recommended to go for AC with a copper condenser.
Warranty
Then comes the warranty period different brands are offering to you. We will like to buy products with a maximum warranty so that for any issues it gets replaced or repaired with minimum or no cost. Daikin and Carrier give you a 1-year warranty for both the product and condenser and 10 years for the compressor.
LG gives 1-year comprehensive warranty and 10 years for the compressor and the gas charging. Thus always look for the period of warranty given.
Verdict
These were our list of 15 Best AC Brands in India with famous models. There are many other brands also that are available in the Indian market. However, in this article, we have chosen only those AC brands that are considered the best and offer air conditioners at an affordable price while maintaining service and product quality.
We finally recommend you to go with Daikin as a complete package. It is equipped with multiple features and suitable for all your needs. However, if you want to go with an Indian Brand, we suggest you consider either Voltas or Blue Star.
So now you know what are the pros & cons of the best brands available in the Indian market. Choose wisely. Your every penny is important.
Hope you found the information provided, to be of generous use. We have also listed the top 10 air conditioners that you can look at. That will help you in narrowing down your options and let you chose the best product for your house or office.
Feel free to drop a remark in the comment section below. Your advice, comments, or suggestions would be greatly appreciated and welcomed.