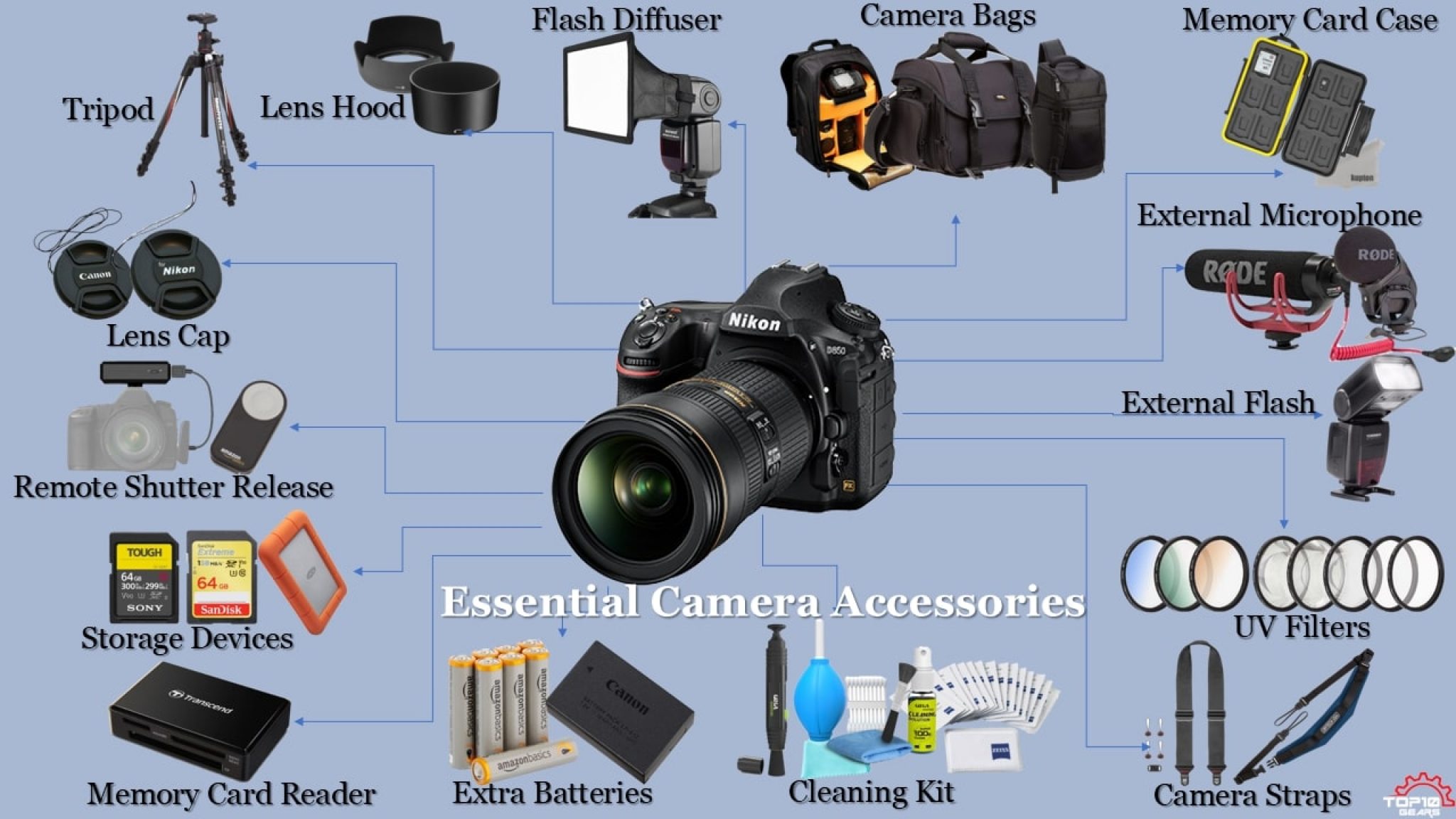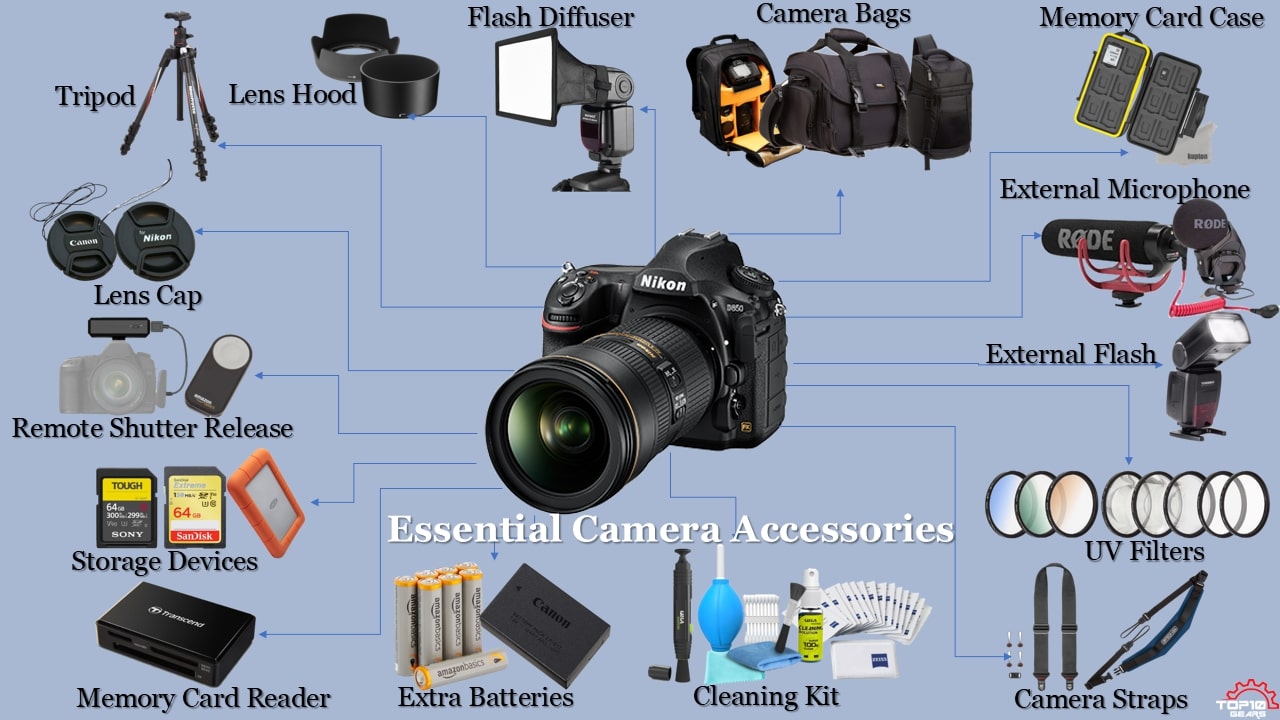 While photography can be considered a work of patience and skills, you must have the right components that can enhance your skills and work. The list below is a list for all beginner and professional photographers. These essential camera accessories are the basic gears for anyone who wants to take a step further in photography as a profession.
We will start the list from the most popular, most needed, and most used accessories.
15 Essential Camera Accessories Must-Haves includes
Tripod
Tripods are the basics and widely used gear for any photographer and are much needed in your camera arsenal. It is used for stable shots indoor or outdoor to take a perfect picture after having the right settings for the shots.
It holds your camera at exactly the right angle and keeps it absolutely still, so your images are pin-sharp and full of detail. With the use of a tripod, you can even shoot yourself.
Tripods can be of different types starting with plastic to aluminum or even higher-end like carbon fiber which are very lightweight and comes in a bunch of different sizes and prices accordingly.
There are tons of different tripods in the market according to personal needs. Invest in good quality but lightweight tripod that you can carry easily.
Don't go for a cheap, flimsy tripod, instead buy something sturdy that will keep your camera still in a strong breeze and not wobble like a jelly every time you touch it or the camera.
You should look for a tripod that extends to near eye level, and yet allows you to shoot close to the ground as well.
Clip locks on the legs are essential for quick deployment, but twist locks take up less room so are slightly better when it comes to transporting the tripod.
As per your budget and requirement, you can choose any tripod available in the market. I personally use a lightweight, high-quality carbon fiber tripod that comes with a ball head. It will make your photography so much easier and is easily portable.
If you want to take a closer look at our recommendation and its pricing, you can find it on Amazon here.
Backpack
If you own a small DSLR camera with a single lens like an entry-level DSLR or mirrorless camera, you may think that a bag is not essential, but while shooting outdoors waterproof bag is a good way to protect your equipment in transport and it can keep rain and dust at bay.
As your collection of lenses and accessories increases, you will certainly need something that can keep it all together and make it easier to carry. While u buy such expensive gear and camera accessories u must protect them from any condition and place.
Having a good, user-friendly, and well-padded camera bag may increase the life of your gear and can absorb small shocks and bumps to avoid any damage to your gear. It protects your investment and makes room for extra lenses and other paraphernalia.


Backpacks come in various sizes and according to your budget, you can choose one. It mainly comes in three variants. You can either go for Photo backpacks that are a great way to carry heavy kits over long distances.
The only downside of this variant is that you have to take them off your back to access your gear that can slow you down a bit.
The second type is a shoulder camera bag which gives you speedy access but as it is a shoulder bag the weight is carried on one shoulder it can be uncomfortable with heavy loads over long distances.
If you're interested in this Messenger Style Camera Bag, you can find it on Amazon here.
The final variant is 'sling' bags which combine some of the comfort of a backpack with some of the convenience of a shoulder bag. If you're interested in this type of sling bag, you can find it on Amazon here.
Choosing the type of camera bag is a matter of personal preference and how many kits you intend to carry around.
Personally, I always prefer one bag that I can use to carry both my laptop and camera. If you're interested in my preference, you can find it on Amazon here.
Camera Strap
If you are a beginner photographer who is still learning and shoots occasionally, then you might be comfortable with the default camera strap that comes with the box.
But, if you are professional and own a heavy camera and lens combination then you need to upgrade to a better and comfier strap because a standard camera strap can leave painful bruises on your neck and shoulder, after just an hour or two of wearing it.
The default camera straps aren't inherently bad, but they're not always the most comfortable and certainly not the most stylish.
Gladly, there are tons of excellent neck straps available today in the market such as Op/Tech Pro Loop Strap.
It is soft, very comfortable, and can easily hold any heavy camera and battery pack with a large lens, without any problems.
Another most popular camera strap is the RS5 Strap from Black Rapid, so you can check it out as well.
Personally, I prefer a detachable camera strap with an adjustable design that I can wear as a sling, shoulder, or neck strap.
The one that I use, has an adjustable length and comes with removable anchors that are used to connect the camera and can hold up to 200 lb.
While shooting I can very easily detach it from the strap and leave anchors on my gear so I can easily attach the strap again. If you're interested in my preference, you can find it on Amazon here.
Extra Batteries
For beginners who use their new expensive cameras and want to try out new features now, it is sure that their battery will soon die when they are out, for professionals who have been working for years they know that having an extra pair of battery is always good, you never know when you will get the perfect shot after waiting for hours.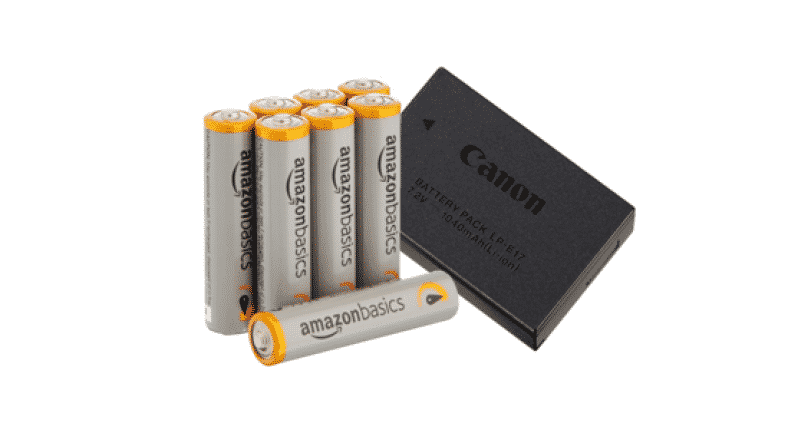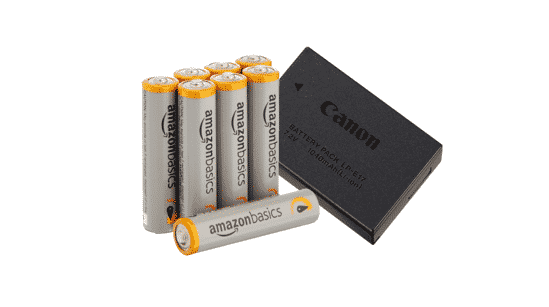 Extra batteries not only save you from the frustration of missing that perfect sunset shot in the anticipation of which you spent the entire day but also give you the freedom to experiment and prepare for that ultimate shot.
It doesn't matter how close you are to a charging station. When you run out of juice, it'll be when you need it the most, right in the middle of a shoot.
You need to have a couple of spare batteries in your bag while traveling or going for a long extended outdoor shoot.
If you do not have an extra battery or two, you should definitely buy one and put it in your camera bag now itself before your next trip or vacation, as you'll never know when you'll need one.
Batteries do not last long when you shoot in a cold environment, so be prepared for short battery life if you are going to shoot in freezing conditions.
You can take a closer look at these batteries on Amazon.
Storage Devices
Pictures clicked by a DSLR or mirrorless camera always have high storage and high quality. Keeping these photos can be difficult if you have low storage devices.
Having a high storage memory always comes in handy. Carrying a secondary storage device has a similar aspect to carrying a spare battery.
There are two types of storage devices that you will need if you are a photographer. The one that is required before shooting i.e. Memory Cards and the one that is needed after shoot i.e. Hard Drive/SSD.
Memory Cards
It doesn't make any sense to have an expensive camera and putting a cheap SD card in them. You need to have a good SD card with a fast transfer speed.
SD card with at least 90 MBPS of writing speed is enough for your daily needs. If you plan on shooting 4K vides then you can go for 300MBPS of transfer speed card.
Due to the advancement of technology these days SD cards are quite affordable. Personally, I won't suggest you buy anything less than 32GB for your camera.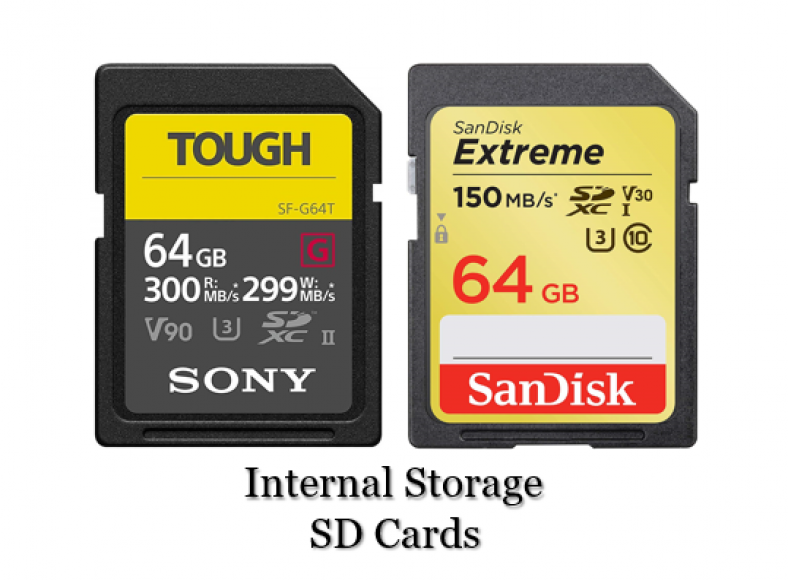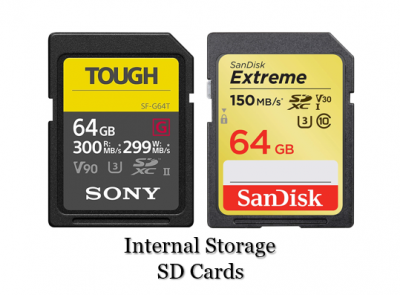 With the growing popularity of 4k video and high-resolution sensors with more megapixels in cameras, anything less than 32GB will not be enough.
With Low speed SD Card, you can only shoot photos and not high-quality video, especially 4K or more than 120fps videos.
It is better to buy multiple SD cards than to have a single card with a large capacity because you never know when one card will stop working and you may lose all your data.
Depending upon your budget you can either go for an affordable SD card or the expensive one. Buy at least a couple of cards. If you want to take a closer look at the affordable SanDisk SD card and its pricing, you can find it on Amazon.
For the expensive options and their pricing, you can check on Amazon.
External Hard Drive or Solid-State Device
If you shoot heavily or started amassing a large collection of digital photos or videos, you will be running out of space on your computer hard-drives within a short time.
A reliable external solid-state or hard drive can act as a lifesaver when you need to transfer large folders, back-up images, or simply clear up some room on your computer.
An external hard drive or SSD is a great place to store those images that you just can't let go of or want to edit later. These drives are good for easy storage and mobility.
Depending on your usage, you will require a certain amount of space on your HDD/SSD. For a heavy user or professional photographer, they require capacity can be anywhere around 500GB to 2TB.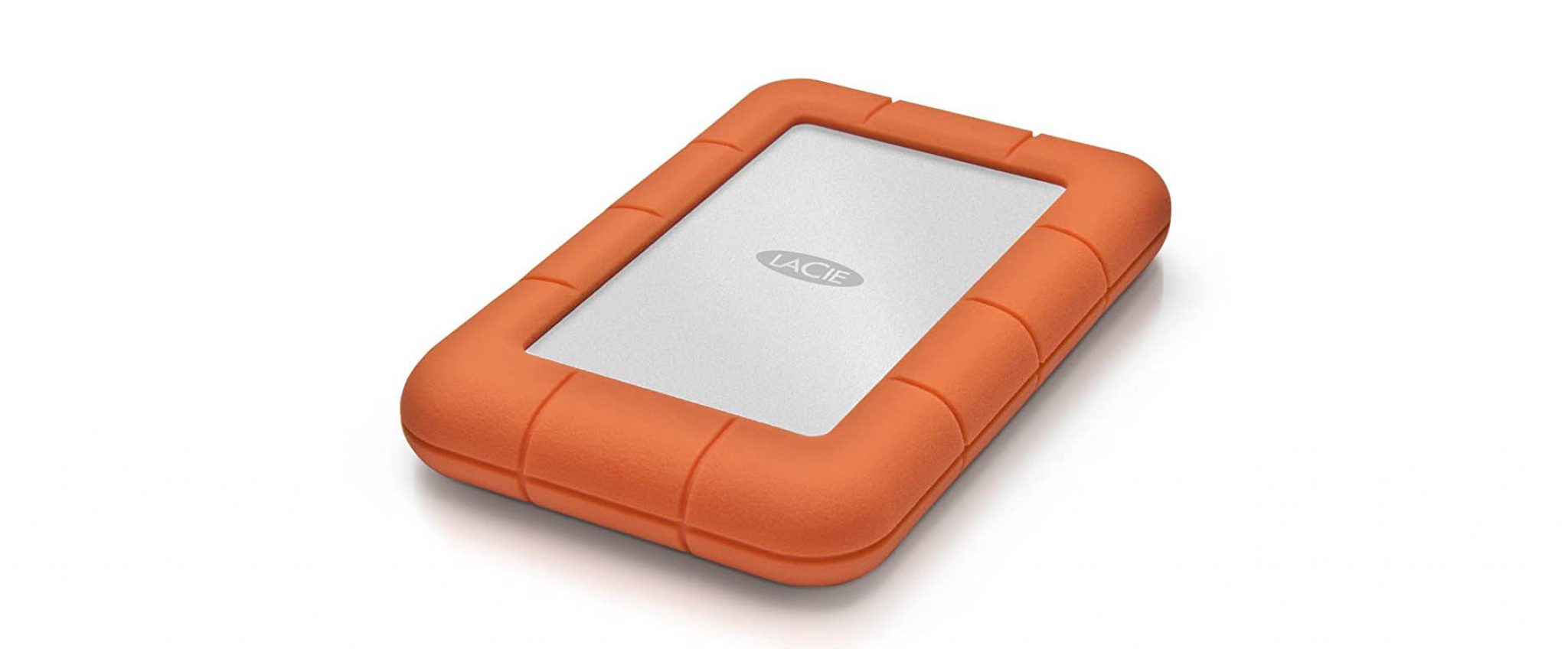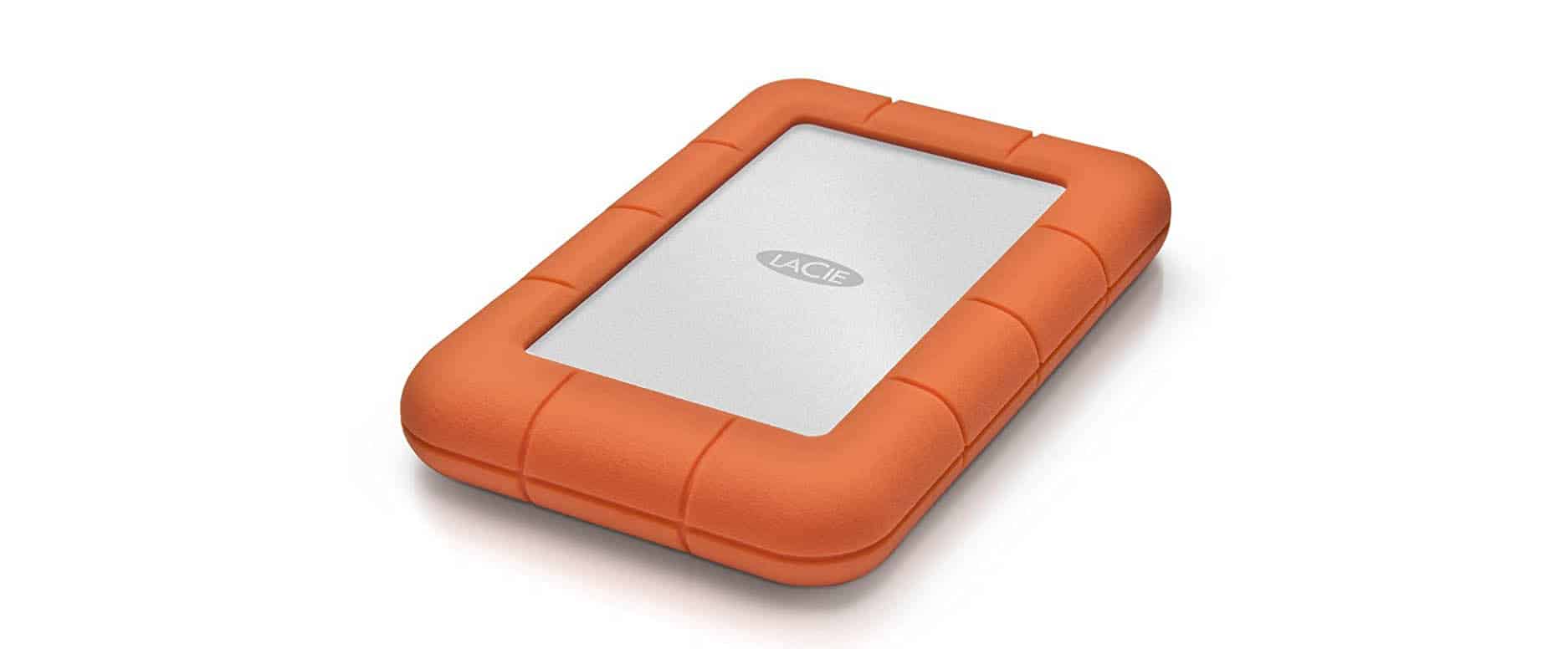 If you are a casual type of photographer who takes fewer photos and generally shoots in JPEGs, you could probably get away with less than 500GB, somewhere around 250GB or 125GB.
There are tons of options available in the market. You can either go for WD devices or a Seagate lineup. Make sure the drives are USB 3.0 compatible. I personally recommend 2TB LaCie Rugged Mini External Hard Drive.
Though it's a bit costly it provides some remarkable protection. It is shock, drop, rain, and pressure-resistant and you can also protect the device with a password.
If you're interested in my preference and want to give a closer look, you can find it on Amazon here.
Memory Card Reader
As you are aware that the availability of built-in SD card readers on laptops is very random and missing in most of the new generation ones. Keeping an SD card reader is not only essential but also it can become handy in certain situations.
To fastly transfer images and videos from your SD card to your system, a card reader is one of the better options available, so you can put it back in the camera and get on with the shooting.
Photographers do prefer connecting card reader to Wi-Fi/Bluetooth, but generally, the limitation is caused due to the fewer options available in the brand's app.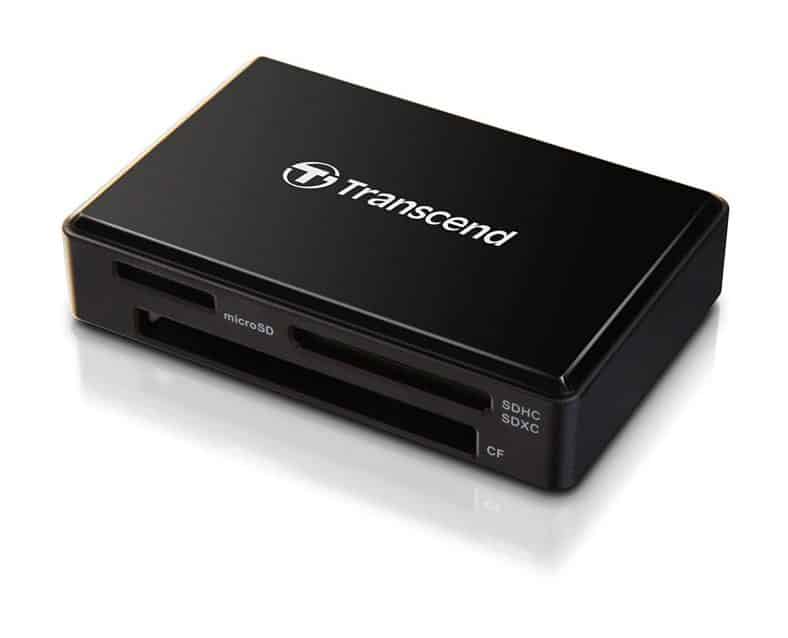 Card reader uses a standard USB port, so compatibility is not an issue. I personally recommend you to look for USB 3.0/3.1 in the card reader because it causes great annoyance given how slow the process of transferring data is without a memory card reader or with a slow memory card reader.
Transcend USB 3.1/3.0 SuperSpeed Type-C Multi-Card Reader is a good enough choice with a good value for money given its read/write speed and support of cards, but in all honesty, keeping in mind the compatibility of your camera, there are fewer bad choices out there.
You can take a closer look at this card reader on Amazon.
Memory Card Case
Many camera bags have dedicated pockets for storing memory cards even then we'd recommend getting a Memory Card Case if possible.
Losing a memory card is fairly common and if not kept properly safe, they start dying out pretty soon due to daily basis rough usage and damage.
Memory card case comes with a hard, protective polycarbonate shell that is shockproof and water-resistant which means it can keep your cards safe even in difficult weather and challenging conditions.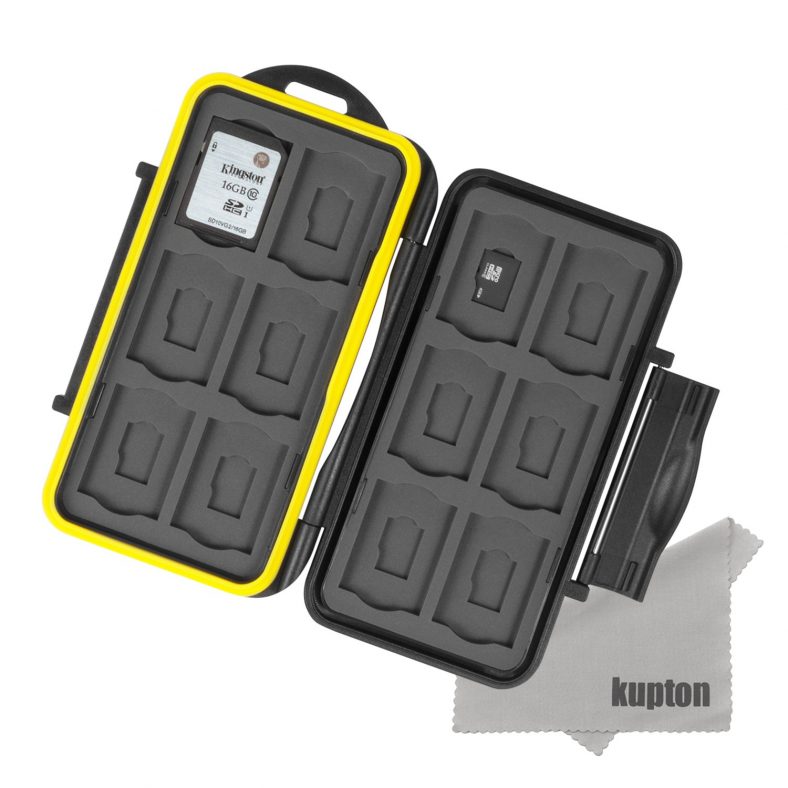 While choosing a case you should look for water-resistant options as the most basic feature, you can also consider some decent options such as shockproof, hard protective shell, etc and the case should support various types of cards.
You need to keep in mind the sizes supported by your case while purchasing. Due to its ability to protect your SD cards, this is one of the must-have camera accessories.
You can get all the above-discussed features in many cases. We personally recommend you to take a look at this water-resistant memory card case No products found..
External Flash
Nowadays flash photography is becoming a pretty advanced form of photography especially if you like shooting outdoor. In the beginning, it is tough to learn, but once you get the hang of it, you will find a whole new world of photographic opportunities.
The external flash provides you with greater control over your subjects and the landscape by giving you the flexibility in aiming the scene and letting you create your own light. It changes the overall exposure by adding extra light to a scene.
Carrying a flashlight when it's too dark will always give you the right light and the shots you always wanted. An external flash gives you the freedom to try out new angles and perspectives to create the best view.
If you are an indoor photographer this may not be the right accessory but if you are an outdoor shooter this will surely be your thing.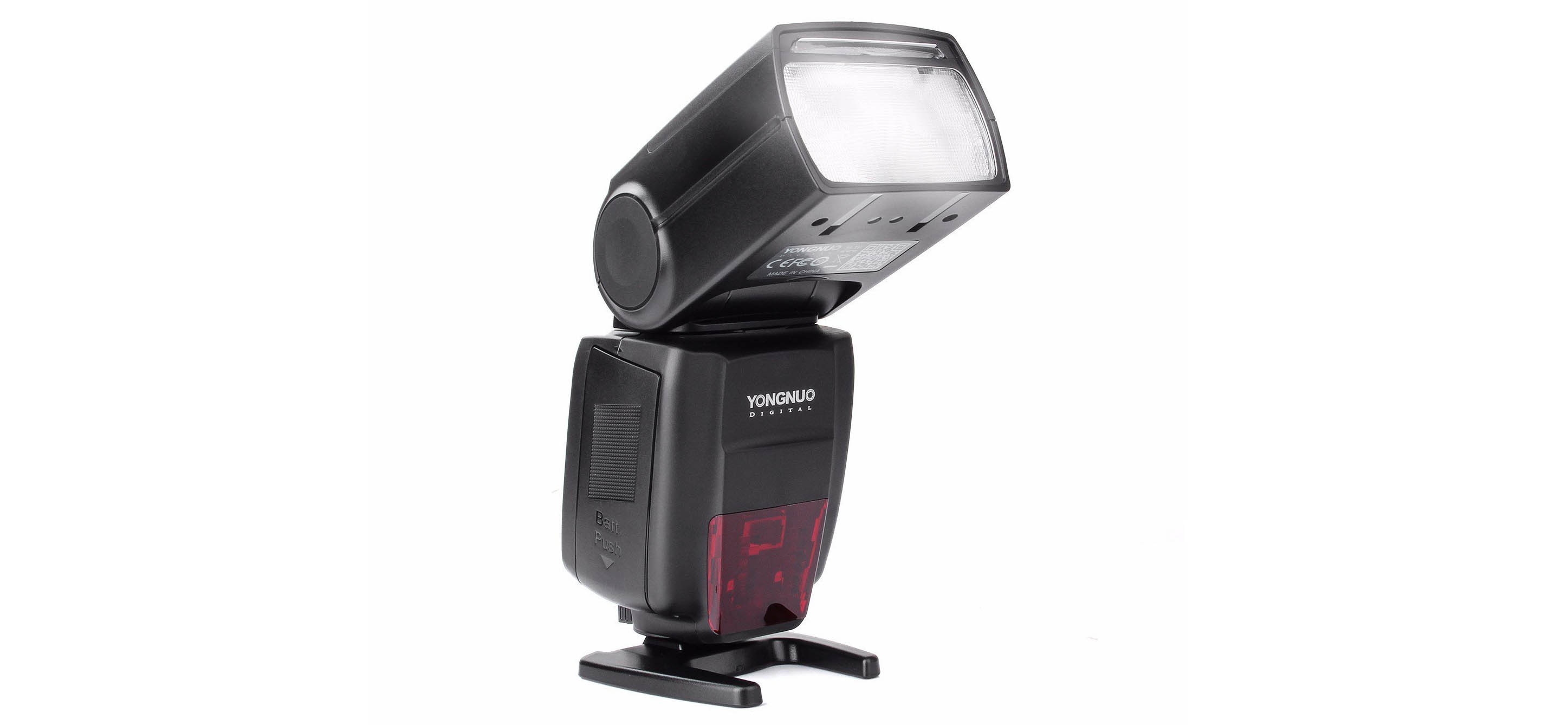 Those external flashes that can tilt and swivels will certainly save your subjects from flat light, shiny look and shadows around it by providing very soft and directional light. It also prevents red-eye by altering the angle that the light travels.
As the external flashes come with its own sets of batteries it recycles (recharge and be ready) faster and enables you to take more shots instead of waiting for the flash to recycle. One more benefit of the flash is that it won't drain the batteries of the camera.
Flashes come at various prices and there are multiple options available in the market. As per your need and usage, you can choose anyone. If you are a beginner and low on budget, we recommend you go for a good entry-level option.
In this range, you can check Neewer TT560 which works with a wide range of cameras. You can give a closer look at this device on Amazon.
If you are a professional and have experience with external flashes, you can check this wireless Yongnuo YN-686 Speedlite on Amazon.
Flash Diffuser
Sometimes while shooting in low-light conditions with your camera flash, you get overexposed images which may include awful shadows, washed-out color, lack of details, etc.
This is due to the direct flashlights that can be harsh to your photographs and may not provide the right amount of light in all directions. You can very well solve all your flash photography problems by just using a flash diffuser.
A flash diffuser is a simple light modifier that softens or spread the harsh and concentrated light that bursts out of the flash by creating a more even and flattering light on the subject.
It helps in removing heavy shadows created by the harshness of the strong lighting. Flash diffusers may not be for every photographer but it surely is a product that everyone should consider when you are doing indoor or outdoor photography.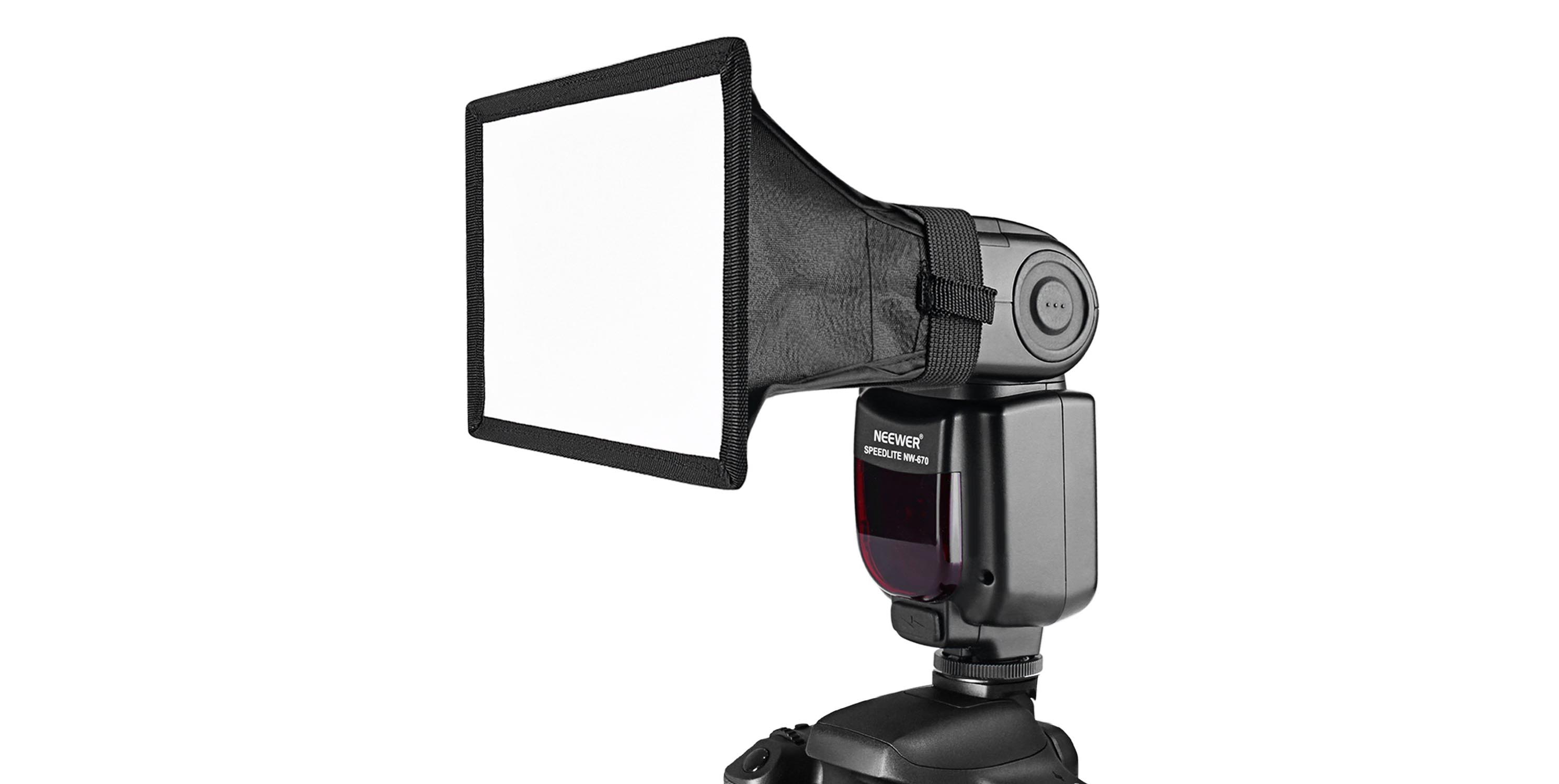 With this simple yet effective tool, you can ensure that light reaches all parts of your subject. This accessory lets you take control of your flash photography by allowing you to manipulate the light just the way you want.
It comes in various diffusion levels, shapes, textures, colors, and sizes. The most basic and widely used types of light diffusers are the rectangular, dome box made of semi-transparent, white plastic, which creates a diffused "bare bulb" effect.
They are extremely easy to use, you simply have to attach them to your flashlight and then can enjoy their benefits immediately.
If you're interested in Bounce Light Hard Diffuser, you can find it on Amazon and if you want to give a closer look at Softbox Flash Diffuser, you can find it on Amazon .
Cleaning Kit
Irrespective of you being the most careful photographer, the more you use your camera gear, the more it's going to get dirty.
The lenses on your camera are meant to take stunning pictures and photos.
If those pictures come out to be blurry and with distorted light, then what's the point of buying such an expensive camera and not maintaining it.
Cleaning your gear not only enhances the quality of your images but also increases the longevity of the equipment.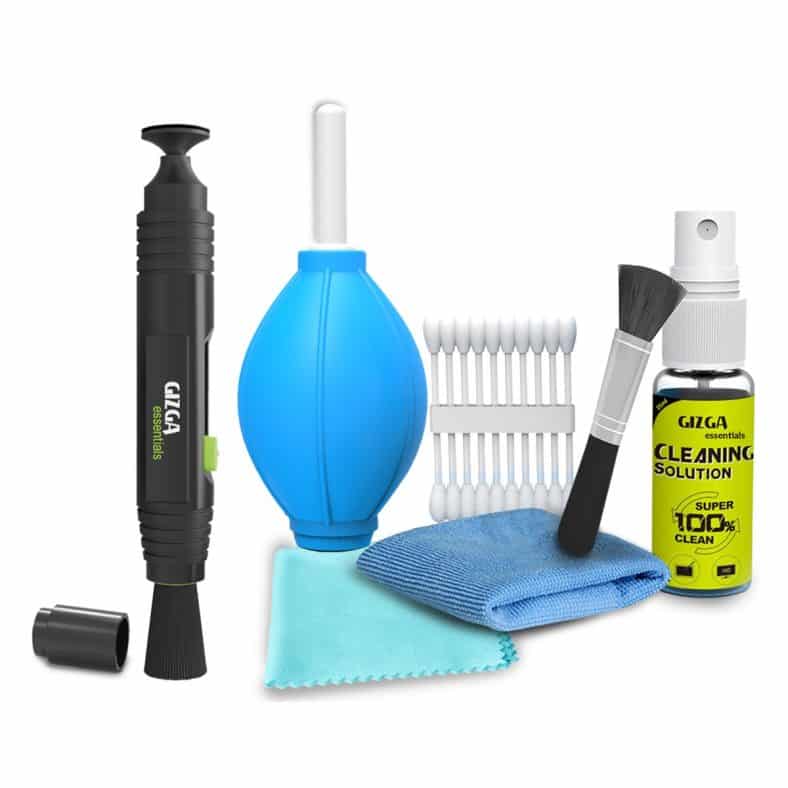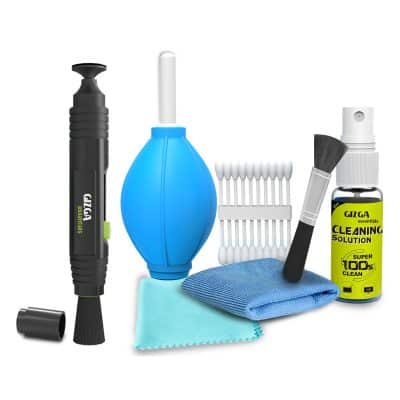 Depending upon the shooting environment your gear needs different treatment and equipment.
The more you use your camera gear, the more it's going to get dirty.
For instance, if you've used the camera in a dusty environment, it's advisable to first remove the dust from the lens using a soft brush.
Then gently brush the dust from the middle of the lens to the edges and finally hold the camera upside down with the lens pointing toward the ground. This will allow the dust to fall toward the ground as you brush.
If you've introduced your lens to sand, then in no way, form or shape should you wipe a cloth over it. Otherwise, it will cause permanent damage. Start with a blower.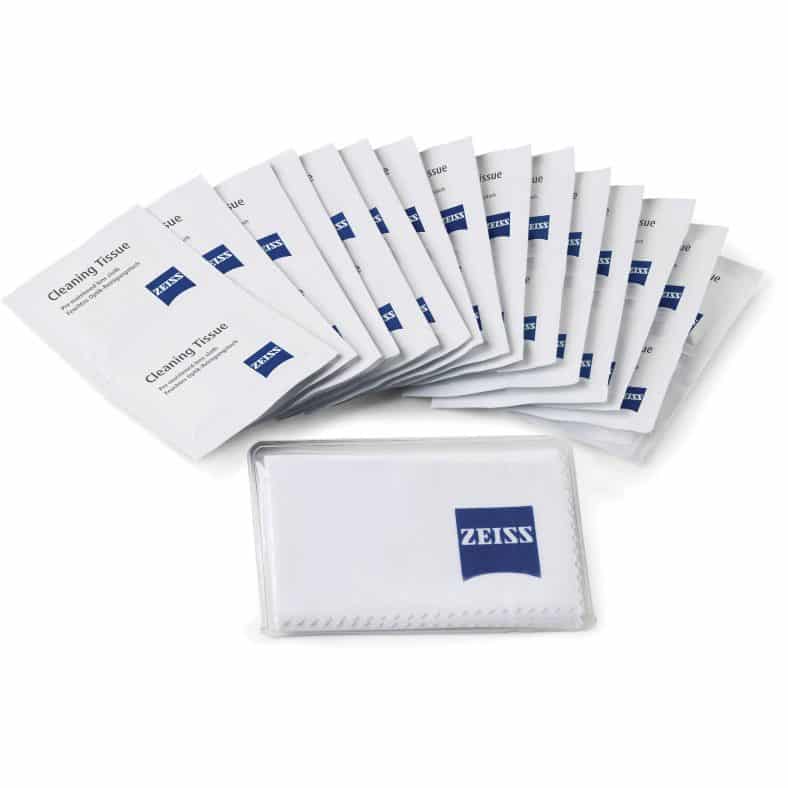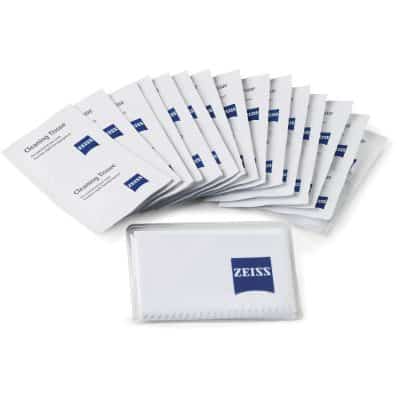 Want to remove the oily fingerprints or smudge along with dust and dirt on the rear side?
You should remove as much dirt and dust as possible from the lens with a soft-bristled brush or blower.
After that apply a few drops of lens cleaning solution to a cleaning cloth or lens tissue.
Then using a circular motion, gently remove oil, fingerprints, and grime from the lens surface, working from the center outward.
Thus, for such purpose, a soft fiber cloth is the best to remove dust smudges and any other kind of stuff from your cameras.
The fiber cloth comes in different sizes and quality and buying the right one for you is what you should know.
You may need a bunch of more accessories to help you clean those smudges off the camera. The Cleaning Kit may contain cleaning wipes, a lens pen, Anti-bacterial Lens Cleaning Solution, a blower, or a brush. Zeiss Moist Cleaning Wipes come in a pack of 30 and include a microfiber cloth.
You can explore our recommended cleaning kit on Amazon here.
When you are buying such expensive cameras, it is good that you keep yourself ready for all conditions of the environment.
Remote Shutter Release
Most photographers use tripods for blur-free, sharp pictures. But even with a high-quality tripod, you add unwanted motion blur to your shots just by pressing the shutter button. In this situation, you can use a remote shutter release to create stunning photos.
Taking a shot for a long time and waiting for the right moment could be frustrating but if you have a remote shutter button then you can easily click the perfect picture from quite far away.
This helps you replace the shake that you face from the camera and can also be used in case of self-portraits for that perfect selfie.
This gear is very essential when you need to take a shot with long exposure or slow shutter speed to capture motion blur or light painting, or while shooting with long, telephoto lenses, or macro lenses.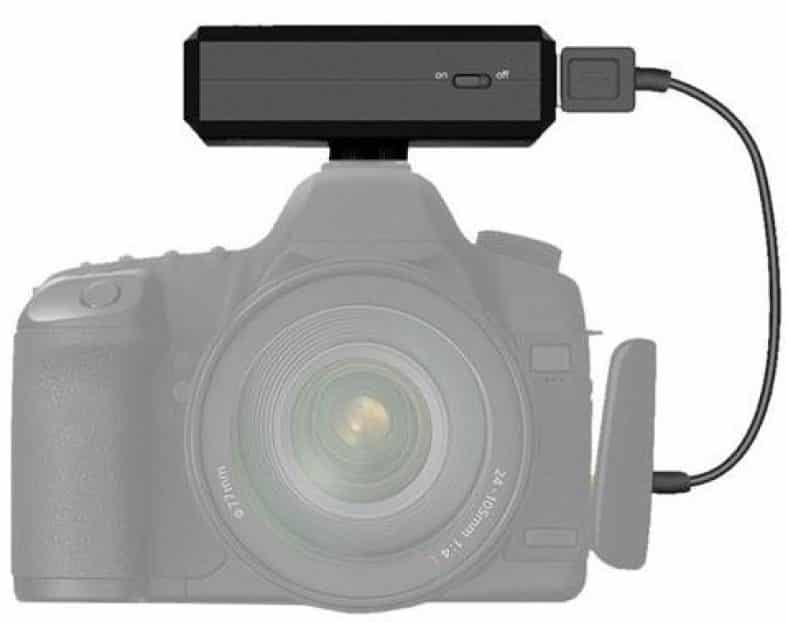 It is also beneficial in wildlife photography because it's not always safe or practical to be close enough to the camera to trigger the shutter manually. The time-lapses and astrophotography would be lost without this gear.
While using this remote shutter release the camera needs to be completely still, i.e. a tripod is very much essential.
It is also known as wireless triggers, shutter cables, remote triggers or wireless shutter releases. These remote controls come in two versions = wired or wireless.
The wired versions are cheaper than a wireless ones, but the wireless models do have a limit to the usable range. The range can be anywhere between 5 m and 180 m.
There are multiple options available for this gear in the market. But they don't work with all the cameras. You need to consult your user manual for checking the compatibility.
We personally recommend you go for a wireless version that is compatible with your camera. You can give a closer look at our recommendation on Amazon.
UV Filters
Aside from cutting haze in your photos, UV filters provide crucial protection against foreign objects. A clear piece of glass that screws on over the front of your lens and useful for protecting your lenses.
A UV filter's other function is to increase photo quality by limiting haze and adding crispness. The difference between a good and bad UV filter is the degree of scratch-resistant coating present.
Good quality would be more resistant to scratches while bad quality ones would get scratched quickly and improvise the quality of the picture.

Taking a middle path is the optimum value for your money, something like Hoya, where quality is good and so is the price. They are available in different sizes.
Lens protection helps from accidental damage but cleaning also becomes a smoother process. Although the thinking is prevalent among photographers that quality is jeopardized while using filters, if the right filter is chosen, the quality is almost not affected at all.
You can buy some good filters such as the Hoya Pro series on Amazon here. If the budget is not an issue for you, then you can check this premium B+W series filter on Amazon.
Lens Hood
It is also one of the essential camera accessories which serve multiple purposes and must-have gear.
The primary function of the lens hood is to shade the front of your lens to keep undesirable light from falling across the front of your lens and causing unwanted flairs or unwanted washed out low contrast look, might light from the sun or might be coming out in an odd angle from the other lights sources in your surroundings.
You put the hood on to shield the front of your lens and protect it from that stray light, lens flaring, and ghosting unless you intentionally trying to create lens flair or washed outlook for some kind of artistic effect.
The second function of the hood is to provide physical protection to the front of your lens. It's a kind of bumper to keep you from banging your lens into the things. And I can't tell you how many times the hood has saved me from crashing my lens into the things while moving around.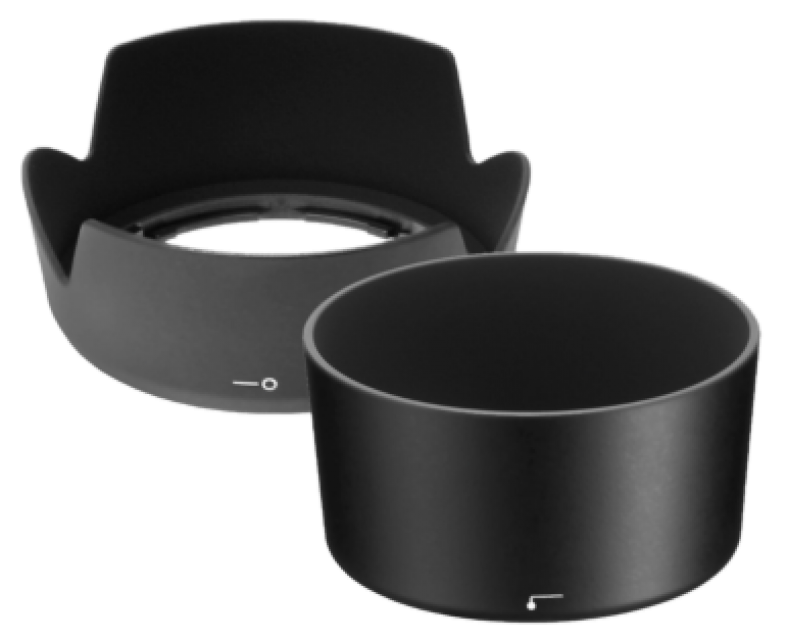 Not only that, the hood keeps debris off the front of your camera lens, which is highly useful for taking pictures in harsh weather conditions especially in rain or snow. It's worth taking space in your camera bag.
These lens hoods come in different shapes and sizes, but there is only one lens hood for each lens. The hood is best designed to be optimal for the range of the focal length of the lens.
There are two different types of lens hoods you need to choose from. The petal-style or tulip flower style which has curved notches for wide-angle lenses.
It is so designed that the hood provides the shade without getting a piece of the hood in your shot while shooting a picture with a wide-angle zoom.
The second type is a Cylindrical lens hood or tube-type hood for fixed lenses or long-range lenses especially for telephoto or prime lenses.
The bottom line is that the shape of your hood is determined by the nature of your lens. So, depending on the type of your lens, you can choose the hood.
Now, if you're interested in finding out more information about these hoods and their prices, you can find them on Amazon.
External Microphone
If you use your DSLR or mirrorless to record videos, you must've realized that the in-build microphone is very weak, poor and low quality.
You are also aware that, a lot of times people will tolerate the low video quality, but they'll give up quickly on a video if it has bad audio quality.
So, leveling up our audio for our videos is very important, and one of the best ways to do that, of course, is by investing in a good microphone.
Adding an external microphone will certainly make a dramatic difference in the quality of your video with clear audio.
There are two different types of external mics available in the market. One is a mono video mic and the other one is stereo video mic. The one you choose depends upon what you want to film.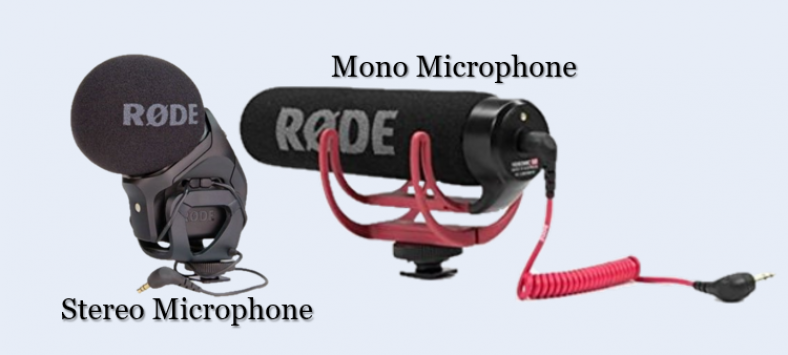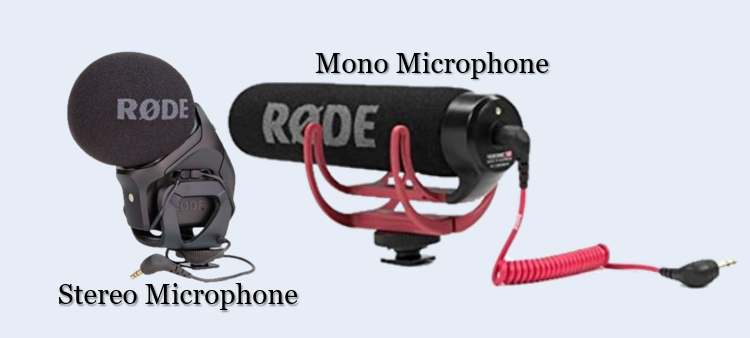 If you are filming a speech or interview or person speaking to the camera, then you will need a mono mic because this type of mic aims to reject lots of unwanted sounds occurring while you are filming.
It is quite selective so only the thing you are pointing at is picked up and other unwanted sounds are discarded.
However, if you are filming a nature, forest, landscape, music, ambiance or making a documentary where it's very important to have a true sense of environment or space, then you will need a stereo video microphone.
There are tons of external microphone options available in the market. I personally prefer a high-quality wireless microphone while filming a video. You can choose to have both the type of microphone in your backpack.
If you want to take a closer look at premium Rode mono microphones and their pricing, you can find it on Amazon and for Rode stereo microphone and its pricing, you can check on Amazon.
Extra Lens Cap
You will certainly need to keep some extra Lens cap in your camera bag, as it is something that might get lost easily, especially when you are traveling or doing the outdoor shooting.
The lens cap will protect your expensive lens from dust, dirt, smudges and oily fingerprints. It will also protect your gear from getting physical damage such as scratches and scuffs.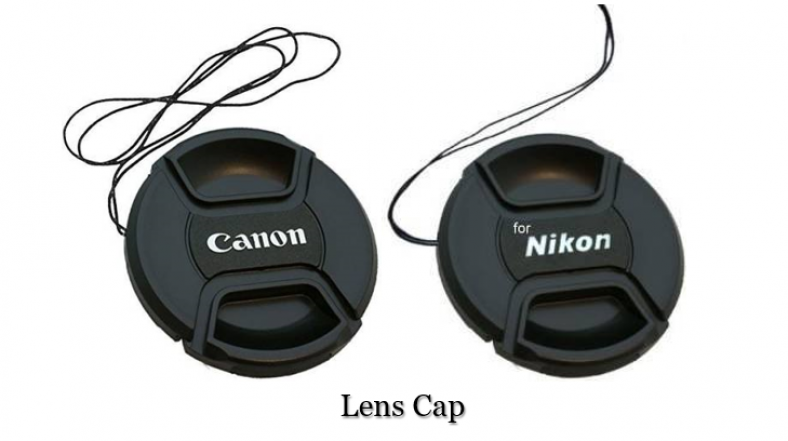 So, it is better to keep a replacement lens cap ahead of time for your particular lens.
If you want to take a closer look at the affordable Canon Lens Cap and its pricing, you can find it on Amazon, and for Nikon Lens Cap and its pricing, you can check on Amazon.
Last update on 2023-09-25 / Affiliate links / Images from Amazon Product Advertising API
Hopefully, these 15 useful mirrorless and DSLR tools help you prioritize your photography accessory purchases and make you prepared for any photographic situation.
You never know when you will need one of these essential camera accessories. As in the words of Woodrow F. Call
Better to have them and not need them, than to need them and not have them

Woodrow F. Call
Suppose you are thinking of buying a new DSLR Camera and not able to decide which one to buy. In that case, you can go through our list of Top 10 Best DSLR Cameras for Beginners and Professionals Photographers available in the market and see the different features and latest technology in various brands.
However, if you have any suggestions for us, then please comment below. Your advice and suggestions are greatly appreciated.